AngloGold Sees More Mine Sales as Producers Chase Margins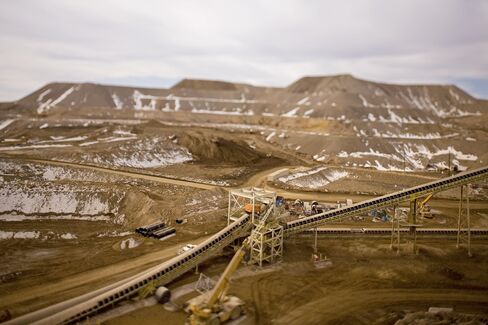 AngloGold Ashanti Ltd., the world's third-largest gold producer, expects the biggest miners to put more assets on the block as they seek to bolster margins ahead of a forecast slump in prices.
The largest companies have shed $912 million of unwanted mines in the past 12 months after gold last year notched up its biggest annual drop in more than three decades in 2013.
"Portfolio rationalization will continue to happen," AngloGold Executive Vice President Planning and Technical Graham Ehm said by phone from Perth. "Those operations that don't really give you much margin at those prices, really don't belong in your portfolio, so you will see that continue."
Operations remain under review for potential sales or spin outs, with the metal seen more likely to decline than to advance beyond $1,400 an ounce, Ehm said.
AngloGold climbed 1.2 percent to 185.20 rand by 12:35 p.m. in Johannesburg trading, making it the best daily performer in the Bloomberg Intelligence Senior Gold Index. Spot gold was at $1,284.94 an ounce.
Barrick Gold Corp. has trimmed its operations to 19 from 27 in 2013, as it shutters and sells assets that won't "contribute any meaningful free cash flow at current prices in the foreseeable future," outgoing Chief Executive Officer Jamie Sokalsky said on an earnings call yesterday. Mine sales are lowering the producer's costs, he said.
Goldman Forecast
Goldman Sachs Group Inc. sees gold sliding to $1,050 an ounce by the end of the year, while Australia & New Zealand Banking Group Ltd. is forecasting $1,180 an ounce, citing weaker demand in China, the biggest consumer.
Mining investor QKR Corp., founded by former JPMorgan Chase & Co. banker Lloyd Pengilly, last month completed the $110 million purchase of AngloGold's Navachab mine in Namibia.
"The Navachab sale has just gone through and if you look at our portfolio you'll see there are those that are still up at the high-cost end," Ehm said yesterday. "You've got to consider in the long term whether they fit or they don't."
With operations across 10 countries, Johannesburg-based AngloGold may consider potential sales of assets, including Obuasi in Ghana, Sadiola in Mali or Colombia's La Colosa, according to David Davis, an analyst at Standard Bank Group Ltd.'s securities unit.
Mali, Ghana
"All gold companies are looking to maximize their free cash flow per ounce and AngloGold is no exception," said Johannesburg-based Davis. "Anything that does not fit the portfolio may be offloaded."
Second-quarter profit will be eroded by costs from closing its Yatela mine in Mali and reorganizing operations in Ghana, AngloGold said last month. A restructuring at the more than 100-year-old Obuasi mine could lead to a sale of part or all of the asset, CEO Srinivasan Venkatakrishnan said in May.
Gold, which has advanced in two consecutive quarters, will probably continue to trade from $1,250 to $1,400 an ounce, as it has over the past year, according to Ehm. "There are probably lots of reasons why it might start to push down, and not too much that would see it push up above those sorts of levels."