Allergan Sues Valeant Claiming Insider Scheme With Ackman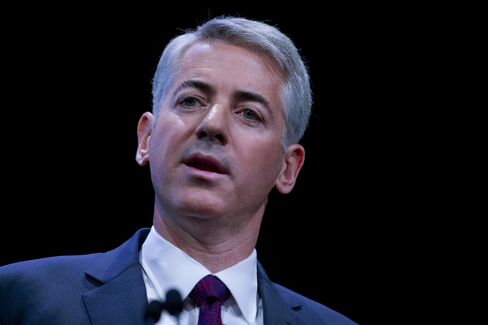 Allergan Inc., the maker of Botox, sued Valeant Pharmaceuticals International Inc., claiming the drugmaker colluded with Bill Ackman's hedge fund to profit from insider trades ahead of a $54 billion takeover bid.
Ackman and his firm, Pershing Square Capital Management LP, secretly plotted with Valeant to let the hedge fund acquire Allergan shares as a tender offer was being put together, Allergan said in a complaint filed today in federal court in Santa Ana, California.
Pershing Square acquired 25.4 million Allergan shares for $3.22 billion, according to an April regulatory filing. Allergan surged 15 percent after the takeover bid was announced, giving Ackman a $1 billion gain on paper in the week after the disclosure.
Allergan's lawsuit may delay the takeover, according to a BMO Capital Markets Corp. analyst.
Allergan "believes that no shareholder vote will take place until this suit is resolved," David Maris, the analyst, said in a note to clients today. "Even if an investor thinks Allergan does not stand a 100 percent chance of winning, but 50 percent or 30 percent or even 10 percent, the likelihood of a deal closing has just been reduced by whatever chance one assumes Allergan wins."
The outcome of the lawsuit and takeover battle may not be resolved until 2015, he said.
Desperate Attempt
In a joint statement today, Valeant and Pershing Square called the lawsuit a "desperate attempt to delay or avoid" a special shareholder meeting requested by Ackman in a bid to remove most of the company's board and add six new directors.
"Allergan is threatened by our progress toward calling the special meeting," Ackman said in the statement. "This scorched-earth approach is further evidence of the board's and management's entrenchment."
Institutional Shareholder Services, a Rockville, Maryland-based proxy advisory firm, is reviewing Allergan's bylaws and will make a recommendation to shareholders whether to consent to Ackman's request for a meeting.
Allergan shares fell 24 cents to $165.62 today in New York trading. Valeant rose C$1.39 to C$129.22 in Toronto.
Allergan asked the court in the lawsuit to find that New York-based Pershing Square violated securities regulations while in possession of nonpublic information relating to a tender offer. It is seeking an order rescinding Pershing Square's purchase of the shares.
Buying Spree
Pershing Square has teamed with Laval, Quebec-based Valeant in its bid to buy Allergan as Valeant's Chief Executive Officer Mike Pearson aims for his company to become one of the world's biggest drugmakers. Pearson has spent at least $19 billion buying more than 40 companies since he took the helm in 2008.
In an interview with Bloomberg Television in April, Ackman, the billionaire hedge fund leader, discussed the offer plans, saying that he structured trades to avoid triggering certain U.S. Federal Trade Commission disclosure requirements.
Using options allowed Pershing Square to skirt rules requiring government approval to buy more than $75 million of a company "with an intent to influence control of the business," Ackman told Bloomberg TV's Stephanie Ruhle and Erik Schatzker.
Ackman said at the time that he was "helping facilitate a transaction between two companies for the benefit of the shareholders."
Serial Acquirer
In its complaint, Allergan said the case "is about the improper and illicit insider-trading scheme hatched in secret by a billionaire hedge fund investor on the one hand, and a public-company serial acquirer on the other hand."
Valeant's acquisitions since 2008 left it with a "staggering" debt load of $17.3 billion, and a business model that "depends on constantly making new and larger acquisitions," Allergan said in its complaint.
As a "well-established, well-run" company with $1.5 billion in cash on its balance sheet and little debt, Allergan said it was an ideal target, which Valeant sought with financial help from Pershing Square.
Valeant would "gut Allergan's research and development program to inflate short-term profits and use Allergan's cash and cash flow to service Valeant's mounting debt," following the acquisition, the Botox-maker said.
'Incredible Opportunity'
Valeant found a partner in Ackman, who saw an "incredible opportunity to buy Allergan stock with advance inside knowledge," guaranteeing high returns, Allergan alleged.
Federal laws prohibit people with inside knowledge of an impending deal from trading in the stock of an acquisition target once the offerer takes substantial steps toward making a bid.
To get around those restrictions, Valeant came up with a plan with Ackman to acquire large amounts of stock while avoiding revealing takeover intentions until the right time, according to the complaint. Pershing Square used a shell company, PS Fund 1, to acquire the stock, and Valeant "blatantly tipped" the hedge fund about the offer, according to the complaint.
"Unfortunately for them, the clear requirements of the federal securities laws cannot be so easily defeated by a 'now you see it, now you don't' sleight of hand," Allergan said.
While Pershing Square and Valeant maintained appearances they weren't making an offer, PS Fund 1 embarked on buying sprees, including one in April in which it exploited an "archaic" provision of U.S. law allowing an investor to wait 10 days after crossing a threshold of owning 5 percent of shares before disclosing its acquisition intentions, Allergan alleged. By the time the stake was made public, PS Fund 1 had 9.7 percent of Allergan's outstanding stock, the company said.
Hostile Takeover
On April 22, Valeant announced its initial takeover proposal, which Allergan rejected in May. Valeant continued to pursue Allergan with higher bids which were also rejected. On June 18, Valeant began a hostile takeover with an offer made directly to Allergan shareholders.
"We are disappointed that Allergan continues to stand in the way of its shareholders' right to voice their views on a transaction with Valeant," Pearson said in today's statement. "Despite Allergan's attempted roadblocks, we remain committed to pursuing this compelling combination, which will create an unrivaled platform for growth and value creation."
The case is Allergan Inc. v. Valeant Pharmaceuticals International Inc. 8:14-cv-01214, U.S. District Court, Central District of California (Santa Ana).
Before it's here, it's on the Bloomberg Terminal.
LEARN MORE