Netanyahu Limits Gaza Goals to Make Declaring Victory Easier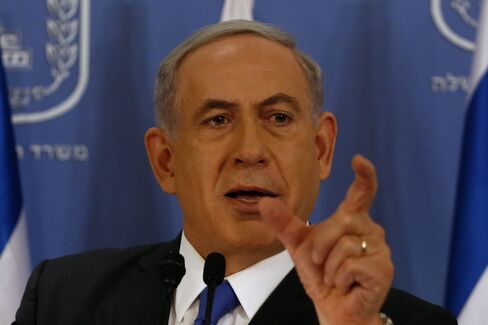 Prime Minister Benjamin Netanyahu is limiting the declared goals of his Gaza operation, sticking to a script that may allow him to declare victory even if not all supporters and cabinet colleagues are satisfied, analysts said.
In Israel's 2006 war in Lebanon, then-premier Ehud Olmert announced a target of neutralizing Hezbollah, then failed to persuade the public that it had been met. Mindful of the precedent, Netanyahu has hammered on a single theme during much of his public talk about the current war with Hamas, the Islamist group that rules Gaza. He says Israel intends to destroy all the tunnels that connect Gaza to Israel's southern towns, and have been used by militants to stage attacks.
"Netanyahu is setting the level of ambitions at an appropriately modest level so he can say 'we achieved what we set out to do'," said Jonathan Spyer, a political scientist at the Herzliya Interdisciplinary Center.
As the U.S. and United Nations announced a 72-hour humanitarian truce with backing from both sides to start later today, support for continuing the operation was almost universal among Israel's Jewish population, according to opinion polls, even after more than 1,400 Palestinians and 56 Israeli soldiers died. The domestic backing, underpinned by a desire to end years of rocket fire from Gaza, contrasts with growing international unease at the death toll. President Barack Obama and UN chief Ban Ki-moon are among world leaders calling for an immediate halt.
What Next?
When it comes to the question of when to stop, there are divergent views both among the Israeli public and within Netanyahu's cabinet, underscoring the need for the premier to outline a clear exit strategy.
"We are determined to finish this operation, with or without a cease-fire," Netanyahu said yesterday. "We won't agree to any proposal that won't let the military complete the mission."
Foreign Minister Avigdor Liberman has urged the cabinet to approve a reoccupation of Gaza nine years after Israel pulled out thousands of soldiers and settlers. Others, including Economy Minister Naftali Bennett, say Israel should continue its campaign until the territory is demilitarized.
Such operations would risk losing the lives of hundreds of soldiers, something that could fray the national unity Netanyahu now enjoys, said Spyer.
That unity may not last in any case, according to polls that show overwhelming support for what's been done so far, and differences over what should happen next.
'Right Decision'
As of last week, more than 90 percent of Israeli Jews backed the ground operation in Gaza and only 3 percent felt it wasn't achieving its objectives, according to a survey by the Department of Sociology at the University of Haifa released yesterday. It questioned 1,007 people between July 23 and 25, and cited a 3.2 percent margin of error.
Half of those questioned, though, said that the overthrow of Hamas rule should be a condition for ending the offensive, while 17 percent backed Liberman's reoccupation plan. Hamas, considered a terrorist organization by Israel, the European Union and the U.S., seized control of Gaza from Palestinian President Mahmoud Abbas's Fatah faction in 2007 after winning elections the previous year.
In three polls by the Israel Democracy Institute last week, more than 60 percent said they would oppose a temporary unilateral cease-fire or a mutual truce to create a window for negotiations.
"The Israeli public obviously expects a larger operation, but eventually Netanyahu will have to make the decision and communicate it to the people in a way that convinces them that he made the right decision," said Efraim Inbar, a political scientist at Bar Ilan University.
'Ineffectual Rockets'
The 72-hour humanitarian truce was to begin at 8 a.m. An e-mailed statement from the U.S. and UN said Israeli and Palestinian delegations would "immediately be going to Cairo for negotiations with the government of Egypt" aimed at reaching a "durable cease-fire." The sides would be able to "raise all issues of concern," the statement said.
Hamas has said any accord must lift the eight-year blockade of Gaza, while Israel seeks to end rocket fire, dismantle tunnels and make it hard for Hamas to rearm.
While a truce may yet be agreed that meets the concerns of both sides, even if Israel pulls out unilaterally it will be in a "much better situation" than before the war, said Shlomo Brom, senior research fellow at the Institute for National Security Studies. Hamas's rockets are "ineffectual," and "the only real problem we had was the tunnels and they would be taken care of," he said.
'Justifiable Goal'
Almost 3,000 rockets have been fired at Israel since the conflict escalated on July 8 and the Israeli air force has struck more than 4,000 sites in Gaza. The army says it has destroyed 30 tunnels and is "taking care" of more.
Netanyahu is also earning points among those who criticized him for the collapse of U.S.-mediated talks with Palestinians in April, because he's resisting the maximal demands of Liberman and Bennett, said Cameron Brown, a research fellow at the Institute for National Security Studies at Tel Aviv University.
By contrast, destruction of the tunnels is a "relatively realistic and justifiable goal," Brown said. "This makes him look quite moderate."
Before it's here, it's on the Bloomberg Terminal.
LEARN MORE