Mitsubishi Heavy Profit Rises on Machinery Sales Strength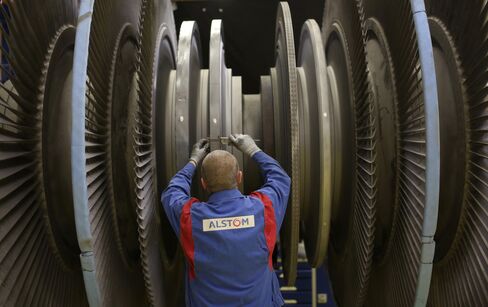 Mitsubishi Heavy Industries Ltd., Japan's biggest heavy machinery maker, said first-quarter profit rose 65 percent after sales hit a record, with its machinery and infrastructure business leading the charge.
The company, which was stymied in its joint bid for Alstom SA's power business in June, will be aggressive in seeking out merger and acquisition opportunities, Chief Financial Officer Tatsuhiko Nojima told reporters in Tokyo after the earnings release. The company doesn't have any specific deals that it's eyeing at the moment, he added.
Net income rose to 22.5 billion yen ($219 million) in the three months ended June, from 13.7 billion yen a year earlier, the Tokyo-based company said in a statement. Sales increased 15 percent to 859.7 billion yen, it said.
Sales will likely increase 19 percent to 4 trillion yen in the current year to March 31, while net income is forecast to fall 19 percent to 130 billion yen, Mitsubishi Heavy reiterated.
The company's machinery, equipment and infrastructure business saw sales rise 110 percent in the quarter, while energy and environment, the unit it has flagged as a future driver of growth, posted a 16 percent sales gain.
The company, which traces its origins to 1884 and the shipyard of Nagasaki, makes everything from cruise ships and rockets to nuclear reactors and steel-making machines. It derived half of its operating profit from its energy and environment unit, and 37 percent of its sales from the business, in the last financial year.
The company's bid with Siemens AG for the energy business held by France's Alstom was thwarted last month when the French government backed a competing offer from General Electric Co. Chief Executive Officer Shunichi Miyanaga said after the failure of the bid that its energy venture with Hitachi Ltd., known as Mitsubishi Hitachi Power Systems Ltd., would form a hub for growth.
Mitsubishi Heavy rose 0.9 percent to 681.1 yen as of 2:07 p.m. in Tokyo, for a gain of 29 percent in the past year.
Before it's here, it's on the Bloomberg Terminal.
LEARN MORE