Lloyds Profit Rises 32 Percent; PPI Provisions Increase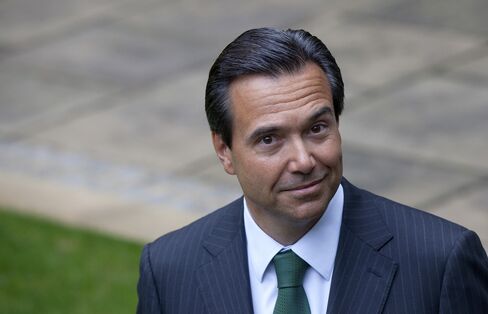 Lloyds Banking Group Plc, Britain's largest mortgage lender, posted a 32 percent gain in first-half earnings after bad loans fell, and said it's setting aside 1.1 billion pounds ($1.9 billion) for legal redress.
Underlying pretax profit, excluding charges for legacy issues, rose to 3.8 billion pounds from 2.9 billion pounds in the year-earlier period, beating the 3.6 billion-pound average estimate of six analysts surveyed by Bloomberg News. Lloyds took an additional provision of 600 million pounds for payment protection insurance in the first half.
While Lloyds has benefited from a U.K. housing boom and a strengthening economy, it was fined 226 million pounds on July 28 for manipulating benchmark interest rates. Chief Financial Officer George Culmer said on a conference call today that it's "hard to pick a final number" on provisions after the bank set aside 10.4 billion pounds to cover the costs of PPI, more than any other major British lender.
"Notwithstanding the disappointment of further below-the-line charges, we believe that Lloyds continues to make good underlying progress," said Gary Greenwood, an analyst at Shore Capital in London, who has a buy recommendation on the shares.
Shares Fall
The shares closed 2.8 percent lower at 74.25 pence in London, snapping a seven-day advance. The stock has declined 5.9 percent this year, though it's still above the 61 pence at which the government says it breaks even on its 20 billion-pound rescue in 2008. The government sold a 4.2 billion-pound stake in Lloyds in March.
In the first half, statutory pretax profit slumped to 863 million pounds, following the charge for legacy issues, from 2.1 billion pounds a year earlier. Statutory pretax profit will be "significantly ahead" of the first half, the bank said.
The bank is still paying for past misconduct with a series of costs for scandals ranging from the mis-selling of insurance on consumer loans to manipulation of the London interbank offered rate.
Lloyds spends about 200 million pounds each month on customer compensation for improperly sold loan insurance and has about 2.3 billion pounds of unused money set aside, Culmer said.
The bank suspended at least two traders after it settled with regulators and the Bank of England for rigging benchmark interest rates, a person familiar with the matter said yesterday. Lloyds paid 7.8 million pounds in redress to the BOE after its traders' actions cut the fees banks paid for an aid program of which it was one of the biggest beneficiaries.
'Totally Unacceptable'
"It's as shocking to us as it is to you," Chief Executive Officer Antonio Horta-Osorio, 50, said on a conference call today, when commenting on Libor rigging. "We view the actions of those individuals as totally unacceptable and condemn them without reservation."
Lloyds is conducting a "diligent process of taking the right consequences" in the wake of the misconduct, the CEO said. Culmer declined to comment when asked if management would seek to claw back bonuses from employees involved in misconduct.
Impairments for souring loans dropped 58 percent to 758 million pounds in the first half, while underlying costs slipped 2 percent to 4.68 billion pounds, the bank said. The second-quarter net interest margin, the difference between its income from lending, widened from 2.32 percent in the first quarter to 2.48 percent. It's seen at about 2.45 percent in 2014.
The share of bad loans is decreasing as the British economy gathers strength. Gross domestic product expanded 0.8 percent in the second quarter, pushing output above its previous peak in the first three months of 2008, the Office for National Statistics said on July 25.
'Positive Rises'
Royal Bank of Scotland Group Plc, the largest state-owned British lender, said on July 25 it expects first-half pretax profit to rise to 2.65 billion pounds from 1.37 billion pounds a year earlier. Barclays Plc yesterday reported a return to profit in the second quarter from a loss.
The Bloomberg Europe Banks and Financial Services Index dropped 2.1 percent, with Barclays, HSBC Holdings Plc, RBS and Standard Chartered Plc all decreasing.
"I suspect it's more of a reaction to the positive rises we've seen in the past few days post the RBS and Barclays results," Simon Willis, an analyst at Daniel Stewart Securities Plc in London, said of today's stock decline.
Horta-Osorio said he'll ask regulators this year to approve his plan to resume dividends to help smooth the 25 percent government-owned bank's return to full private ownership.
Before it's here, it's on the Bloomberg Terminal.
LEARN MORE