G-7 Nations Said to Oppose New World Bank Russia Projects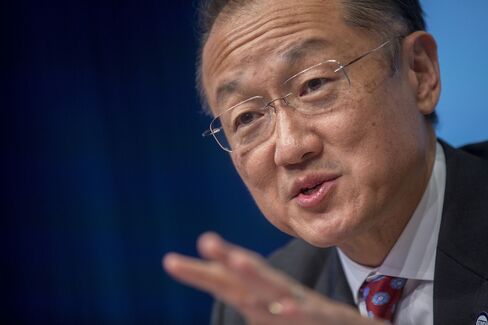 Group of Seven countries will vote against new World Bank projects in Russia to punish Vladimir Putin's regime, according to three government officials with knowledge of the agreement.
The action, which puts at least $1.5 billion of contemplated World Bank projects in Russia at risk, was decided by deputy finance ministers from the G-7 during a conference call last week, according to two of the officials, who spoke on the condition of anonymity because the call wasn't public.
The move dovetails with new rounds of sanctions targeting Russia's banking, energy and defense industries as the U.S. and European Union this week stepped up economic pressure on Russia over its actions in Ukraine. Russia's finance ministry received no official information, according to its press office.
The World Bank will have trouble getting approval for projects in the face of opposition from the G-7, which has more than 40 percent of votes on the bank's board, said Scott Morris, a former deputy assistant secretary for development finance and debt at the U.S. Treasury Department.
"It will be very difficult for management to contemplate proceeding with anything that requires board approval," said Morris, a senior associate at the Center for Global Development, an aid research group in Washington.
World Bank spokesman David Theis declined to comment. The G-7 groups France, Germany, Italy, the U.K., the U.S., Canada and Japan. The U.S. and Canada last week said they would oppose new World Bank projects in Russia.
Energy, Education
The World Bank unit that lends directly to governments, the International Bank for Reconstruction and Development, has nine Russian projects in preparation worth $1.34 billion, including one on pre-school education and another focused on energy efficiency, according to its website.
Already approved and in progress are 10 other projects worth $668 million, though less than half of the total has been disbursed, according to the bank.
The bank's arm that lends to private companies, the International Finance Corp., has four projects in the works valued at as much as $154 million. Among them are a loan of $60 million to a Russian-based consumer finance subsidiary of Paris-based Societe Generale SA, to support loans for environmentally friendly cars.
Development aid has already figured in the arsenal of economic measures aimed at Russia, which is accused of arming and training separatist rebels in Ukraine after annexing Crimea.
The European Bank for Reconstruction and Development last week bowed to its shareholders and said it's halting new Russia projects after a majority indicated it would not support them.
Grocery Chain
The World Bank already was thrust into discussions over how to use economic sanctions to punish Russia. The lender on May 29 approved parts of a 250 million euro ($335 million) package enabling French grocery retailer Groupe Auchan SA to expand in Russia, Vietnam and other emerging markets. Canada voted against it, while the U.S. and some EU countries abstained.
World Bank President Jim Yong Kim tried to keep his institution outside of the debate last week, saying the bank has a good relationship with both Ukraine and Russia.
"We are going to continue to focus on trying to provide the kind of support and advice that will help both of those countries in responding to issues of poverty," he said in a July 22 interview in the southern Indian city of Chennai. "It is extremely important for the world community to have an organization that remains apart from the politics and focuses on economics."