Espirito Santo Family's Swift Fall From Grace Jolts Portugal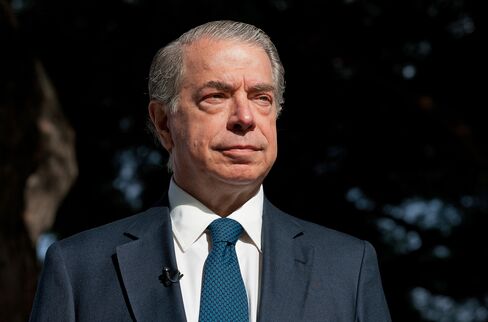 For Portugal, the Espirito Santo family's fall from grace has provided a rare peek into the nation's more-than-a-century-old banking dynasty.
The family that zealously guards its privacy was thrown into the spotlight when in a matter of days in July three of Banco Espirito Santo SA's parent companies sought creditor protection; the family's top executive Ricardo Espirito Santo Silva Salgado, 70, was held in a tax fraud and money-laundering probe after he stepped down as the bank's chief executive officer; and the lender founded by his great-grandfather lost 3.18 billion euros ($4.3 billion) of its market value in a month as its shares plunged 82 percent.
"I never imagined things could turn out so badly," said Jose Capela, a Porsche-driving retired airline pilot who lives in the ocean-hugging town of Cascais, which is home to Salgado and many of the Espirito Santo family members. "It's very sad to see the Espirito Santo financial empire crumbling."
Members of the family dropped out of a list of the 25 richest people in Portugal for the first time in at least 10 years, business magazine Exame said yesterday. As the family struggles to find a way out of the group's current crisis, it is working on untangling the web of businesses it spun over the decades, ranging from a soybean farm in Paraguay and a hotel chain in Portugal to property holdings in Brazil.
"The fact that three of the Grupo Espirito Santo holding companies have asked for creditor protection will buy the family time to sell some of their assets at a reasonable price to pay off some of the group's debts," Joao Duque, a finance professor at the School of Economics and Management at the University of Lisbon, said in an interview.
'Lost Track'
The family's role in Portuguese finance started when Jose Maria Espirito Santo opened a "Caza de Cambio" on a small street in Lisbon in 1869, where he bought and sold credit securities and lottery tickets. The Espirito Santo Group was transformed by his heirs into a sprawling global empire with businesses including property, agriculture, tourism and health.
While the family's wealth grew, reaching more than 3 billion euros in the second quarter of 2007 based just on its stake in Banco Espirito Santo, the group's intertwining interests and loans sowed the seeds of its downfall.
"The family eventually lost track of all these different businesses," said Ricardo Cabral, an assistant professor of economics at the University of Madeira, on Portugal's Madeira island. "The group amassed too much debt. It kept on postponing the problems by rolling over debt with short maturities and at high interest rates."
Complicated Structure
The business empire of the Espirito Santo family -- whose name means Holy Spirit in Portuguese -- was a maze of interconnected entities. It is now grouped into a cascade of holding companies.
Banco Espirito Santo is 20 percent owned by Espirito Santo Financial Group. ESFG is in turn 49 percent held by Espirito Santo Irmaos SGPS SA, which is wholly owned by Rioforte, a group that holds the family's non-financial investments. Luxembourg-based Rioforte is 100 percent owned by Espirito Santo International, a holding company controlled by the family.
As the European sovereign crisis sent borrowing costs soaring, the group's house of cards began to look shaky. Rather than raise money from outside investors and dilute their control of the bank, the family took on more debt.
It was "surprising because the financial situation of Portugal's banking system was weak," said Cabral. "Either the controlling shareholders misread the country and the bank's economic situation or they were hiding something."
Falling Dominoes
In its May 20 prospectus for a rights offering, Banco Espirito Santo warned of "material irregularities" in Espirito Santo International's accounts. The Bank of Portugal said this week that there are indications of "seriously harmful acts of management" at the lender.
On July 14, the bank, which opened its first branch in 1920, replaced Salgado as CEO with Vitor Bento. Salgado has denied any wrongdoing. He and several other family members declined requests for comments for this article.
When the group began coming apart, Espirito Santo International was the first domino to fall, seeking creditor protection on July 18. Rioforte requested creditor protection on July 22, less than a week after failing to make a debt payment to Portugal Telecom. Then came ESFG. The financial holding company also said today that its Portuguese unit had filed for insolvency and that another of its fully-owned subsidiaries had sought creditor protection.
Plunging Stock
This week, Banco Espirito Santo said it needs to raise capital after posting a first-half net loss of 3.6 billion euros, more than five times its market value. The stock was suspended today after plunging as much as 50 percent. It was down 40 percent at 12 euro-cents when trading was halted.
Portugal's CMVM securities regulator said the stock would remain suspended until "relevant information" about the lender is disclosed. The Bank of Portugal is working on a solution involving a capital injection combining both the government and private investors, Jornal de Negocios reported today.
The turn of events in the last few weeks has shocked many Portuguese people.
"I was surprised by what happened; it was all so fast," said Jorge Arnoso, a friend of the Espirito Santos who lives in Cascais. "The Espirito Santo family has been through tougher times. I'm sure they'll manage to overcome this crisis."
Following Portugal's 1974 carnation revolution after which their bank was nationalized, many members of the family had to flee the country.
Rockefeller Aid
With the help of powerful friends abroad, including a credit line from David Rockefeller, the Espirito Santo family managed to rebuild their finances before returning to Portugal to regain control of their bank when the government began privatizing companies in 1989.
Since then, the bank has extended its activity to 25 countries and helped the Espirito Santo family set up dozens of non-financial businesses ranging from a hotel chain in Portugal and Brazil to a farm on more than 135,000 hectares (333,000 acres) in Paraguay.
While Europe's crisis raged, the group continued with its expansion. One of the family's most ambitious real estate projects in Portugal was Herdade da Comporta, a land covered with rice fields, and flanked by a 12-kilometer (7-mile) stretch of sandy beaches on a finger-shaped peninsula south of Lisbon. The parcel is one of the largest privately owned properties in the country and is controlled by Rioforte.
Discreet Family
In April 2013, Rioforte announced it planned to build the Comporta Dunes resort in a pine forest near the beach. The project would feature an Aman resort and spa, the high-end chain's first in Iberia. The resort on the Atlantic coast would also feature an 18-hole golf course and 51 second homes for German, Austrian and Swiss buyers.
For all their business interests, the Espirito Santo family and its key members have maintained low-profile lives. Very little is known about Ricardo Salgado's personal life or habits as he rarely appears in magazines.
"All I can say is that my life begins at 8:30 a.m. in the bank and ends at 10 p.m. in the bank," Salgado was quoted as saying by Portuguese newspaper Jornal de Negocios in May.
In the summer, he sometimes spent time at the Quinta do Lago luxury golf and beach resort in southern Portugal where other bankers and celebrities are often spotted.
Political Links
Salgado is a descendant of Ricardo Espirito Santo Silva, who ran the bank between 1932 and 1955 and became one of former dictator Antonio de Oliveira Salazar's main financial advisers.
The family became close to members of Spain's royal family, including former King Juan Carlos, who lived briefly in Estoril after World War II, while in exile during the dictatorship of General Francisco Franco. There is also evidence that Ricardo Espirito Santo aided members of the Rothschild family in their escape from the Nazis, according to Carlos Alberto Damas, director of the Center for the History of Banco Espirito Santo.
Salgado himself kept close ties with political leaders. A total of 25 ministers and secretaries of state have had links to Banco Espirito Santo or Grupo Espirito Santo since 1976, Portuguese newspaper Expresso reported on July 17, citing Os Burgueses, a book authored by Francisco Louca, the former leader of the Left Block party, Joao Teixeira and Jorge Costa.
'Clay Feet'
The Espirito Santos' rough patch may be short-lived, said one family member, who asked not to be identified, adding that the group will be able to put this tumultuous period behind it.
Still, in the near term the family will be dwelling more on unwinding than building.
Some of the group's assets have already gone on the block. A Swiss family-owned private bank has agreed to acquire a part of Banque Privee Espirito Santo SA's private banking business. Private equity funds are looking to buy Rioforte's Tivoli Hotels & Resorts. Grupo Pestana, one of Portugal's biggest hotel groups, in partnership with U.S. and European funds, is competing for Tivoli hotels, Portuguese newspaper Sol reported on July 11, citing Chairman Dionisio Pestana.
"Ricardo Salgado was nicknamed the owner of everything," said Antonio Silva, an 80-year-old pensioner as he flicked through the pages of a newspaper at a cafe in Lisbon across the street from Banco Espirito Santo. "The truth is that while the Espirito Santo Group looked solid, it had feet of clay."