BNP Paribas Posts Record Second-Quarter Loss on U.S. Fine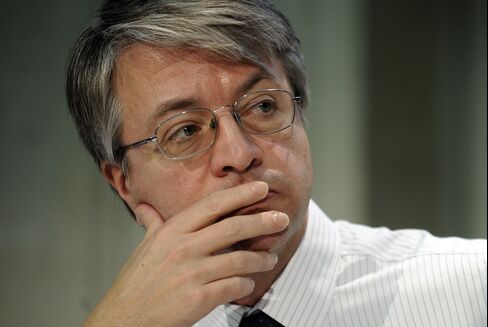 BNP Paribas SA, France's biggest bank, posted its largest loss ever and replaced its compliance chief after a record fine for doing business with countries blacklisted by the U.S.
The net loss amounted to 4.32 billion euros ($5.8 billion), Paris-based BNP said today, in line with analysts' estimates. Chief Executive Officer Jean-Laurent Bonnafe, working to move past the U.S. penalties, is revamping the bank's compliance department.
"The group has learned lessons from these events and is implementing a major reinforcement of its internal control," Bonnafe, 53, said in a statement.
BNP Paribas was fined $8.97 billion after pleading guilty to criminal charges in the U.S. on June 30, a record sum for a bank accused of violating U.S. sanctions. Prosecutors said the lender processed almost $9 billion in prohibited transactions from 2004 to 2012. The U.S. also barred the bank from certain dollar-clearing operations next year.
The lender took charges of 5.75 billion euros for the fine and an additional 200 million euros to pay for its plan to improve controls. Ignoring one-time items, the bank earned 1.92 billion euros in the quarter as revenues from trading equity and debt securities rebounded.
BNP rose 0.5 percent to 50.12 euros by 12:36 p.m. in Paris trading, paring the loss this year to 12 percent.
Clamon Leaving
The bank is shuffling leadership as part of the effort to improve controls. Jean Clamon, who has overseen compliance since 2008, is stepping down by year-end and will be replaced by Eric Martin, currently head of internal audit. BNP plans to add 500 compliance staff over the next two to three years, Bonnafe said.
Bonnafe reiterated today BNP is sticking to its 2016 targets and plans to keep this year's dividend at last year's level of 1.50 euros a share. The yearlong ban on dollar clearing would have no impact on its ability to serve the vast majority of its clients, the company said July 1.
BNP's Tier 1 capital ratio under the latest Basel rules, a measure of financial strength, fell to 10 percent on June 30 from 10.6 percent at the end of March, it said today.
Revenue Growth
The corporate and investment bank recorded a 661 million-euro pretax profit in the three months through June, up 31 percent from a year earlier. Sales from trading fixed-income securities, the unit's largest source of revenue, showed a 22 percent increase from a year earlier, while revenue from advisory and trading equities grew 20 percent, according to a presentation on the bank's website today.
Deutsche Bank AG, Europe's largest investment bank by revenue, this week surprised analysts by reporting income from trading debt and currencies of 1.83 billion euros in the second quarter, little changed from a year earlier. For the five biggest U.S. banks, combined revenue from trading fixed income, currencies and commodities fell 9.4 percent to $12.1 billion in the period, data compiled by Bloomberg Intelligence show.
BNP Paribas, after cutting assets and jobs to cope with the fallout of the sovereign-debt crisis, is seeking a rebound at its corporate and investment bank, targeting annual revenue growth of more than 6 percent through 2016, from 8.7 billion euros last year. Revenue at the unit climbed 5.6 percent in the second quarter.
Compliance Plan
The management changes announced today follow earlier departures. New York's top banking regulator, Benjamin Lawsky, asked BNP to sever ties with 13 executives, including Georges Chodron de Courcel, co-chief operating officer in charge of corporate and investment banking. Chodron de Courcel, 64, left his position at the end of June, and plans to retire in September.
BNP was the second major European bank to plead guilty in a U.S. court this year. In May, Credit Suisse Group AG's main banking subsidiary admitted to helping Americans hide money from the IRS in Swiss accounts and was fined $2.6 billion.
BNP's penalty dwarfed the combined $4.9 billion levied against 21 other banks for transactions tied to sanctioned countries since President Barack Obama took office.
Only Once
"You can afford this economically once and not twice," Ludo Van Der Heyden, a corporate governance professor at business school Insead, said by phone from Fontainebleau, France. There is need for "better compliance all the way to the top," and "to force reporting and whistle-blowing if people uncover wrong practices," he said.
BNP Paribas is setting up "new robust compliance and control procedures," including the creation of a New York team dedicated to ensuring respect of U.S. sanctions, it has said.
For growth, the bank is relying on the U.S., Asia and Germany, as its main European markets -- France, Italy and Belgium -- struggle to bounce back from recession.
Consumer Bank
Consumer banking pretax earnings were 1.44 billion euros in the second quarter, down 13 percent from a year earlier. Pretax profit at its French branch network fell 2.4 percent to 484 million euros, while earnings at its Belgian unit rose to 186 million euros in the second quarter from 142 million euros a year earlier, it said.
Pretax earnings at BNP's Rome-based unit, Banca Nazionale del Lavoro, slumped to 1 million euros from 70 million euros a year earlier as loan-loss provisions increased. Italy is emerging from its longest recession on record and BNP Paribas has said it expects loan-loss provisions at its Rome-based unit to fall in 2015-2016.
Pretax profit at BNP's investment-solutions unit, which includes asset management, private banking and insurance, rose 7.1 percent to 603 million euros, it said.