AstraZeneca Raises Forecast as Nexium Fee Boosts Profit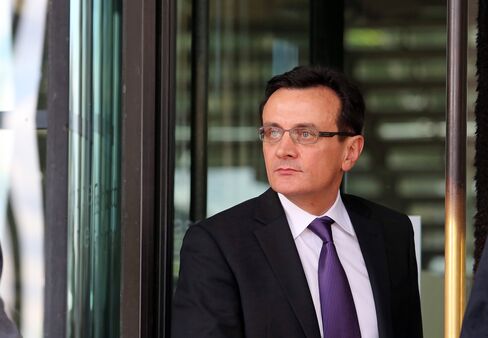 AstraZeneca Plc raised its forecast after reporting quarterly profit that beat analyst estimates, helped by a $200 million payment from one-time suitor Pfizer Inc. for rights to a version of the Nexium heartburn treatment.
Profit excluding certain items declined 1 percent to $2.03 billion, or $1.30 a share, from $2.05 billion, or $1.20 a share, the London-based company said today in a statement. That beat the $1.09 a share average analyst estimate compiled by Bloomberg. The company said full-year revenue will be similar to last year at constant-exchange rates and earnings will fall in the low double-digits.
AstraZeneca, which fended off a takeover attempt from Pfizer in May, now has more than 100 experimental medicines that it's counting on to restore growth over the next three years and convince investors that it should remain an independent company. The company needs new drugs to offset the loss of revenue from patent expiration of three of its best-selling drugs: Nexium; Crestor, a cholesterol drug; and anti-psychotic medication Seroquel.
"Definitely, they're doing a great job at communicating their pipeline," said Fabian Wenner, an analyst at Kepler Cheuvreux in Zurich. "But the pipeline products will only kick in in three or four years, so they really have to bridge that gap they're facing from losing Nexium, Seroquel and Crestor."
Shares of AstraZeneca fell less than 1 percent to 4,344.50 pence at 4:35 p.m. in London. The stock has climbed 37 percent, including reinvested dividends, in the last year.
Sales Increase
Sales rose 4 percent to $6.45 billion, beating analysts' estimate of $6.33 billion.
Pfizer bought the rights to market an over-the-counter version of Nexium in 2012. AstraZeneca continues to sell the prescription-strength version of the drug, whose patent expired in May. AstraZeneca said its forecast assumes that a generic competitor will appear in the U.S. in October.
AstraZeneca's earnings per share also beat estimates due in part to a one-time tax benefit of $117 million that reduced the company's first-half tax rate to about 13 percent. Otherwise, it would have been 21.1 percent.
The Pfizer payment, coupled with $80 million in income from the Japanese introduction of the Forxiga diabetes medicine, helped boost revenue in the quarter. Sales of heart drug Brilinta rose 77 percent to $117 million.
AstraZeneca's Defense
AstraZeneca, the U.K.'s second-largest drugmaker, rejected Pfizer's bid of $117 billion, saying its promising experimental drugs made it more valuable as a standalone company. According to the rules of U.K. financial regulators, Pfizer could return to the negotiating table next month if invited by AstraZeneca and can approach shareholders directly in November.
"An investor day is planned for Nov. 18, which implies to us that the company is unlikely to invite Pfizer to make further offers once the three-month cooling off period expires Aug. 26," Jefferies International Ltd. analysts led by Jeffrey Holford wrote in a note to investors today.
AstraZeneca's quarterly performance, combined with its increased revenue forecast, could make the company more expensive for Pfizer, said Bloomberg Intelligence analysts Sam Fazeli and Michael Shah.
As part of its defense, AstraZeneca said it predicts revenues of $45 billion by 2023.
AstraZeneca Chief Executive Officer Pascal Soriot didn't comment on the Pfizer buyout attempt on conference calls with analysts or reporters, citing U.K. regulatory rules.
Yesterday, AstraZeneca announced it was buying the rights to Almirall SA's respiratory drugs for $875 million, and could pay an additional $1.22 billion if the drugs meet development and sales goals.
On the call with analysts, Chief Financial Officer Marc Dunoyer said the company wasn't pursuing large acquisitions.
"If we were to see a very great opportunity which would be aligned with our strategy, accretive and complementary to what we have, we would of course like to consider it," he said.
Before it's here, it's on the Bloomberg Terminal.
LEARN MORE