Yukos Hunting Rosneft Assets From Venezuela to Vietnam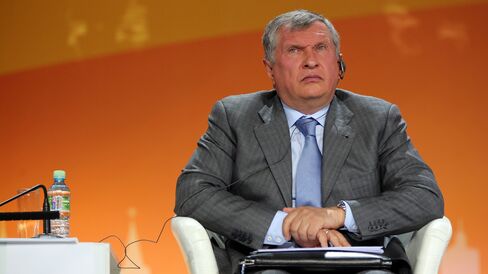 Armed with a record $50 billion ruling against Russia for confiscating Yukos Oil Co., the ex-owners are targeting assets of state-run OAO Rosneft and OAO Gazprom in a legal race that may run from Venezuela to Vietnam.
The 600-page judgment by an arbitration panel in The Hague this week found Rosneft, which acquired most of Yukos's assets after they were seized and sold off, and Gazprom to be instrumental in the campaign. Backed by such a ruling, the former Yukos shareholders stand a better chance of winning court-ordered seizures of assets of Russia's two largest companies than of sovereign property, which is usually immune from confiscation, said Gus Van Harten, an arbitration expert at York University's Osgoode Hall Law School in Canada.
"If I were them, I'd be looking at Rosneft, who are the customers, where are they paying, where is the oil being shipped?" Van Harten said by e-mail.
Rosneft went from being Russia's No. 10 crude producer to the world's largest publicly traded oil company by output, aided by its acquisition of Yukos assets. The company is headed by Igor Sechin, a longtime ally of President Vladimir Putin who was deputy head of the Kremlin administration during the legal assault on Yukos.
Germany, Texas
Rosneft's biggest European asset is Ruhr Oel, a 50-50 venture with BP Plc that unites four German refineries, said Alexander Kornilov, an Alfa Bank energy analyst in Moscow. Other Rosneft assets outside of Russia include a stake in an Italian refinery and shale-oil ventures with Exxon Mobil Corp. in Texas and Canada. It also has major projects in Venezuela, a gas field and pipeline in Vietnam and exploration ventures in Brazil and Algeria.
Gazprom, which supplies about a third of Europe's gas, owns stakes in pipelines in Poland and under the Black and Baltic seas, as well as underground storage facilities in European Union-members Austria, the U.K., Germany and Latvia. It also has trading or marketing units in almost every EU state.
The tribunal in The Hague said Rosneft in particular had implemented the policy of the Russian government in its takeover of Yukos. The court accepted the plaintiffs' argument that the $27 billion in tax claims used to justify the dismantlement was "for the sole benefit of the Russian state and state-owned companies, Rosneft and Gazprom."
Khodorkovsky, Sechin
The two companies can be targeted because they were beneficiaries of expropriated Yukos assets, said Yas Banifatemi, a lawyer for GML Ltd., formerly Group Menatep, the holding company set up by Mikhail Khodorkovsky and his partners before the businessman was arrested and sentenced to more than a decade in prison.
Russia said it would appeal what it termed a "politically biased" ruling in Dutch courts, where there are only limited technical grounds to annul international arbitration decisions.
Enforcing the award will be easier in some countries than in others. Venezuela, for example, is one of Russia's staunchest allies and its court system is controlled by the government, according to Human Rights Watch, so a ruling against Rosneft is unlikely. Sechin flew an entire chamber choir from Moscow to western Venezuela this week to perform in Hugo Chavez's hometown on the late president's birthday.
'Corporate Veil'
"Common law jurisdictions like the U.K. and the U.S. are generally more flexible in treating companies as alter egos of a state or in piercing the corporate veil," said Jan Schaefer, a lawyer at King & Spalding in Frankfurt. "German courts are much more reluctant to ignore the corporate veil."
Yukos-related litigation won't wrap up anytime soon, according to GML. Tim Osborne, who's leading the legal battle as head of GML, said it may take "a long while" to exhaust all legal options.
The Yukos affair "could easily go on for another 10 years," said Dmitry Gololobov, former chief attorney for the defunct oil company.
Khodorkovsky, who was freed by Putin in December, has said he transferred all his Yukos shares to Leonid Nevzlin before the company was dismantled, so he isn't entitled to any money generated as a result of court action.
The European Court of Human Rights today ordered Russia to pay all former Yukos shareholders 1.87 billion euros ($2.5 billion) in compensation for the dismantling of the company, in a separate ruling that Russia will have to adhere to if it can't overturn it on appeal.
U.S. Victory
Nevzlin said in an interview published by Forbes Russia after the ruling in The Hague that GML would accept less than $50 billion if Russia agrees to drop the charges against himself and other former Yukos employees. Nevzlin, who fled to Israel a decade ago, declined to comment beyond what he told Forbes.
Rosneft won't negotiate on Yukos employees' criminal charges, Sechin told reporters in Caracas this week. "You can't buy justice with money," he said.
Khodorkovsky, once worth more than $15 billion, said Rosneft and Gazprom will now have their hands full with major legal battles to thwart confiscation of their assets.
"I think that Igor Ivanovich Sechin will now have more problems that he expected," Khodorkovsky said in an interview with RBC Daily, the Moscow newspaper controlled by billionaire Brooklyn Nets owner Mikhail Prokhorov.
Yukos has had legal success outside of Russia before. A Dutch remnant of Yukos received $425 million from Rosneft in 2010 to cover loans given to a Russian affiliate before Rosneft acquired it. And last year a U.S. court ordered a former Yukos subsidiary now owned by Rosneft to pay $186 million to a Luxembourg unit of Yukos. Those funds and another $1.7 billion from the sale of other assets are held by two Dutch trusts that Rosneft is seeking control over.
'Huge Opportunity'
"The Hague ruling opens a huge opportunity for Yukos to claim Rosneft and Gazprom assets in foreign courts," Vladimir Milov, a deputy energy minister in 2002, during Putin's first term as president, said by phone. "If the courts accept the argument that Rosneft and Gazprom are instruments of the state, then some of their foreign assets may be at risk."
Russia, the largest supplier of oil and gas to Europe, is already facing mounting sanctions levied over the conflict in Ukraine, including by the U.S. on Rosneft and Sechin personally. Rosneft accounts for 56 percent of Russia's crude exports via pipeline monopoly OAO Transneft, while Gazprom, controls all the country's exports of the fuel to Europe.
Rosneft complied with the law in acquiring Yukos subsidiaries and doesn't expect the decision to "negatively affect its commercial activity or assets," the oil producer said in a website statement.
'State Apparatus'
Gazprom declined to comment on the ruling. A manager at a Gazprom affiliate said the gas exporter is prepared for a protracted era of Yukos litigation that will be very unpleasant for both the company and the country. He asked not to be identified because he's not authorized to speak to the media.
Still, Gazprom and Rosneft are protected to some extent because most courts will be reluctant to punish all shareholders equally, not just the biggest, which in this case is the Russian government, according to Kyle Davis, a partner at Goltsblat BLP, the Russian practice of Berwin Leighton Paisner.
"It will be difficult, probably impossible, to seize Rosneft and Gazprom assets to satisfy The Hague award," Davis said. "These are public companies with thousands of shareholders other than the Russian state."
The Russian state owns about 50 percent of Gazprom and almost 70 percent of Rosneft, in which BP has 20 percent.
Fighters, Paintings
Georgios Petrochilos, a partner at Three Crowns, a law firm specializing in international arbitration, said GML's most convincing argument is the tribunal's conclusion that Rosneft and Gazprom have acted as arms of the government.
"What you would need to show is that Rosneft is effectively part of the state apparatus," Petrochilos said by phone from London. Potential targets for court-ordered seizures include tankers carrying Rosneft crude out of Russia, according to Petrochilos.
If that legal precedent is set, it "could radically reduce Russia's export markets for oil and fundamentally change the country's engagement with international markets," Robert Amsterdam, a former Yukos lawyer, said on his website.
Global Hunt
Russia has endured lengthy legal odysseys before by refusing to pay damages in commercial disputes. Noga Import & Export SA, a Geneva-based trading company, won a series of court rulings in Europe to enforce payment for goods including baby food and pesticides that it supplied to Russia in exchange for oil in 1991 and 1992.
Over the course of a decade, Noga won the temporary seizure of Russian assets including fighter jets at the Paris Air Show and Pushkin State Museum artworks on loan in Switzerland over what it claimed was $680 million of debt.
Unlike previous Yukos-related litigation, though, The Hague decision gives GML the right to go to arbitration courts in about 150 countries, including Venezuela and Vietnam, that are party to the 1958 United Nations convention on foreign arbitral awards to enforce the ruling.
"It will be a question of identifying assets around the world, going to local courts and getting attachments," GML's Osborne said in a Bloomberg Television interview. "I don't think that Rosneft can be 100 percent confident that all their assets in the West will be secure."
Before it's here, it's on the Bloomberg Terminal.
LEARN MORE