U.K. Bank Bonuses Targeted by BOE in 7-Year Clawback Rule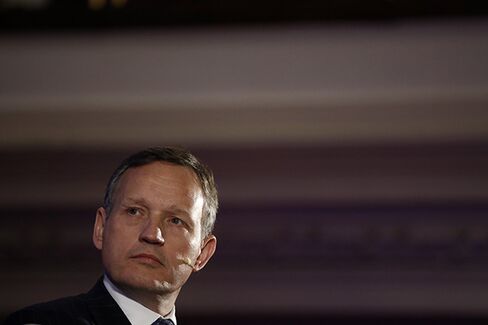 Senior bankers could be forced to pay back bonuses as long as seven years after they're awarded under new Bank of England rules to curb short-term risk-taking.
Banks operating in the U.K. should amend employee contracts so they can recoup bonus payments from workers who exceed their risk limits or break financial-conduct rules, the Bank of England said in a statement on its website today.
"As these new rules are among the toughest in world, we need to be careful we don't create uncertainty which might make it increasingly hard to attract talent to London," said John Cridland, director general of the Confederation of British Industry, which represents U.K. companies. "The government needs to work hard to ensure the U.K. remains competitive as a leading global financial center."
The rules, which come into force on Jan. 1, 2015, are part of a move by global regulators to hit bankers' wallets if their risk-taking leads to large losses. While work at the international level has focused on so-called clawback powers to recover bonuses, and on deferral rules that limit immediate payouts, the European Union has also adopted a ban on awards worth more than twice fixed pay.
The U.K. measures go beyond minimum EU standards, which require at least 40 percent of awards to be deferred for at least three years, and hand banks some clawback powers. U.S. rules on banker pay have mainly targeted bailed-out banks.
'Reckless Misconduct'
In addition to the clawback rule, U.K. regulators also announced that they are seeking views on a range of other bonus curbs, including whether the clawback rule should extend to as much as 10 years in cases where a bank is under investigation by regulators.
They're also planning an overhaul of standards for bank managers that would see executives made criminally liable for "reckless misconduct that results in the failure of the institution." Under the supporting legislation introduced in December, a person could be jailed for up to seven years for this offense.
"Banks must act responsibly in setting their pay policies," the U.K. Treasury said after the BOE announcement. The consultations announced today "build on the progress the government has made over the last few years to reform unacceptable pay practices in the banking sector."
The seven-year clawback rule would apply from the date the bonus is awarded, with banks obliged to recoup money when there "is reasonable evidence of employee misbehavior or material error," or where the firm has suffered "a material failure of risk management.
'Most Appropriate'
The rule differs from an earlier BOE plan to set the cut-off date at six years after the banker received the money. The BOE has also narrowed the grounds compared with earlier proposals on when such clawbacks can be carried out.
Clawback ''is most appropriate in cases where the individual has some responsibility or culpability for the circumstances giving rise to the grounds for action,'' the BOE's Prudential Regulation Authority said. The central bank has ''therefore narrowed the grounds to exclude a material downturn in financial performance.''
''The operation of clawback will present many practical and legal challenges for employers,'' Jean Lovett, a partner at Linklaters LLP, said in an e-mailed statement. ''Furthermore, a firm's ability to enforce clawback decisions against employees remains untested in the U.K. courts.''
The PRA and the U.K. Financial Conduct Authority are also weighing how and whether to curb so-called buy-outs, whereby a new employer compensates bankers for bonuses they were in line to receive had they stayed in their old job.
'Appropriate Punishment'
Other draft rules would reinforce curbs against bonuses and other perks for executives of bailed-out banks, including discretionary pension benefits.
''I support the idea in principle that where there is wrongdoing, there should be appropriate punishment,'' Antony Jenkins, chief executive officer of Barclays Plc, said on BBC Radio 4's Today program before the Bank of England published its statement. ''If that's criminal wrongdoing it should be criminal, if it's recklessness that should be punished also. I'm not against the concept of clawback."
The U.K. prefers measures to recoup compensation over imposing caps on bonuses, which Andrew Bailey, head of the Prudential Regulation Authority, has said will lead to higher salaries. Royal Bank of Scotland Group Plc last year said it would recover about 302 million pounds ($511 million) by cutting its bonus pool and reclaiming deferred compensation to help meet the 381 million-pound cost of fines in the scandal over manipulation of the London Interbank Offered Rate.
Background Checks
Regulators are seeking views on how to apply new U.K. rules that make banks' senior managers criminally liable in cases of serious misconduct. The measures allow the PRA and FCA to prosecute managers when their decisions cause the institution to fail.
These plans would also boost background checks that banks have to carry out on staff and would force lenders to better clarify senior managers responsibilities.
"Holding individuals to account is a key component of our job as regulators of banks," Bailey said. The PRA and FCA are seeking to complete work on these rules by early 2015.
Before it's here, it's on the Bloomberg Terminal.
LEARN MORE