Tesla Seen Reporting Record Deliveries on China Expansion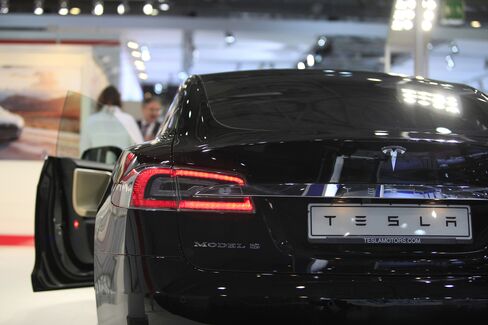 July 30 (Bloomberg) -- Tesla Motors Inc. will probably report record electric Model S deliveries in the second quarter after it accelerated output and began shipping its flagship sedan to China and the U.K.
The youngest publicly traded U.S. carmaker is projected to say tomorrow it delivered a best-ever 7,546 Model S sedans in the period that ended June 30, the average of eight analysts' estimates compiled by Bloomberg. That would be up 47 percent from a year ago and slightly exceeding Tesla's forecast of 7,500. Earnings are predicted to be 4.5 cents a share, excluding some items, the average of 11 estimates, down from an adjusted 20 cents per share a year ago.
"Initial deliveries into China appear to have been successful," said Andrea James, a Minneapolis-based analyst for Dougherty & Co. who rates Tesla a buy. While the company is contending with a trademark dispute there, that "may be the cost of doing business in China, which is a key market for Tesla," she said.
Tesla is racing to boost international shipments of the Model S, priced from $71,000 in the U.S., until it can begin delivering the already-delayed Model X sport-utility vehicle in early 2015. The next challenge for Chief Executive Officer Elon Musk, who is set to appear in an episode of "The Simpsons," is deciding where to build the world's largest lithium-ion battery plant to start making cheaper cells needed for the less costly Model 3 sedan due by 2017.
Reaching China
Model S deliveries to China, the world's largest auto market, started in April and as many as 1,000 people there may have received cars in the quarter, according to analysts Brian Johnson of Barclays Plc, who rates Palo Alto, California-based Tesla the equivalent of a hold, and Wedbush Securities' Craig Irwin, who rates the stock the equivalent of a buy. First-quarter deliveries slipped from the previous period as the company, which doesn't count sales until customers take possession of the cars, started shipping to Asia.
Tesla rose 1.7 percent to $228.92 today in New York. The stock has gained 52 percent this year.
The company, which reported only one profitable quarter on the basis of generally accepted accounting principles, or GAAP, probably had a net loss of $34.1 million, or 27 cents a share on that basis, the average of six estimates compiled by Bloomberg.
Average Prices
The rise in Model S shipments, along with sales of battery packs and motors to Daimler AG for its electric Mercedes-Benz B-Class hatchback, probably lifted quarterly revenue, analysts said.
The growth in overseas sales may have raised the average transaction price for the Model S to $108,000 in the quarter, up from $106,000 in the first quarter, said James Albertine, an equity analyst with Stifel, Nicolaus & Co.
After entering China, U.K. sales began in June and deliveries in Hong Kong started this month. In the year's second half, Tesla is to ship right-hand-drive cars to Japan and Australia, said Simon Sproule, a company spokesman.
"This was probably the most difficult quarter of the year for them, given how many vehicles were in transit to so many new markets," said Alan Baum, an auto analyst at Baum & Associates in West Bloomfield, Michigan, who expects 7,500 quarterly deliveries. "They've modestly increased production, but August and September is when it begins to step up before really accelerating through the end of the year."
Increasing Output
Musk, 43, said in May that while shipments of the Model S would be constrained in the first half of the year by tight supplies of lithium-ion cells needed for its battery packs, production should increase to as many as 9,000 cars in the second quarter.
The company also signaled in May that quarterly operating expenses would rise as it boosted spending on R&D and other costs to expand operations.
Assembly work at Tesla's Fremont, California, plant stopped on July 21 so the company could install more manufacturing robots and reconfigure its assembly line to boost output by 25 percent to 1,000 units per week. Changes also include readying the plant to build the Model X SUV, due in 2015's first quarter.
Tesla this month also confirmed that the next addition to its lineup will be called the Model 3 and is due by 2017. That car is to be smaller than the Model S, have about 200 miles (322 kilometers) of range per charge and a base price about half that of Tesla's flagship sedan.
Model 3 and the battery Gigafactory that Musk envisions are central to Tesla's long-stated goal of selling mass-market electric vehicles.
Preliminary Decision
The factory, which Tesla has said will consolidate all aspects of battery production from raw materials to finished product and recycling of used packs, will cost as much as $5 billion to build and eventually employ as many as 6,500 people.
Tesla said it's studying sites in Arizona, California, Nevada, New Mexico and Texas for the factory and may select three for initial preparation. A final decision on which of the three will be built to completion is due by year-end, Musk said last month at Tesla's annual shareholder meeting.
Panasonic Corp., Tesla's main supplier of lithium-ion cells and a shareholder, has said it intends to participate in the Gigafactory project.
Japan's Asahi and Nikkei newspapers reported this month that Panasonic will commit about $200 million to construction of the Gigafactory. The Osaka-based electronics company, which signed a letter of intent to participate in the project, has said it hasn't determined a potential investment amount. Panasonic also is to announce quarterly results on July 31.
Barring unforeseen news, quarterly results in line with consensus expectations will probably boost Tesla's share price, Albertine said in a research report this week.
"Tesla has enough global runway with respect to recently tapped or altogether untapped markets to continue a steady production ramp of Model S and Model X units well into 2015 as the Gigafactory breaks ground," he said.
To contact the reporter on this story: Alan Ohnsman in Los Angeles at aohnsman@bloomberg.net
To contact the editors responsible for this story: Jamie Butters at jbutters@bloomberg.net Niamh Ring