Spirit Goes for a Growth Spurt, Risking Profits and Angry Rivals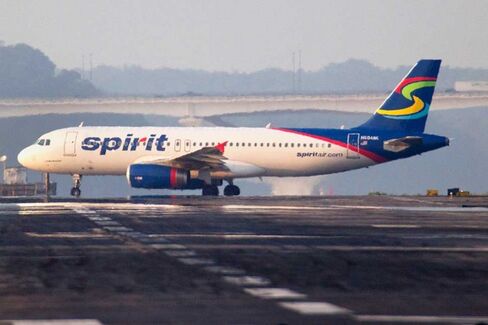 Spirit Airlines plans to add 23 new Airbus jets to its fleet and expand service from some of the biggest U.S. cities over the next 17 months. All that growth has some analysts worried that Spirit may be biting off a big chunk in a short period—and possibly courting a competitive response from the industry's deep-pocketed behemoths.
"Why does it make sense to push the pedal down on growth when the existing plan works so well?" Evercore Partners analyst Duane Pfennigwerth asked Tuesday on a conference call with Spirit executives. One reason is the airline's delivery schedule with Airbus. A second, deeper reason, however, is that Spirit is a true growth airline. Its business model dictates finding new customers that have been priced out of flying most other airlines and then supplementing a low fare with optional fees.
The Florida-based company's financial targets dictate expansion, which will spurt and ebbs over time. "We only add things, if we believe they're going to make money and earn our target return or better," Spirit Chief Executive Officer Ben Baldanza replied. "And we believe that's true with this growth as well."
The ultra-low cost airline has eight new planes entering its fleet this year, followed by 15 more in 2015. The 23 planes will require the hiring and training of nearly 350 new pilots, plus maintenance and other personnel costs. All those new seats will represent about a 30 percent jump in Spirit's capacity, above its long-term growth plans of 15 percent to 20 percent annually, and could pressure its fares.
"In our opinion, the longer-term target is a more efficient way to deploy assets and is less likely to attract a competitive response than a substantially faster rate of growth," Raymond James analyst Savanthi Syth wrote on Tuesday in a note to clients. She and other analysts remain bullish on the stock, which has gained 47 percent this year to hit 67. The new growth will mean higher costs and could squeeze profit margins, but no one is remotely worried that Spirit won't make money. Wolfe Research today boosted its target for the stock to 100, from 93. Syth raised her target by 2, to 76.
Spirit will also soon begin owning some of its new Airbus jets, a reversal from a long-term custom of leasing its entire fleet. That change—turning to debt markets to finance the planes—is expected to deliver about $800,000 in operating income per airplane vs. leasing, Spirit says.
One risk as Spirit begins adding new routes from such cities as Chicago-O'Hare, Detroit, Houston, and Minneapolis is that airlines with hubs in those places might fight back. Next week, for example, Spirit will launch service to five cities from Kansas City, Mo., its newest destination. Historically, Spirit has drawn customers who do not usually fly, rather than siphon traffic from carriers like American, Delta, and United. Its business works well because the industry's whales have been largely indifferent to Spirit's segment of the low-income leisure market. If Spirit were to grow too much or too quickly, however, a larger rival may choose to respond.
Before it's here, it's on the Bloomberg Terminal.
LEARN MORE