Axed Factory Shows Task for Modi's China-Like Rail Revamp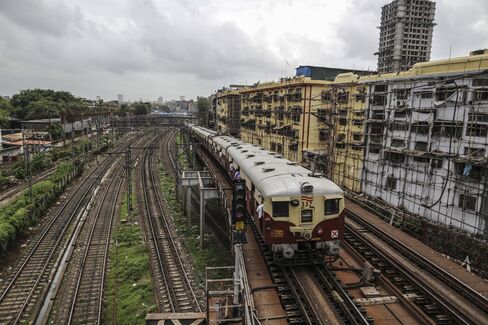 Prime Minister Narendra Modi aims to transform India's railways with new track and high-speed trains. Bharat Heavy Electricals Ltd.'s decision to scrap a $133 million factory for commuter coaches shows why he faces an uphill task.
The planned plant was axed due to a lack of demand from Indian Railways, said Ambuj Sharma, a Bharat Heavy board member in New Delhi. Building work didn't get far past a foundation stone laid last year and land earmarked for the factory in Rajasthan state is idle, according to Sharma.
The aborted plant shows how Indian Railways, whose network was developed partly under British colonial rule, struggles to fund upgrades because of pressure to curb ticket costs. The state-owned operator estimates pending projects need 5 trillion rupees ($83 billion), overshadowing Modi's fare increase and pledge to woo foreign investment since his election in May.
"The railways need to transition into a corporate structure which accounts for the cost of capital," said Jaijit Bhattacharya, a partner in the infrastructure and government services practice at KPMG in India. "If the government wants the railways to play a social role, it should allocate additional funds to it. Railways should not be treated as an arm of the government."
Modi, who won the Indian election by a landslide, has prioritized the modernization of a network where speeds for cargo trains can sometimes drop below walking pace.
Who Pays?
The plan includes adding track, building world-class stations, ramping up speeds to as much as 200 kilometers (124 miles) an hour, and, eventually deploying bullet trains. It also foresees transporting more freight, such as coal, on dedicated lines. The ambition echoes parts of China's railway revamp.
The question is whether Modi can find the money. About 825 million Indians live on less than $2 per day, according to World Bank data, limiting his room to keep boosting ticket prices.
Passenger fares went up about 14 percent last month and freight rates 6.5 percent. While the fare increase will generate 80 billion rupees extra revenue, introducing just one bullet train costs 600 billion rupees, Railway Minister D. Sadananda Gowda said July 8 in a yearly review of the network's finances.
Indian Railways, which traces its heritage back to 1853, predicts a surplus of 6 billion rupees after expenses on 1.6 trillion rupees of receipts in the year through March 2015.
Running costs from ferrying about 23 million passengers -- equivalent to Australia's population -- and 3 million tons of freight daily take up about 94 rupees of each 100 rupees earned.
'Huge Gap'
"This leaves a huge gap between what is available as surplus and what is needed," Gowda said in his review in parliament in New Delhi earlier this month.
The minister said freight rates have been kept high to compensate for below-cost passenger services.
That's pushed cargo onto roads. Just 31 percent of Indian freight travels by rail, down from almost 90 percent in 1950, data from Gowda and the United Nations shows.
"Some of our corridors are operating at nearly double their capacity, which leads to a very, very slow movement of goods," Alok Johri, who sits on Indian Railways' seven-member board, said at a conference in New Delhi on July 25. "We certainly have a problem with funds. That's the biggest problem we are grappling with."
Part of Modi's attempted solution to the challenge of finding money is a liberalization of railroad investment rules.
The nation is considering allowing foreign investment in new rail infrastructure, including the operation of high-speed trains, links to ports and freight corridors, Railway Board Chairman Arunendra Kumar said earlier this month.
Shopping Malls
Other steps include seeking more budgetary support from the government and asking beneficiaries of better rail links, such as ports and steel companies, to invest in track laying, said Anil Saxena, a spokesman for Indian Railways in New Delhi.
Free land is being sought from states for projects as new gauge will boost their growth, and Indian Railways could also develop shopping malls and hotels on the land it owns to spur revenues, he said. There's a focus on generating more advertising income and selling scrap too, Saxena said.
"Railways should significantly focus on non-ticket revenues," said KPMG's Bhattacharya. "For instance, stations are prime real estate. At the moment, the share of non-ticket revenues is minuscule."
The World Bank and Japan International Cooperation Agency are helping to fund construction of two railroads for freight.
Infrastructure Focus
The estimated project cost, except for one section of track, is about 815 billion rupees, Manoj Sinha, the junior railways minister, said in a written reply to a question in parliament.
Modi pledged about 1.48 trillion rupees in his first budget on July 10 for everything from highways and ports to housing, signaling his commitment to better infrastructure.
Even so, India's history of missed targets looms large.
For instance, the Bharat Heavy factory in Rajasthan was supposed to meet most of the demand for mainline electrical multiple units, a type of electric coach, according to a government release.
Elsewhere, only one of 99 proposed new lines have been completed in the past 10 years, according to Gowda. In Kolkata in eastern India, more than 80 percent of capacity at Titagarh Wagons Ltd., the nation's biggest wagon maker, was idle last year for lack of orders, its chairman J.P. Chowdhary said.
State-owned Bharat Heavy, whose shares fell as much as 1.7 percent today before closing 1.1 percent lower at 228.35 rupees, is shifting focus from railways.
The company boosted capacity at its locomotive plant in Jhansi in Uttar Pradesh state to 75 units a year from 50, "but there are no new orders," said Sharma, the board member.
"We are now looking at new areas of growth, such as solar and defense," he said.
Before it's here, it's on the Bloomberg Terminal.
LEARN MORE