Prison No. 1 Awaits Zhou With Cells That Housed Mao's Wife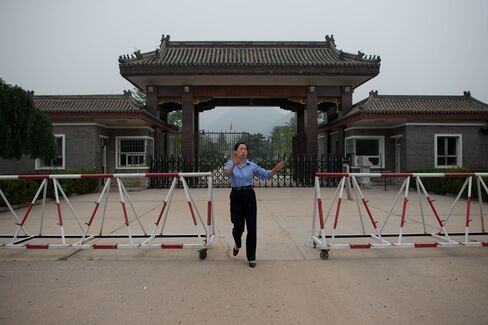 Former security chief Zhou Yongkang is facing the same political path as his onetime ally Bo Xilai, which leads to the gates of Qincheng prison, a compound north of Beijing that has confined a who's who of China's fallen elite.
The Soviet-funded jail at the foot of the Yanshan mountains, with its traditional pagoda-like entrance, earned the nickname China's No. 1 prison because its 20 square meter (215 square foot) cells detained generations of purged leaders, including Chairman Mao Zedong's widow.
In Mao's day, renegade Communists had it even tougher, with some banished to work farms after being designated as "capitalist roaders." Former President Liu Shaoqi suffered years of beatings and died in 1969 after being denounced. While today's probes cite corruption, Mao's enemies were taken down on the grounds of ideology, allowing some, like Deng Xiaoping, to return to power.
"It will be much more complicated to rehabilitate anyone sentenced through legal means," said Bo Zhiyue, a senior research fellow at the National University of Singapore who specializes in China's elite politics. "They've moved to use the law but the nature of the purge is still political."
Zhou, for whom no trial has yet been announced, is the highest-ranking target so far of an anti-corruption campaign instigated by Xi Jinping, who became party secretary in late 2012. Bo Xilai was held at Qincheng prison before his sentencing for corruption in 2013. The court did not say where he would be incarcerated.
Better Food
Built in 1958, Qincheng has a reputation for better treatment than most of China's prisons. Jiang Qing, Mao's wife, was detained there for years before her televised trial as one of the Gang of Four in 1981. She received 1.5 yuan of food each day, two to three times what the ordinary Chinese ate, including fish, meat and milk, according to a biography of her by Australian historian Ross Terrill.
"I ate and slept well," Jiang said of the latter part of her pretrial confinement, according to the book. Jiang's death sentence was later commuted to life imprisonment. She is said to have committed suicide in 1991 while being treated in a hospital.
She lasted longer than Mao's designated successor, Lin Biao, who died in a plane crash in Inner Mongolia in 1971, while trying to flee the country.
Deng was one of those who survived Mao's Cultural Revolution. Purged three times from the party leadership, he once was sent to work in a tractor factory, before bouncing back to spearhead China's opening to the world in 1978.
No Rehabilitation
Such a recovery is unlikely for Zhou, who may spend time in Qincheng like Chongqing party secretary Bo. Because of its history of housing political prisoners, the prison is run by the Ministry of Public Security, rather than the Justice Ministry.
China's purges date back long before the Communist Party took power. With a political system based on a centralized bureaucracy unchecked by an independent judiciary, many imperial dynasties began with waves of executions, murders and banishments. Emperor Hongwu, who founded the Ming Dynasty in 1368, made it a capital offense for court officials to criticize him and is thought to have massacred thousands of people he feared were plotting against him.
Likewise, Mao skipped the legal process when eliminating potential rivals. Most were found guilty because they challenged the party line, said Joseph Cheng, a political science professor at the City University of Hong Kong.
The trend continued under Deng. Former Premier Zhao Ziyang was arrested for failing to back the crackdown on the Tiananmen Square protests in 1989. His case never went to trial and he lived the rest of his days under house arrest, taping memoirs that were later published outside China.
Golf Outing
"No visitors or other outings were permitted," he said. "However, for the sake of some good publicity, I was allowed to go play golf and attend funerals. I didn't know whether to laugh or cry at such tactics."
Zhou's case follows a more recent pattern of using corruption charges and the courts to net political rivals. Two years after former President Jiang Zemin came to power, he dismissed the mayor of Beijing, Chen Xitong, who was then tried and sentenced to 16 years in prison for graft. Jiang's successor Hu Jintao fired Chen Liangyu, then Communist Party chief of Shanghai, who was sentenced to 18 years in prison in 2008.
Both Chens served time in Qincheng, according to Global People magazine, a publication of the People's Daily. The prison's rooms are more comfortable than ordinary jails, with larger rooms containing writing desks, private toilets and washing machines, the magazine said last year, citing people who had visited the compound.
War Criminals
The compound was originally built to house Kuomintang nationalist war criminals who were defeated by Mao's People's Liberation Army in 1949. The PLA Daily said today on its official microblog that the military fully supports the decision to investigate Zhou, which it said shows the Communist Party's resolve to purify and reform itself.
The prison's construction was overseen by Feng Jiping, then head of the Beijing Public Security Bureau, who was also purged and became one of its first inmates, the South China Morning Post wrote in September.
Even among the prison's august roll call, Zhou would stand out, according to Cheng at Hong Kong's City University. He used to be the ninth member of the Standing Committee, China's top ruling body. Xi would have had to persuade party elders like Jiang to allow him to pursue the case, he said.
"Zhou Yongkang did not really challenge Xi Jinping at the moment, he was retired," Cheng said. "But Xi Jinping needed a target, needed a big tiger to set a good example that he was serious about corruption."