Londoners Cashing in Flee to Suburbs as Home Rally Wanes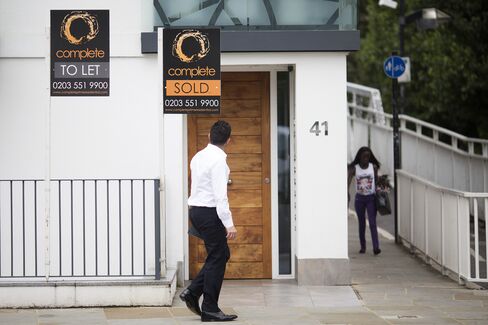 For equity-derivatives broker Andrew Adamson, it was a trade too good to pass up.
In October, he was offered 1,000 pounds ($1,700) per square foot for his London townhouse. Other homes in the area were going for about 30 percent less. Adamson accepted it immediately.
London's housing market, having outperformed the rest of the U.K. with price gains of more than 50 percent in five years, is cooling as owners like Adamson cash out. They're leaving the city for less costly suburban and country homes because they expect mortgage rates to rise and new lending rules to damp prices. London estate agents had the largest increase in instructions to sell homes in Britain in June and the biggest drop in people seeking to buy them, according to the Royal Institution of Chartered Surveyors.
"Now is the time people are cashing in," said Adamson, 46, who used the 2 million pounds he raised from the sale to buy a country manor in Hampshire, southern England, for 400,000 pounds less. "I caught it before everybody else started talking about it. As soon as everybody starts talking about it you've missed the best deal."
There's never been a stronger financial incentive for Londoners to leave the city. The average price gap between homes within the M25 motorway that encircles London and the rest of England was about 265,000 pounds as of June, the widest on record, according to data compiled by broker Hamptons International Ltd.
'Bull Run'
A growing number of people are exploiting that price difference. Londoners purchased 75 percent more properties outside the capital than a year earlier, bringing the total for the 12 months through May to 44,000 properties with a combined value of 15 billion pounds, Hamptons estimates. Both numbers are the highest since 2007.
"There's an opportunity to take advantage of a nice bull run" in London prices since 2009, said Adam Challis, head of residential research at Jones Lang LaSalle Inc. in London. "The next real strength in terms of pricing is clearly in suburban locations and into the commuter belt, where there's still quite a lot of heat in the market."
London house prices stagnated in July compared with the prior month, the first time there's been no growth since December 2012, according to a survey of real estate surveyors published by Hometrack Ltd. on July 25. The group expects London values to fall in the months ahead, the results showed.
U.K. prices grew at the slowest pace in more than a year in July, increasing 0.1 percent from June, Nationwide Building Society said today.
'Crystallize Gains'
"If you want to crystallize your gains, this is no bad point," said Simon Rubinsohn, chief economist at RICS.
Bank of England Governor Mark Carney last month announced a loan-to-income cap and an affordability test in an effort to rein in runaway prices. Starting in October, no more than 15 percent of mortgages granted by U.K. lenders should amount to 4.5 times the borrowers' income. Additionally, homebuyers will have to prove they can afford to repay their loans if interest rates increase.
The BOE should be ready to further tighten these curbs and may need to consider raising rates if the moves fail to control housing market risks, the International Monetary Fund said on July 28. The size of household debts supports the case for "gradual and limited" rate increases after the housing market turned out weaker than the central bank forecast, BOE Deputy Governor Ben Broadbent said in an interview yesterday.
Thirty-four percent of economists say the BOE will raise the benchmark rate from a record low 0.5 percent by December, up from 12 percent in early June, a Bloomberg survey of 50 economists shows.
'Up Heftily'
The BOE measures have "made people think, 'Wait a minute, prices have gone up heftily already, perhaps we don't need to chase them upward further,'" Rubinsohn said.
Asking prices for London properties declined for a second month in July as more homes were offered for sale, according to Rightmove Plc. The decline was led by three districts: Islington, Wandsworth and Kingston. Prices in each fell by an average of almost 4 percent in the month.
"It's as if someone had flicked a light switch," Johnny Morris, head of research at Hamptons, said. "There are a number of new worries, including higher borrowing costs and mortgage regulations."
For Adamson, moving from central London to the Hampshire village of Catherington was also a lifestyle choice. His commute by rail to London's Waterloo station takes about an hour. And within 15 minutes of his new home, he can kite-surf in the English Channel.
Isle View
"It's about the quality of life," said Adamson. "I can even see the Isle of Wight."
Adamson's 7,000 square-foot (650 square-meter) house has a lake, an orchard -- and a history. The house was built in 1296 and, in 1651, Charles II took shelter there during his escape to France, according to broker Chesterton Humberts.
An increase in demand for luxury country homes in England has caused prices to rise for six straight quarters, according to data compiled by Knight Frank LLP. The market is expected to outperform the capital in the months ahead, said James Grillo, a director at Chesterton Humberts' Chelsea office.
"It has now become an economic imperative to sell in the capital and move to the country," Grillo said.
The luxury market in central London was the first to show signs that the city's residential housing may be cooling. The total value of homes selling for more than 10 million pounds declined by 1.5 percent during the second quarter, Savills Plc said earlier this month. Those valued from 5 million to 10 million pounds dropped 1.8 percent.
Tempting Foreigners
The slowdown in price gains and the prospect of realizing profit tied up in London homes could tempt wealthy foreigners to head elsewhere, economists say. Those who bought homes in the priciest districts of town in dollars, rubles, rupees or riyals during 2009 would double their money if they sold today, Hamptons' Morris said.
"With the prospect of increasing interest rates, and resultant strengthening of the pounds, the temptation for overseas investors to cash in is getting bigger," Morris said.
Chancellor of the Exchequer George Osborne is adding a capital-gains tax next year on homes sold by people living abroad after raising a transaction tax to 7 percent from 5 percent for properties priced at more than 2 million pounds in 2012.
"The countryside market is going to go up," Adamson said. "We bought this for 1.6 million, we've done nothing major to it, and we just had it valued at 2.15 million."