DBS Vaults to Top of Southeast Asia M&A Adviser List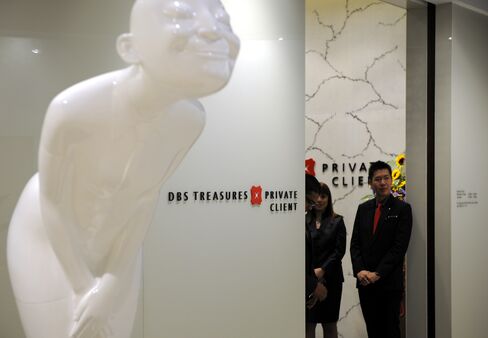 DBS Group Holdings Ltd., Southeast Asia's biggest bank, vaulted to the top among takeover advisers in the region for the first time in its history after winning more business from Temasek Holdings Pte, its main shareholder.
The bank climbed from No. 24 a year ago following work on $16.6 billion of deals in the first half, including the region's largest acquisition, data compiled by Bloomberg show. DBS's jump may lead to higher investment-banking income at the bank, which will probably report a 4 percent gain in second-quarter profit tomorrow. The shares rose to a more than six-year high.
Led by Chief Executive Officer Piyush Gupta, DBS is expanding outside Singapore and focusing more on fee-generating businesses such as wealth management to bolster growth. The bank and its rivals had the busiest first half since 2006 on merger-and-acquisition advisory as companies globally tap more than $4 trillion of cash and low interest rates to fund purchases.
"It's pretty impressive," Jim Antos, a Hong Kong-based analyst at Mizuho Securities Asia Ltd., said by telephone on July 30. DBS was "taking market share apparently from global banks in trade flows between mainland China and Southeast Asia. Now it's M&A."
Companies in Southeast Asia were involved in $75.6 billion of mergers in the six months ended June 30, data compiled by Bloomberg show. Goldman Sachs Group Inc. took the No. 2 spot with its work on $16 billion of takeovers, while Credit Suisse Group AG was ranked third with $15.8 billion. Bank of America Corp. and Deutsche Bank AG were fourth and fifth, with transactions worth $14.9 billion and $9.8 billion, respectively.
Shares Rally
JPMorgan Chase & Co., ranked first a year ago, dropped to 11th position with $6.7 billion of deals, the data show.
Shares of DBS climbed 1.9 percent to S$18.42 as of 1:17 p.m. in Singapore, the highest intraday level since December 2007. The stock gained 7.7 percent this year. Temasek owns 29 percent of the bank, which Gupta has led since November 2009.
Meanwhile, shares of rival Oversea-Chinese Banking Corp. have dropped 1.9 percent this year. Singapore-based OCBC this month acquired Wing Hang Bank Ltd. for $5 billion in the biggest takeover of a Hong Kong lender since 2001.
Net income for the second quarter at DBS probably climbed to S$918.4 million from S$887 million a year earlier, according to the average of five estimates compiled by Bloomberg. Fees derived from credit cards and trade financing may have contributed to the gain, Sharnie Wong and Evian Wong, Hong Kong-based analysts at Barclays Plc, wrote in a July 11 note.
Banking Fees
Fees from investment banking accounted for 2 percent of DBS's revenue in 2013. Its strategic advisory unit, which is headed by Choe Tse Wei, advises clients on mergers. Eng-Kwok Seat Moey, head of capital markets, oversees equity-market services, while Clifford Lee is responsible for debt capital markets as head of fixed income.
The bank climbed to the top spot in Southeast Asia for underwriting share sales in the first half, from No. 5 in the first half of 2013, data show. For bond sales in the region, it rose to No. 3 from No. 7.
"In Southeast Asia, we are seeing the rise of the regional investment banks who have an ability and appetite" to do a lot of smaller deals, said Keith Pogson, a Hong Kong-based senior partner for financial services at Ernst & Young Global Ltd. Those banks "have the depth of pre-existing relationships to often put them in the driving seat."
Sitting Pretty
DBS is benefiting also in part because it's "a big lender" to Southeast Asian companies, said Mizuho's Antos.
"If you are the house bank, and if you have the capability to do investment banking -- which DBS obviously does -- then you'd probably get a shot to do these deals," Antos said. "DBS is sitting pretty."
Choe, a managing director who has headed the strategic advisory unit since 2009, said he expects the volume of takeovers in the second half to be similar to the first half, which would make 2014 the best year on record for Southeast Asia since Bloomberg began compiling the data in 1990.
"Deals are happening in every sector," Choe, 46, said in an interview this month. "Singapore is a core space, but we've done deals in Malaysia and we expect to announce deals for Indonesia too."
Even the region's political turmoil may not curb dealmaking. In Indonesia, where former general Prabowo Subianto has filed an appeal contesting an official count declaring he lost this month's presidential election, Choe said he doesn't expect any fallout for takeovers linked to the largest Southeast Asian economy.
Good Relationship
"So long as Indonesia remains open for business, then the deals are not affected by who is the leader of the nation," Choe said. In Thailand, where the military engineered a coup in May, "we have to factor in the current political situation. People are a bit more careful."
Back home in Singapore, DBS advised Temasek's Breedens Investments Pte on its S$7.7 billion bid including debt in March for Olam International Ltd., one of the world's top three coffee and rice traders, data compiled by Bloomberg show.
"We enjoy good relationships with a variety of banks, which we engage for various services from time to time," Stephen Forshaw, a Singapore-based spokesman for Temasek, wrote in an e-mail. "Of course, DBS is one of those," he said.
The biggest transaction by Temasek that DBS had advised on prior to Olam was the investment firm's November 2009 purchase of a stake in Seoul Semiconductor Co., data compiled by Bloomberg show.
Client Network
The Singapore bank was also involved in another Temasek deal this year: DBS and New York-based Goldman Sachs both advised A.S. Watson & Co. on Hutchison Whampoa Ltd.'s proposed sale in March of 25 percent of the retail business to Temasek for HK$44 billion ($5.7 billion).
"Overwhelmingly, we deal with people who are already our clients," Choe said. "Of all the deals we've announced since the beginning of this year, every one is a pre-existing client of DBS. We aim to work within that ecosystem."
The surge in Southeast Asian deals came amid $1.6 trillion of global mergers announced in the busiest six months since the second half of 2007, the data show. Against this backdrop, Choe says his unit will hire another three people by the end of the year. His business has 16 client-facing employees in Singapore and three in Hong Kong, he said.
"As the franchise grows, you will need people," Choe said. "In every sector, we're seeing activity."