Catalan Corruption May End Mas's Moral Edge on Rajoy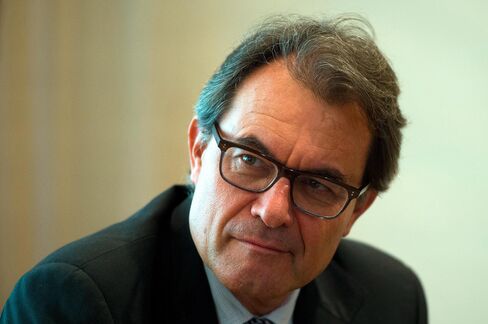 Catalan President Artur Mas's summit meeting with Spanish Prime Minister Mariano Rajoy is being overshadowed by his mentor's confession of tax evasion only months before a planned vote on secession by the region.
Jordi Pujol, Catalonia's president from 1980 to 2003, last week said he'd evaded taxes for decades, dominating headlines in the run-up to Mas's first meeting with Rajoy in almost a year held today. Pujol, 84, agreed to resign from his honorary position as Founding President of Mas's CiU formation and give up the office and pension he receives as a former regional leader, Mas said yesterday.
The Catalan leader has been riding a wave of popular support pushing for the breakup of Spain as his people bridle at the linguistic restrictions and spending constraints imposed by Rajoy's government. With the two leaders set for a collision over plans for an independence vote on Nov. 9, Catalans' sense that they'd be better off opting to govern their own affairs had also been fueled by claims by Luis Barcenas, Rajoy's former party treasurer, that the prime minister accepted payments from a secret slush fund. Rajoy has denied receiving illegal payments.
Support for Independence
"It's bad news for Mas at a time when he needs to be stronger than ever," said Antonio Roldan, a London-based analyst at Eurasia Group, which advises investors on political risk. "It has the potential to hurt CiU as the Barcenas case hurt Rajoy's party."
Catalonia, a region of 7.5 million people in the northeast corner of the Iberian peninsula, is a 193 billion-euro ($259 billion) economy, about the same size as Finland's. Output per head is 17 percent above the EU average, whereas in Spain as a whole it's 5 percent below the average.
Support for secession in Catalonia is running at 45 percent, or 3 percentage points higher than in May, according to a Metroscopia poll for El Pais newspaper published July 19. A similar survey conducted by the Catalan regional government's pollster earlier this year shows that Catalans' support for independence has jumped 17 percentage points since Rajoy took office in 2011.
"The weakness or the force I have doesn't come from Señor Pujol," said Mas in a press meeting today after his meeting with Rajoy. "It comes from the Catalan people."
Mas headed to the central government's headquarters in Madrid earlier today almost exactly a year after Rajoy called an extraordinary parliamentary session to rebut Barcenas's claims that Rajoy's People's Party has operated a secret slush fund for senior senior officials. Rajoy admitted to a "mistake" in trusting Barcenas.
Former PP Leader
Montserrat Nebrera, a former leader of Rajoy's People's Party in Catalonia who left the group in 2009, said she, like many people she knows, is supporting the independence campaign in part because of her frustration at corruption in Spanish politics. That conviction may be shaken by this month's revelations, she said in a telephone interview yesterday.
"Pujol is a bigger figure for Catalonia than Barcenas for Spain," said Nebrera, who plans to run for mayor of Sant Just Desvern, a town in the outskirts of Barcelona, with the backing of Mas's party. "In the end, the facts have been admitted and forgiveness has been asked for."
Pujol said he kept an inheritance he received from his father in 1980 in an account beyond the reach of the Spanish tax authorities, according to a statement published July 26 by La Vanguardia, the leading Catalan daily, and Madrid-based newspaper ABC. Members of his family declared money to the tax authorities in recent days, according to the statement, in which he asked for forgiveness and didn't say how much money was involved.
'Political Father'
Corruption is the most important problem for Spaniards after unemployment, according to a survey from the central government pollster known as CIS. The study is based on 2,485 interviews conducted in June.
"It is very important having very separate boundaries between the political and business worlds," said Angel Cano, Chief Operating Officer at Banco Bilbao Vizcaya Argentaria SA, Spain's second-largest bank. "The strongest thing we hear" from outside Spain is "how frequently people read stories on corruption in the media."
"President Pujol is my political father" and so during my career "this is the decision that has affected me the most," Mas said yesterday in a televised statement. Even so "the people as a whole are more important than any single person. This applies to Jordi Pujol now, but it also applies to anyone."
Under Investigation
The confession from Pujol, who also leads a political research institute that is drafting a code of ethics for politicians, came 10 days after his son Oriol resigned as a lawmaker in the regional assembly and as a leader of Mas's party after he was accused of receiving illegal commissions. Oriol Pujol denies any wrongdoing.
Oriol "Pujol is under investigation but there hasn't been a court ruling," Josep Rull, leader of the CiU group in the Catalan parliament said in a July 22 interview. "We have confidence in his innocence."
Corruption is emerging as a political issue as the Catalan National Assembly, a group campaigning for independence, prepares a series of demonstrations ahead of Catalan national day on Sept. 11, which will mark the start of the run-in to the referendum.
"One of the motives for the independence is having a chance to change the status quo of how things have been done, and that's valid for corruption at the Spanish level as well as the Catalan level," said Ricard Gene, a vice-president of the group.
(An earlier version of this story was corrected to remove a reference to Oriol Pujol being Jordi Pujol's eldest son.)