Argentine Banker Said to Propose Accord to Avert Default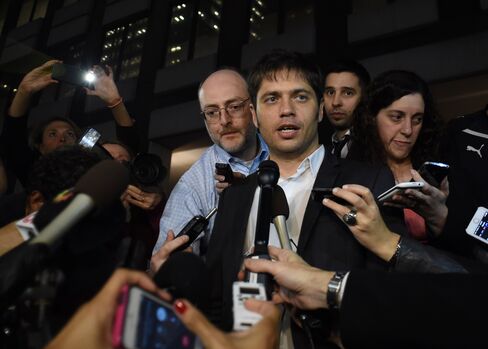 A top Argentine banker and former Economy Ministry official arrived in New York today to make a last-minute proposal aimed at averting the country's second default in 13 years.
Sebastian Palla, head of investment banking at Banco Macro SA in Buenos Aires, will present a proposal from members of the Adeba local banking association to buy defaulted bonds from investors who won a lawsuit for full repayment, said a bank official who asked not to be identified because she isn't authorized to speak publicly about the plans. An agreement would allow Argentina to continue paying interest on its restructured bonds as a deadline to avoid default expires today.
Argentine bonds surged the most on record to a three-year high on speculation that government officials and holdout creditors will reach an agreement today. The Merval stock index rallied and the peso gained in the unofficial market investors use to skirt currency controls.
"The expectation is that Argentina will reach a resolution today," Patrick Esteruelas, a senior analyst at Emso Partners Ltd., said in a telephone interview. "Kicillof wouldn't have traveled to New York, taking the unprecedented step to meet face-to-face with the holdouts, and spend all that political capital, to go back to Buenos Aires empty-handed."
Palla was head of Argentina's private pension funds before they were nationalized in 2008 and worked at the Economy Ministry from 2003 to 2005 as undersecretary of finance, where he took part in the nation's first debt restructuring after its 2001 default. Other members of the banking group making the proposal to creditors include Grupo Financiero Galicia SA, Banco Hipotecario SA and Banco Mariva, according to the Banco Macro official.
12 Hours
"This shows goodwill from the banking community to avert default, but looks like it's only at an early phase or almost discovery phase of potential options, as opposed to a concrete proposal," Siobhan Morden, head of Latin America Fixed Income Strategy at Jefferies Group LLC, said in an e-mail. "They're going to need at least a temporary delay to fine-tune the proposal."
Economy Minister Axel Kicillof entered a Manhattan office building this morning to continue meetings after 12 hours of talks yesterday. After weeks of avoiding direct negotiations with hedge funds that successfully sued the country for full repayment of $1.5 billion on defaulted debt from 2001, officials met face-to-face with representatives for the holdouts for the first time last night, court-appointed mediator Daniel Pollack said in an e-mailed statement.
Default Scenario
Any default by Argentina, which was blocked by a judge from making payments on performing debt unless holdouts also get their money, could trigger bondholder claims of as much as $29 billion, equal to the nation's foreign-currency reserves. The economy, already headed for its first annual contraction since 2002 amid 40 percent inflation, may shrink by an additional 5 percent in a default scenario as Argentines scrambling for dollars cause the peso to weaken and activity to slump, according to Bank of America Corp.
Bonds maturing in 2033 surged 10 cents on the dollar, the most since they were issued in the 2005 restructuring, to 95.5 cents at 2:00 p.m. in New York, reaching the highest price since November 2010. The Merval stock index jumped 6.4 percent to a record high.
Deadline Today
To avoid another default before today's deadline for an interest payment, President Cristina Fernandez de Kirchner must reach a deal to settle the suit, compensate the hedge funds in full or obtain a delay on the U.S. court ruling.
Today, the holdouts urged U.S. District Court Judge Thomas Griesa to deny a bid from owners of euro-denominated bonds who had asked him to halt his ruling for 90 days in hopes of "opening up a path to settlement." The holdouts, led by Elliott Management Corp., argued that the bondholders' request shouldn't be granted because they're not involved in the lawsuit, and Argentina would use a delay to try to violate orders.
The country hasn't been able to access international credit markets since its $95 billion default 13 years ago, and foreign reserves used to pay debt are at an almost eight-year low. Argentina devalued its peso in January.
Blocked Payment
Cabinet Chief Jorge Capitanich earlier today declined to comment on the banks' proposal, telling reporters in Buenos Aires that he wouldn't discuss talks between private parties.
"Argentina is just one step away from resolving all its debt issues derived from 2001's default," he said.
The extra yield investors demand to own Argentine bonds over U.S. Treasuries plunged 1.21 percentage points, the most in emerging markets, to 5.59 percentage points points, according to JPMorgan Chase & Co. index data.
The cost to protect against an Argentine default in five years with credit default swaps fell 403 basis points to 1,481 basis points at 2 p.m. New York time, according to CMA prices.
Standard & Poor's would place Argentina under selective default as soon as tonight if bondholders don't receive their interest payment, analyst Delfina Cavanagh said yesterday in a telephone interview from Buenos Aires.
"If by the end of the 30th, Argentina doesn't pay the interest due on its discount bonds, we'd place it in selective default right away," Cavanagh said. "We're looking at whether creditors have received their payments, regardless of legal impediments."
Even if ratings companies move Argentina to default, investors will likely focus on the progress made in talks before rushing to ask for an acceleration of payments or sell their positions, Emso's Esteruelas said.
"Even in the event of acceleration, which I very much doubt would happen with a deal close to completion, Argentina would have 60 days to kill the default," he said. "The rating agencies may downgrade Argentina to selective default but frankly who cares."
Before it's here, it's on the Bloomberg Terminal.
LEARN MORE