U.S. Says More Chinese Drills a 'Natural Evolution'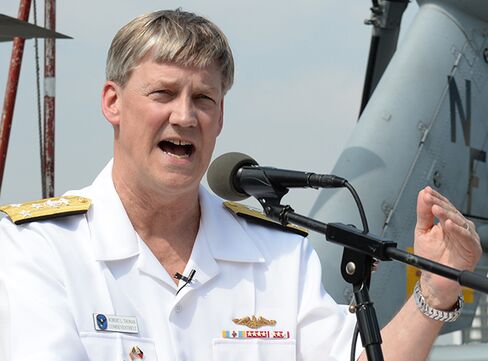 July 30 (Bloomberg) -- An increase in Chinese maritime exercises in the Pacific is a "natural evolution" and the drills will grow in complexity as the navy boosts its capacity, commander of the U.S. 7th Fleet Vice Admiral Robert Thomas said.
China is expected to keep up a "steady drumbeat" of exercises in the region, Thomas told reporters yesterday at the opening ceremony of a bilateral naval exercise with Singapore known as CARAT Singapore.
"This is a natural evolution for the PLAN as they improve their professionalism, as they improve both their capacity and capability," he said, referring to the People's Liberation Army Navy. "You should expect more exercises, and frankly more complex exercises."
China is holding drills across the East and South China Seas that may add to tensions with neighbors over territory as President Xi Jinping expands the reach of the navy to position the country as a maritime power. President Barack Obama has said the U.S. isn't seeking to contain China and that there's room to accommodate China's growing economic and military clout.
China has described the exercises, which include a live-firing drill in the South China Sea, as routine even as they are larger in scope. The nation is ratcheting up pressure on neighbors including Japan and the Philippines as the U.S. reassures its allies it remains committed to its policy for an economic and strategic rebalancing to the region.
"On the one hand, yes, it's road testing its military kit, but on the other hand it's also provocative," said Evan Resnick, an assistant professor and coordinator of the United States Programme at the S. Rajaratnam School of International Studies in Singapore. "This is an interesting moderation in tone on the part of the United States. This might be an attempt to try and calm the waters as it were in East Asia."
Joint Exercises
Thomas's comments suggest the U.S., which held its own exercises this week with Japan and India off the southern coast of Japan, is seeking to focus on the potential for military cooperation after China joined the U.S.-led Rim of the Pacific Exercise. China is taking part along with the U.S. and Japan in the five-week-long Rimpac drills, which run through Aug. 1 in waters off Hawaii. Of the 22 nations involved, China's four ships make up the second-biggest contingent after the U.S.
"We are routinely operating in the same international waters that they are," Thomas said. "Frankly, our relationship with the PLAN from the 7th Fleet perspective is very collegial, very professional."
China began five days of drills in the East China Sea yesterday, the Defense Ministry said in a statement on its website. Those exercises, which the ministry called routine, come while China is holding live-fire drills off Beibu Bay, or the Gulf of Tonkin, near Vietnam and drills in the Bohai Strait that both end Aug. 1.
'What We Do'
The U.S. Navy has "frequent interactions" with Chinese vessels and a "very productive dialogue" with its counterparts, said Admiral Samuel Locklear, commander of the U.S. Pacific Command.
"The exercise is not of a concern," Locklear said in a briefing yesterday. "It's what we do. It's what militaries do, is they operate."
"To the same degree that they're concerned about operations we do, we all kind of keep an eye on each other, but this is not an unusual exercise. This is something we have anticipated and that the PLA had announced in advance."
China's Map
China claims much of the South China Sea, which may be rich in energy and mineral deposits, under its "nine dash line" map first published in 1947, which extends hundreds of miles south from China's Hainan Island to equatorial waters off the coast of Borneo, taking in some of the world's busiest shipping lanes. In the East China Sea, Japan and China both lay claims to a chain of uninhabited islands known as Senkaku in Japanese and Diaoyu in Chinese. The U.S. has said it will come to Japan's defense in any clash over the islands.
"The U.S. position is that the Senkakus are administered by Japan and therefore in our treaty obligations with Japan, they would fall under those treaty obligations," Thomas said.
The CARAT drills, which include a torpedo-firing exercise, will involve two U.S. Navy guided missile destroyers with helicopters and a P-8 Poseidon maritime patrol aircraft as well as Formidable-class frigates and an Archer-class submarine from Singapore's Navy.
To contact the reporter on this story: Sharon Chen in Singapore at schen462@bloomberg.net
To contact the editors responsible for this story: Rosalind Mathieson at rmathieson3@bloomberg.net Nicholas Wadhams