U.K. Mortgage Approvals Rose More Than Forecast in June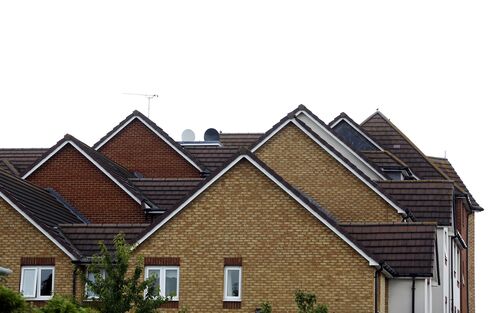 U.K. mortgage approvals rose more than economists forecast in June to a four-month high, suggesting the housing market resumed some momentum.
Approvals rose to 67,196 from an upwardly revised 62,007 in May, the Bank of England said in London today. That compared with the median forecast of 63,000 in a Bloomberg survey.
The increase in approvals is the first since January, with the introduction of tougher affordability tests in April slowing the pace of mortgage lending. Concerns that the U.K. property market may be at risk of overheating prompted BOE Governor Mark Carney to announce further measures last month to limit risky mortgages.
The data showed net mortgage lending was 2.1 billion pounds in June, down from 2.3 billion pounds in May. Net consumer credit slowed to 418 million pounds.
Recent surveys suggest the property market may be cooling as rising prices stretch affordability and expectations of a BOE interest-rate increase as early as this year deter buyers.
Hometrack Ltd. said last week that house prices in London stagnated for the first time since 2012. A survey of property surveyors published on July 10 showed they expect values in the city to fall over the coming months.
Lending to businesses fell 3.4 billion pounds in June from May, the BOE said. It's down 3.8 percent in the past year, underlining the gulf between company and household lending. Loans to small- and medium-sized companies increased 235 million pounds on the month. That's down 2.8 percent on the year.
M4, a broad measure of money supply, rose 0.1 percent in June from May and was down 0.6 percent from a year earlier. An underlying measure of M4 rose 4.6 percent on a 3-month annualized basis.
Separately, the BOE said foreign investors sold a net 4.2 billion pounds of gilts in June following net purchases of 8.8 billion pounds in May.
Before it's here, it's on the Bloomberg Terminal.
LEARN MORE