Schneider Deputy CEO Moving to London Amid French Tax Debate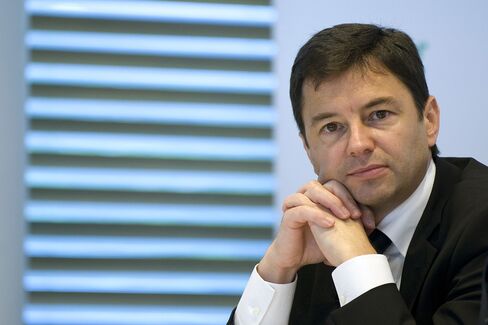 Schneider Electric SE's deputy chief executive officer, Emmanuel Babeau, is moving to London from Paris, a decision that may reignite debate on France's high taxes driving away talent.
Schneider CEO Jean-Pascal Tricoire relocated to Hong Kong in 2011, Chris Viehbacher, the CEO of Paris-based drugmaker Sanofi, is heading to the Boston area, and Jean-Francois Palus, the No. 2 executive at luxury-goods maker Kering SA, is now based in London. All of them have cited business or personal reasons for their relocations.
The move by Babeau will leave only one out of the 15 executive committee members of Schneider, a company on France's benchmark CAC 40 Index, at its headquarters in Rueil-Malmaison, near Paris. Schneider said the 47-year-old executive will be based in London to oversee the integration of its recently acquired U.K. automation software company Invensys.
"Invensys is a very fundamental acquisition for Schneider," CEO Tricoire said on an analysts' call today. "I want to leave no chance, absolutely no chance, or no risk to a possible issue on this acquisition. We're going to keep moving our people according to the need of our business."
French taxes have risen 70 billion euros ($94 billion) in the past three years, giving the country the highest tax burden in the euro region. President Francois Hollande, who took office in 2012, raised levies on income, inheritance and capital gains to shrink the country's budget deficit, prompting some entrepreneurs and wealthy people, including actor Gerard Depardieu, to leave France.
Wealth Tax
Babeau, who's in charge of finance and legal affairs at Schneider, would join a string of high-profile exits from France, although the company's spokeswoman declined to comment of the executive's tax situation. Schneider, the world's biggest maker of low- and medium-voltage equipment, agreed to buy Invensys in July, 2013 for 3.4 billion pounds ($5.8 billion).
"The previous CEO and CFO" of Invensys "have left, so we felt the need to have people there to make sure that things were well coordinated," Babeau said on a call with analysts.
Some 360 billion euros of capital has moved overseas in the past 20 years, Fondation Concorde, an independent Paris-based research center, said in a report this month. It based its estimate on a Natixis and Booz & Cie study showing that some 2,000 French families with more than 60 billion euros of wealth moved to Switzerland in the period.
Exits by taxpayers picked up after 1995 when then-Prime Minister Alain Juppe scrapped a limit on the wealth tax created in 1981 by late Socialist President Francois Mitterrand.
Fleeing Entrepreneurs
Various caps were later reinstated for the tax, which now applies to taxpayers with net wealth exceeding 1.3 million euros and rises to 1.5 percent for wealth above 10 million euros.
"There were always people who left to die in Switzerland to pass on their wealth tax free," Marc Bornhauser, a tax lawyer, said at a parliamentary committee hearing created by an Opposition UMP party lawmaker.
In 2012, Hollande had to water down his plan to double the top capital-gains tax to about 62 percent for entrepreneurs selling their business, which had provoked an outcry from an entrepreneurs' group dubbed "Les Pigeons," French slang for "suckers."
Taxation is still "very demotivating for startups or for executives developing large companies,'" Dassault Systemes SA CEO Bernard Charles said last year. "Many executives are now based in the U.S. or even in China. You can't force people to stay in a country where they don't want to."
Exiting Executives
Viehbacher, a dual German and Canadian citizen who had been based in Paris since becoming CEO in 2008, is moving to the U.S. for "a personal family" reason, a Sanofi spokesman said in June. Tricoire has said he moved to Hong Kong with his family to be in Asia, which has been Schneider's fastest-growing region.
"I've seen a lot of people who wanted to leave because of levies on capital gains, and on the wealth tax and levies on gift and inheritance," said Bornhauser, who said he's helped members of the founding families of French retailers Carrefour and Auchan settle just across the border in Belgium.
The next wave of departures may come when France at the start of 2015 revokes a tax treaty with Switzerland and starts taxing gifts and inheritance received by French residents from parents based in Switzerland, Bornhauser said.
"We've seen more and more people who had relocated asking their children to leave France," the lawyer said. "Our Swiss and Belgian colleagues are rejoicing over our mishaps."
Before it's here, it's on the Bloomberg Terminal.
LEARN MORE