Nigeria to Cameroon Wracked by Islamist Militant Attacks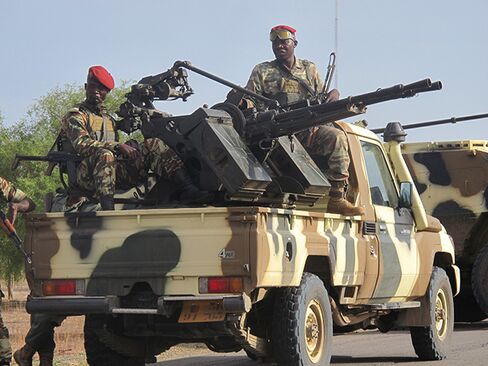 Islamist militants intensified operations in Nigeria and neighboring Cameroon as they kidnapped a senior politician's wife and targeted Muslims celebrating Eid, the end of the holy month of Ramadan, with bombs.
Four explosions killed at least 10 people in northern Nigeria's largest city of Kano, while at least 40 people have been killed by suspected members of the Boko Haram Islamist group in Adamawa state, since July 27, according to police and government officials. More than 100 people thought to be members of the movement attacked and burned the home of Cameroon's deputy prime minister, Amadou Ali, in the northern border town of Kolofata.
Fourteen people were killed and 17, including Ali's wife, were abducted in the raid. The attacks in Cameroon and Nigeria happened in an area about 732 kilometers (455 miles) wide. Eid celebrations began this weekend and will continue through today in the region.
"Everything is under control as we envisage to deploy the means necessary for a counter attack," Lieutenant Colonel Didier Badjeck, a spokesman for Cameroon's Ministry of Defense, said in an interview in Yaounde, the capital. Without a base Boko Haram may be difficult to dislodge, he said.
Boko Haram has been fighting security forces in Nigeria for the past five years, bidding to impose Islamic law in Africa's biggest economy and oil producer. The group claimed responsibility for the worst ever bombing in Nigeria's capital in April and killed more than 2,500 people in the first half of this year, according to New York-based Human Rights Watch. Boko Haram has increased raids in Cameroon this year.
Containing Insurgents
"Attacks in recent days show that Boko Haram is determined to keep operating in Cameroon," Francois Conradie, a political analyst at NKC Independent Economists in Paarl, South Africa, wrote in an e-mailed note yesterday. "The Cameroonian military will struggle to contain its activities."
Nigeria's police force said in a July 26 statement it was on so-called red alert during the end of Ramadan and had ordered officers to deploy across the country, Africa's most populous with about 170 million people.
Cameroonian President Paul Biya sent more than 1,000 troops to the border with Nigeria as Boko Haram intensified its cross-border attacks. Nigeria, Cameroon, Chad and Niger agreed to set up a joint force to patrol the border areas, as the Islamists continue to expand their reach in the region, at a May conference in Paris.
Regional Threat
Nigerian President Goodluck Jonathan condemned the attacks in Kano and Adamawa states, along with the kidnapping in Cameroon, saying they underscore "the regional security threat that Boko Haram has become," his spokesman Reuben Abati said in an e-mailed statement yesterday.
Jonathan "believes that with the continued cooperation between Nigeria's security forces and their counterparts in neighbouring countries, the war against terror will surely be won," Abati said.
In April, the group abducted more than 200 schoolgirls from Chibok, a Nigerian town in the northeastern state of Borno, close to the border with Cameroon, causing international outrage. The group's name means "western education is a sin" in the Hausa language. Most of the schoolgirls are still missing.
While the nations are cooperating more against Boko Haram, Cameroon's best military division is stationed hundreds of kilometers south in the capital, Yaounde, to help protect the president, Conradie said. Biya has been president since 1982.
"We expect such attacks to continue or increase in intensity."