Krugman Joined by Exporters in Criticizing Riksbank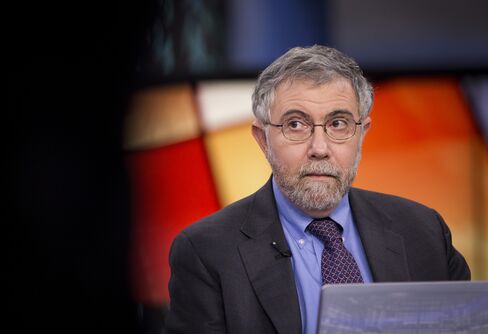 A growing number of Sweden's biggest industrial companies are joining critics of the central bank in saying policy makers have done too little to weaken the krona to help boost exports and eradicate deflation.
Three months after Nobel laureate Paul Krugman faulted the Riksbank for failing to prop up consumer prices, companies from Svenska Cellulosa AB, Europe's largest paper-tissue producer, to steelmaker SSAB say the economy would be in better shape had it cut interest rates sooner. The krona remains 18 percent overvalued versus the euro based on the Organization for Economic Cooperation and Development's purchasing-power parity gauge, after falling the most this year among 10 major currencies tracked by Bloomberg Correlation-Weighted Indexes.
"The most important thing is that we realize the importance of thinking about the need for a competitive export industry," SSAB Chief Executive Officer Martin Lindqvist said in a July 23 interview in Stockholm. Exporters have "suffered immensely from an artificially strong krona."
While a weaker currency would make exports, which account for half the economy, more competitive and stoke inflation, the Riksbank put off loosening monetary policy amid concern it would add to Sweden's record consumer-debt burden. Policy makers finally cut the main interest rate on July 3, its first reduction this year, bringing the benchmark in line with the record-low 0.25 percent in 2009 and 2010.
Krona Slides
The krona has tumbled 6.1 percent versus the group of developed-market peers in 2014, the sharpest decline in the basket and its biggest slide since 2008, data compiled by Bloomberg show.
While Sweden's currency has weakened 3.7 percent against the euro and 6.1 percent versus the dollar this year, it's still 22 percent overvalued relative to the greenback, based on the OECD measure. The krona traded at 9.1888 per euro at 12:35 p.m. in New York, after reaching an almost three-year low on the day of the rate cut.
Sweden has the most experience with deflation among the Group of 10 developed economies, with annual consumer prices falling in five of the past six months on an annualized basis. Inflation has failed to reach the Riksbank's 2 percent target for more than 2 1/2 years.
In April, Krugman likened prices in Scandinavia's biggest economy to the deflation that crippled Japan in the 1990s.
Falling Short
While the central bank does consider the exchange rate and the effect on consumer prices when setting policy, its focus is meeting the inflation target, Ann-Leena Mikiver, the Riksbank's head of communications in Stockholm, said yesterday in an e-mailed reply to questions. The central bank also considers financial stability, employment and economic growth, she said.
The rate cut was "a good step," though "a few years too late" to make the nation competitive, according to Svenska Cellulosa Chief Executive Officer Jan Johansson.
"It's sad to see when Swedish industry can't survive because of monetary policy," Johansson said in a July 18 interview in Stockholm. The Riksbank has "been too late and mistimed for the last four to five years, and history proves that point," he said.
While Sweden's gross domestic product grew faster than the average across the European Union during the global financial crisis, its unemployment rate -- 9.2 percent in June -- is the highest among its Nordic neighbors.
Trade Position
The country's trade surplus has averaged about 4 billion kronor ($584 million) a month since the end of 2012, less than half the average over the previous decade, while industrial production fell 3.2 percent in May.
Riksbank Governor Stefan Ingves, who's also the head of the Basel Committee for Banking Supervision, argues that officials can't ignore growing household debt when setting policy.
Swedish households owe an average 173 percent of their disposable incomes, according to the central bank, which forecasts an increase to 185 percent by 2017. Consumer borrowing grew at an annual pace of 5.4 percent in June, the quickest since November 2011.
The krona's declines in recent months have brought some respite to exporters. SSAB said July 23 that changes to the exchange rate added 110 million kronor to its profit last quarter, compared with a loss of 340 million kronor a year earlier.
'Positive Effect'
Boliden AB, which has most of its costs in kronor while selling mainly to the U.S., said in its latest quarterly report that a weaker currency at home is having "a positive effect." Even so, Lennart Evrell, the CEO of the mining company, told Bloomberg News this month that he wants the Riksbank to pay more attention to the krona when setting rates.
While a referendum in 2003 ruled out euro membership for Sweden, CEOs say their businesses would be better off if the nation adopted the shared currency. Seventy percent of Sweden's exports go elsewhere in Europe.
"Since we're so dependent on Europe," being part of the single currency "would've helped us avoid the painful five years that we've had," Svenska Cellulosa's Johansson said.
Having a different currency to its trading partners creates "quite a few problems" for Sweden, said Mauro Gozzo, chief economist at the Business Sweden government agency and co-author of a report on the effects of monetary policy on manufacturing. He's an advocate of Sweden joining the euro.
"A fixed exchange rate also entails problems," Gozzo said. "But I think it's important to at least have a discussion about this."
Before it's here, it's on the Bloomberg Terminal.
LEARN MORE