Klepierre Offers to Buy Competitor Corio for $5.6 Billion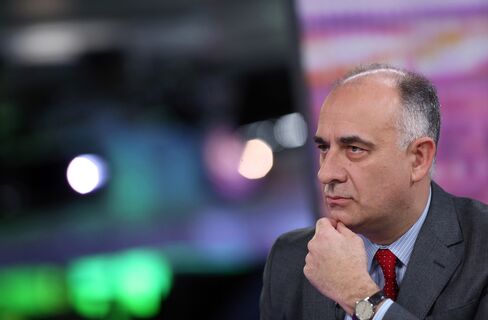 Klepierre SA offered to buy Dutch competitor Corio NV for about 4.2 billion euros ($5.6 billion) to solidify its position as Europe's second-largest publicly traded-shopping mall operator as euro region economies recover.
Klepierre bid 1.14 of its stock for each Corio share, valuing Corio at 41.4 euros a share, the companies said in a statement today. That's 15.5 percent more than Corio's closing share price yesterday.
Investment in European retail properties rose by 86 percent in the second quarter from a year earlier as supermarkets and malls in cities including London and Paris benefit from urbanization, broker Jones Lang LaSalle Inc. said in a report yesterday. Recovering European economies have led to improved sales of clothing and other goods at malls, drawing more investors and pushing up values, according to the report.
"The deal was always goings to happen," JPMorgan Chase & Co. analysts including Tim Leckie wrote in a note to clients today. "Corio has been a perennial takeover target." Another investor is unlikely to bid for the company, JPMorgan wrote in a separate note.
The transaction would be the biggest in the European real estate industry this year, eclipsing the 1.55 billion-euro sale by Spanish property developer Metrovacesa SA of its 27 percent stake in Paris-based Gecina SA to institutional investors.
Corio rose as much as 13 percent after trading resumed today, the most in almost six years, and closed up 10 percent. Klepierre shares fell 2.8 percent in Paris trading.
Major Shareholders
Corio operates 57 shopping malls in seven countries: Italy, the Netherlands, France, Germany, Spain, Portugal and Turkey. The combined company would have 182 centers in 16 countries, according to the statement.
Simon Property Group Inc. and BNP Paribas SA, Klepierre's largest shareholders, and APG, which owns more than 30 percent of Utrecht-based Corio, support the combination. The acquisition requires 95 percent approval from holders of the Dutch company's shares. There are 100.8 million shares outstanding, according to data compiled by Bloomberg.
Assuming 100 percent of Corio shares are tendered, Simon, BNP Paribas and APG will respectively hold 18.5 percent, 13.7 percent and 13.6 percent of adjusted Klepierre shares after the deal, according to the statement.
The transaction "will create the leading pan-European pure player retail property company, with an unrivaled footprint in continental Europe," Laurent Morel, chief executive officer of Paris-based Klepierre, said in the statement.
Cost Savings
Potential annual cost savings would be about 60 million euros in three to five years, according to the statement. About half of that will come from refinancing Corio's debt, Morel said in a phone call with reporters.
Closing is expected in the first quarter of 2015, according to the statement.
Before the announcement, Corio had climbed about 12 percent in Amsterdam trading in the past six months, twice as much as the Stoxx Europe 600 Index.
BNP Paribas and Lazard Ltd. advised Klepierre. Deutsche Bank AG and Goldman Sachs Group Inc. are financial advisers to Corio and Morgan Stanley acted for APG, Corio's biggest shareholder.
Before it's here, it's on the Bloomberg Terminal.
LEARN MORE