Kerry Keeps Pledge to Visit India to Spur Ties With Modi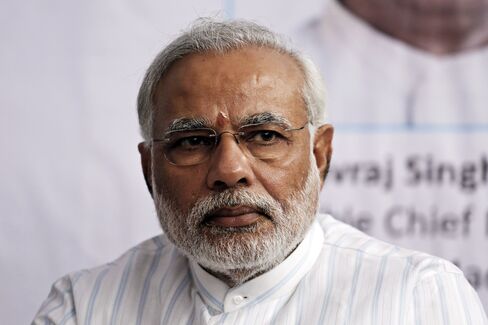 The U.S. is stepping up diplomatic engagement with India before a high-stakes visit to Washington in late September by new Prime Minister Narendra Modi.
Secretary of State John Kerry departs today for New Delhi, where he will be joined by Commerce Secretary Penny Pritzker for "strategic dialogue" meetings intended to identify topics for bilateral attention. Kerry is signaling the Obama administration's priority on strengthening U.S.-India ties by keeping his commitment to make the trip even as he tries to deal long-distance with the war over Gaza in the Mideast.
The two Cabinet members will be the most senior U.S. officials to visit since Modi's May election, in which he promised major policy changes to overcome slowing economic growth and spur trade and investment. They will be followed by Defense Secretary Chuck Hagel and by officials who will prepare for the meeting between Modi and President Barack Obama.
The effort is overdue, said Frank Wisner, a former U.S. ambassador to India. He said that trade, intellectual property and other disputes have eroded confidence on both sides since Obama, in a November 2010 address to the Indian Parliament, envisioned U.S.-India ties becoming "one of the defining partnerships of the 21st century."
"Since 2010, the high-water mark of President Obama's trip, the relationship has been on hold," Wisner, an international affairs adviser at Squire Patton Boggs LLP in Washington, told a Senate panel this month. "If anything, I would say it's atrophied and requires attention."
Strained Relations
U.S.-India relations hit a low point at the end of last year after an Indian diplomat was arrested in New York, strip-searched and charged with visa fraud for allegedly underpaying her babysitter.
Also complicating the relationship is Modi's past conflict with the U.S., which denied him a visa in 2005. The move concerned his alleged role in 2002 Hindu-Muslim riots that killed about 1,000 people, mostly Muslims, in the state of Gujarat where he was chief minister. Modi has denied the accusations repeatedly, and a Supreme Court-appointed panel found no evidence he gave orders that prevented assistance from reaching the victims.
"He is not likely to let lingering resentment" over the visa issue undermine cooperation in areas that will advance his national priorities, according to Vikram Singh, a former Pentagon official who's now vice president for national security and international policy at the Center for American Progress in Washington.
Amway Executive
The most recent impediments have been alleged U.S. electronic eavesdropping on Modi's political party and the jailing of Amway Corp.'s India unit chief executive William Pinckney on a consumer fraud complaint. He was released on bail after two months following U.S. pressure in advance of Kerry's visit. The Ada, Michigan-based company has disputed the basis for the charges.
Kerry said yesterday that the Obama administration wants to create greater opportunities for U.S. and Indian businesses as well as to expand cooperation on investment, climate change and security issues.
"This is a potentially transformative moment in our partnership with India, and we're determined to deliver on the strategic and historic opportunities that we can create together," Kerry said, speaking at the Center for American Progress, which is initiating an "India 2020" research program.
U.S. officials say both nations can benefit from expanded trade. Annual two-way trade in goods and services reached almost $100 billion in 2013, up 61 percent from 2009 and a fivefold increase since 2000, according to U.S. Assistant Secretary of State Nisha Desai Biswal, the State Department's top official for South Asia.
Facing 'Impediments'
Kerry said the U.S. goal is to see trade expand to $500 billion a year -- by a date he didn't specify -- and, "whatever impediments we may face along the way, we need to always be mindful of the opportunities and the bigger picture."
"It is completely in our mutual interest to address those obstacles that kind of raise their head here and there" and to remember that "a lot bigger opportunities come from more robust ties," Kerry said.
India was the 18th-largest goods export market for the U.S. in 2013, totaling $21.9 billion, down 1 percent from 2012 but up more than fourfold from 2003, according to the Office of the U.S. Trade Representative. India was the U.S.'s 10th-largest supplier of goods imports in 2013, totaling $41.8 billion in 2013, up 3.2 percent from 2012, and up more than threefold from 2003.
Indian Priorities
The Modi government has identified as its priorities infrastructure, manufacturing, modernizing the military, energy security, attracting more foreign investment and expanding access to skills training and education.
"Our private sector is eager to be a catalyst in India's economic revitalization," Kerry said. "American companies lead in exactly the key sectors where India wants to grow."
Before the strategic dialogue, Pritzker is scheduled to meet with Indian business leaders in Mumbai.
U.S. priorities include expanding defense cooperation, easing business conditions, eliminating barriers to U.S. companies' participation in nuclear-power projects, and greater coordination in addressing Asia security matters from Afghanistan to China.
Treaty Hurdles
Hurdles include disputes involving protectionism, retroactive taxation, intellectual-property safeguards, and nuclear-power liability. Kerry and Indian External Affairs Minister Sushma Swaraj may discuss whether negotiations on a bilateral investment treaty -- pending for five years and stalled since last year -- could be completed before the Modi-Obama summit.
The distance between the two sides on that treaty may "remain too great to bridge in the near term," according to Singh, the former U.S. official.
How much the economic relationship advances will depend on whether Modi carries though with his reform agenda, said Ashley Tellis, senior associate in the South Asia program at the Carnegie Endowment for International Peace in Washington.
"To the degree that the Modi government moves with ambition, there will be greater opportunity for American companies," Tellis said.
Hanging over the bilateral discussions is the July 31 deadline for World Trade Organization talks, which are at risk of collapse because of India's questioning of measures accepted by the previous government.
Defense Secretary Hagel is due to lead a delegation to the Indian capital in early August to discuss expanding defense ties. India is now the U.S.'s largest foreign defense market, importing $1.9 billion of U.S. weapons last year, according to IHS Jane's, a defense and security analysis company.