Housing Market in France in 'Meltdown' After Hollande Rent Caps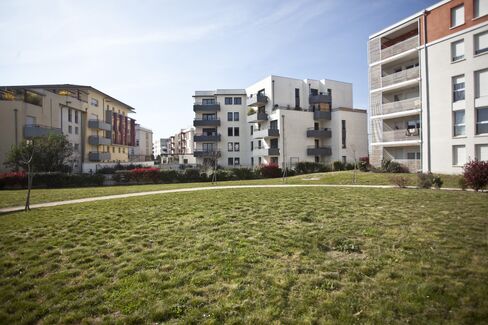 French President Francois Hollande's government may have made a housing slump worse, pushing the construction market to its lowest in more than 15 years.
Housing starts fell 19 percent in the second quarter from a year earlier, and permits -- a gauge of future construction -- dropped 13 percent, the French Housing Ministry said yesterday.
The rout stems from a law this year that seeks to make housing more affordable by capping rents in expensive neighborhoods. To protect home buyers, the law also boosted the number of documents that must be provided by sellers, leading to a decline in home sales and longer transaction times. While the government is now adjusting the rules, the damage is done, threatening France's anemic recovery that's already lagging behind those of the U.K. and Germany.
"Construction is in total meltdown," said Dominique Barbet, an economist at BNP Paribas in Paris. "It's difficult to see how the new housing law is not to blame."
Barbet says the drop in home building lopped 0.4 points off France's gross domestic product growth last year and cut the pace of expansion by a third in the first quarter. Expenditure in the sector was at its lowest level ever as a portion of total real GDP in the first quarter at 4.7 percent, down from 6.3 percent in the first three months of 2007, he estimates.
Sales of new-build homes fell 5 percent in the first quarter from a year earlier and are down by about a third compared with their level in 2007, according to Credit Agricole.
'Alarm Bell'
The construction slump, exacerbated by prices near all-time highs in the Paris area and the country's record jobless claims are curbing sales of building material and electrical equipment makers including Cie. de Saint-Gobain SA, Lafarge SA, Vicat SA, Schneider Electric SE, Legrand SA and Rexel SA.
"Current figures are worrying and will be disastrous if nothing is done; clients of the building sector are sounding the alarm bell," Pierre-Andre de Chalendar, chief executive officer of Saint-Gobain, said this month. "It's as though everything is being done to discourage investment in housing."
Alain Dinin, chairman of property company Nexity, concurs.
"The French residential real estate market has been in a particularly tough situation," he told investors after last week posting a drop in first-half revenue. "A host of complex regulations have been introduced and, most importantly, buyer sentiment has suffered. All those factors have combined to slow the already historically-low rate of new homes entering the market."
Hollande's Target
Reduced home construction is threatening Hollande's goal of increasing GDP by 1 percent this year. The International Monetary Fund slashed its 2014 French growth forecast to 0.7 percent this month from 1 percent previously. The IMF expects expansions of 1.9 percent in Germany and 3.2 percent in the U.K., as well as growth of 1.2 percent in Spain.
Hollande, who has been trying to revive an economy that has barely grown in two years, is grappling with a record 3.3 million jobless claims and an approval rating that's at the lowest level ever for any French president.
Construction has the advantage of being an industry that's easy to revive and lifts the broader economy by leading to the hiring of less-skilled workers and spurring private investment, economists say.
"A recovery in construction would help the rebound but it won't happen without government initiative," said Ludovic Subran, chief economist at Euler Hermes in Paris. Building is "a sector where the impact on growth and employment is felt immediately."
Public Funds
State-controlled financial institution Caisse des Depots is starting talks with public and private investors to raise funds to build several tens of thousands homes in the greater Paris region, where the lack of available land and a rising population has boosted housing prices.
"If we invest public money and funds from the Caisse, we must lure private investors," Caisse des Depots CEO Pierre-Rene Lemas said in a July 6 interview. "Some talks are starting with a view to conclude by the end of the year."
Sylvia Pinel, who replaced former housing minister Cecile Duflot in April, has also introduced measures to revive the construction market, and cut some rules to reduce construction costs.
It may be too little too late.
"What is important for France is to reassure people, to reassure everyone who wants to invest and to restore confidence," Lafarge CEO Bruno Lafont said in an interview with Bloomberg Television last week, calling for simpler rules, lower construction costs, and incentives for institutional investors to invest more in housing.