Banco Espirito Santo Bonds Drop on Report of Losses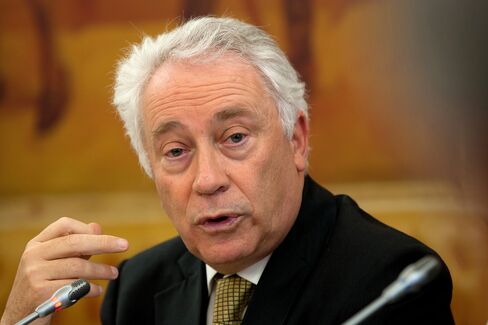 Banco Espirito Santo SA's subordinated bonds dropped to the lowest in more than a week and its shares fell after a Portuguese newspaper said the lender will report the nation's biggest-ever banking loss tomorrow.
The Lisbon-based lender's 750 million euros ($1 billion) of 7.125 percent subordinated bonds fell 7.5 cents on the euro to 78.7 cents, to yield 10.6 percent, according to data compiled by Bloomberg. The shares declined 10.6 percent to 39 euro cents at 4:40 p.m in Lisbon.
The bank will post a first-half loss of about 3 billion euros when it publishes its results after markets close, Expresso reported, without saying how it obtained the information.
A loss of that size would consume the 2.1 billion euros of capital the lender holds above the regulatory minimum and force it to raise new funds or risk impairing bondholders, according to John Raymond, an analyst at CreditSights Inc. in London.
"If they report that kind of a loss, then they have to report some kind of a solution at the same time," Raymond said in a telephone interview. "Unless they can find a fully private-sector solution, then the subordinated debt is in trouble."
The bank canceled this week's meeting with shareholders, citing the decision of an affiliated company, Espirito Santo Financial Group SA, to seek protection from creditors. Shareholders were set to vote to confirm appointments by the board July 14.
The cancellation of the meeting doesn't affect the "legitimacy" of the appointments, which will be ratified at a later date, Paulo Tome, spokesman for Banco Espirito Santo, said by telephone. He declined to comment on the Expresso report.
The lender's stock has slumped more than 40 percent this month, after three companies in the Espirito Santo group requested protection from creditors following missed short-term note payments at two of the units. Portuguese Central Bank Governor Carlos Costa has sought to reassure depositors and investors that Banco Espirito Santo can withstand losses stemming from the group's difficulties, saying yesterday that new investors will be found.
Capital Raising
Several entities have expressed interest in taking a stake in the bank, which indicates it can raise capital, the Bank of Portugal said in an e-mailed statement yesterday. If that isn't possible, then the government has funds for bank recapitalization left over from its international bailout in 2011, it said in the statement.
Luxembourg's commercial court today said it accepted the requests from Grupo Espirito Santo's Rioforte Investments SA and Espirito Santo Financial Group, or ESFG, to seek protection from creditors. The court on July 22 said it accepted Espirito Santo International SA's request.
Espirito Santo International fully owns Rioforte, which owns 100 percent of Espirito Santo Irmaos SGPS SA. That company owns 49 percent of ESFG, which owns a 20.1 percent stake in Banco Espirito Santo. Grupo Espirito Santo includes businesses linked to the Espirito Santo family, descendants of the bank's founder.
Potential Losses
Banco Espirito Santo on July 10 said it has exposure of 1.18 billion euros to companies of Grupo Espirito Santo through loans, securities and other items, and is waiting for the release of that group's restructuring plan to assess any potential losses.
The Portuguese lender has picked Deutsche Bank AG to provide advice about how to strengthen its balance sheet. Banco Espirito Santo last month raised 1.04 billion euros in a rights offering, its second capital increase in two years.
Even after losing about 60 percent of its value since the start of June, Banco Espirito Santo is the nation's second-largest lender by market value after Banco Comercial Portugues SA.