Israel's Surprise Cut Leaves Flug Joining Fed Near Rate Boundary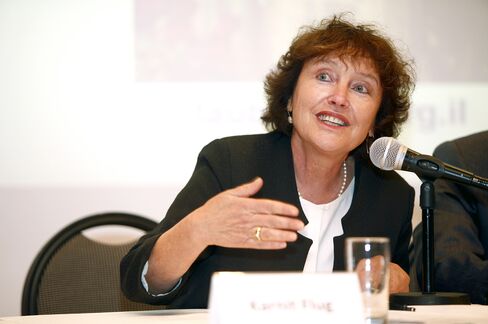 Israel's central bank may follow peers from the U.S. to Europe in looking beyond interest rates for ways to boost the economy, after Governor Karnit Flug unexpectedly cut the benchmark to a record amid the war in Gaza.
The Bank of Israel trimmed the policy rate to 0.5 percent yesterday, matching the low it reached during the slump of 2009. The bank said it's "too early" to determine the economic impact of the three-week conflict in the Gaza Strip. The unrest threatens Israel's tourism industry, adding to strains on an economy where consumer spending is on the wane and the strong shekel is squeezing exporters, who are urging Flug to weaken it.
The global economic slowdown of the past six years pushed the Federal Reserve and other central banks into alternative stimulus policies as their benchmark rates neared zero. Flug has matched her predecessor Stanley Fischer's appetite for surprising the markets since she took over last year, and economists said her next move may be to deploy new tools.
"Bond purchases are a possibility," said Modi Shafrir, chief economist at Mizrahi Tefahot Bank. Also, "due to the rate cut, chances that the Bank of Israel may set a shekel floor have increased, though they are still not high, and it won't happen in the next few months."
More than 1,050 Palestinians and 50 Israelis have died since the violence in Gaza escalated three weeks ago, as Israel carried out thousands of air and artillery strikes while militants launched about 2,500 rockets from the territory.
Flights Halted
Before the bloodshed began, Israel's hotels, restaurants and resorts were headed for a record year, with arrivals up an annual 17 percent in the first five months. Tourism accounts for 7.3 percent of Israel's economy and employs nearly 1 in 13 of the workforce, the World Travel & Tourism Council says. Last week, U.S. and European airlines temporarily halted flights to Tel Aviv, citing the risk of Palestinian missile attacks.
Even after hostilities ease, tourism will take time to bounce back, Ofer Klein, head of economics and research at Harel Insurance & Financial Services Ltd., said last week.
Meanwhile, Israeli financial markets have been mostly unaffected, with the main stock index gaining during the conflict. Benchmark government bonds due in March 2024 have gained for six straight days, pushing yields down to 2.68 percent yesterday. The shekel is little changed in the period, trading at about 3.43 per dollar yesterday. While that suggests a resilient economy, it also exacerbates the challenges for Israeli industry, which has long sought a weaker currency.
Not Enough
The Manufacturers Association of Israel, which says its members account for 95 percent of industrial output, has urged the central bank to buy enough foreign currency to push the shekel to a floor of 3.8 per dollar and keep it there. The association welcomed yesterday's rate cut, but said it wasn't enough.
With space for further cuts running out, "in the event of a continued strengthening of the shekel, our assessment is that the Bank of Israel will step up its foreign currency purchases," Klein said yesterday. Benoit Anne, head of emerging-markets strategy at Societe Generale in London, said in a research note that he expects the bank to "double up with aggressive USD buying."
The Czech Republic is among countries whose central banks have acted to weaken their currencies by announcing a target level. Rafi Melnick, a Bank of Israel policy maker, said in a May interview that such steps weren't under consideration.
'One More'
The bank forecasts that growth will slow to 2.9 percent this year, from 3.3 percent in 2013, while inflation reaches a seven-year low of 0.4 percent.
The Gaza war may even push the economy into contraction in the current quarter, though a recovery is likely before the end of the year, said Rafael Gozlan, the chief economist at Israel Brokerage & Investments Ltd., who predicted yesterday's surprise rate cut. Similar conflicts in the past have had a "moderate macroeconomic impact," the central bank said.
Gozlan said that while the benchmark is likely to stay unchanged for the next few months, Flug may not yet have run out of conventional policy steps. "We may see one more rate cut," he said. "And then, only steps in the foreign currency market."
Fischer, now vice chairman of the Fed, resumed foreign-currency purchases for the first time in almost two years in April 2013. Flug has maintained the policy since she was appointed as his permanent successor in October, after a three-month period when she served as caretaker while two preferred government choices dropped out during the vetting process. The Bank of Israel's foreign-exchange reserves rose $8.6 billion in the 12 months through June.
Flug has continued another Fischer tradition, too: surprising markets. Four of the bank's interest-rate decisions since September, including three rate cuts, have been unexpected according to Bloomberg surveys.
"She is active, like Fischer," Shafrir said.