Calpers Sees Scottish Voters Rejecting Independence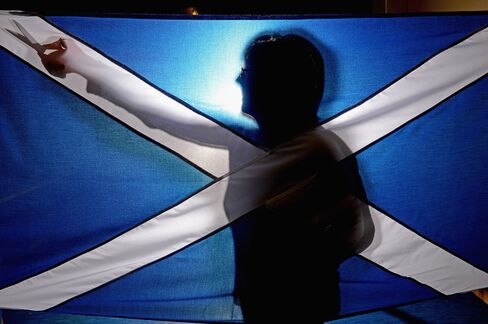 Less than eight weeks before Scotland decides on whether to leave the U.K., the biggest U.S. public pension fund expects voters to reject independence.
With banks from Morgan Stanley to BNP Paribas SA predicting increased volatility in U.K. financial markets as the Sept. 18 referendum approaches, California Public Employees' Retirement System's Eric Busay said he is swayed by polls signaling that Scotland will vote to preserve the 307-year-old union.
"Certainly Scottish independence wouldn't cause the pound to be stronger, and it has been over the course of the last couple of weeks and months," Busay, who is based in Sacramento and helps manage about $300 billion of assets, said in a telephone interview last week. "It's very unlikely that you are going to see an independence vote."
While polls show more people want to remain within the U.K. than create Europe's newest state, enough are undecided to make an upset possible in a campaign that's had funding from pro-union Harry Potter author J.K. Rowling and lottery winners supporting independence. What's at stake for investors is the future of the pound, the division of U.K.'s debt and the timing of any increase in borrowing costs.
Sleeping Well
So far, currency and bond markets have focused on Bank of England Governor Mark Carney as he weighs raising interest rates from a record low after the economy recovered the output lost during the financial crisis.
The International Monetary Fund raised its 2014 U.K. growth forecast to 3.2 percent last week, putting Britain on course to expand at almost twice the pace of the U.S. this year.
That faster growth has propelled the pound to an 11 percent gain in the past 12 months, the biggest among 10 currencies tracked by Bloomberg Correlation-Weighted Currency Indexes. Sterling slipped 0.2 percent today to $1.6942, leaving its advance this year at 2.3 percent.
"The mood is that this risk is not so serious," Axel Merk, president and chief investment officer at Palo Alto, California-based Merk Investments LLC, said in a telephone interview on July 22. "There are bigger issues in the world right now for traders to look at. It's part of the overall picture, but I certainly don't lose sleep over it."
Rates Prospects
The loss of Scotland's 150 billion-pound ($254 billion) economy, about 9 percent of U.K. gross domestic product, would cause deterioration in Britain's debt ratio with implications for the country's credit rating.
The pound may drop as much as 10 percent compared with the currencies of the U.K.'s main trading partners in the event that Scotland votes to leave, Morgan Stanley said July 14.
Scottish First Minister Alex Salmond has said an independent Scotland would walk away from its 130 billion-pound share of U.K. debt should Prime Minister David Cameron and the main political parties in London stick with their plan to deny the new state a currency union.
Yet government bonds are showing little sign of reflecting that possibility, responding more to traders increasing wagers on higher interest rates.
Gilts underperformed European bonds this year, returning more than three percentage points less than the average for the euro region as the European Central Bank added more stimulus to try and kick-start the economy. The British securities returned 4.7 percent this year, compared with the euro area's 8.2 percent, according to data compiled by Bloomberg.
Even so, the yield on U.K. 10-year government bonds has dropped 47 basis points to 2.55 percent.
Poll Tightening
A survey published this month by TNS put the lead for the No campaign at nine percentage points, down more than half since the company started monthly canvassing in September. Support for staying in the U.K. fell one point to 41 percent while backing for independence gained two points to 32 percent. The proportion of undecided respondents dropped to 27 percent.
"If people thought their marginal vote could affect the outcome, I wonder if the numbers would be quite as strong," Busay at the California fund said on July 22. "In other words, it's easy to say you'd vote for Scottish independence just to be Nationalistic, but if you thought your vote would be the one to push it over the top, would you still vote that way?"
So far currency markets have been immune to the risk of the union splintering, with three-month implied volatility for the sterling-dollar exchange rate reaching 4.96 percent on June 9, the least in seven years. It was at 5.37 percent today, compared with an average 9.45 percent for the past decade.
"The Scottish independence vote factors in only in the sense that we are in a low volatility environment," Merk said. "If volatility did flair up that could be a negative."
Before it's here, it's on the Bloomberg Terminal.
LEARN MORE