Aquino Faces Congress as Slowing Growth Threatens Legacy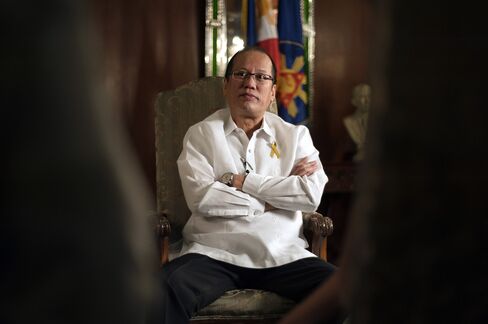 July 28 (Bloomberg) -- Philippine President Benigno Aquino asked Congress to pass a record 2.6 trillion-peso ($60-billion) budget for 2015 and approve additional spending this year to bolster growth after the courts scuppered a stimulus program.
"We are proposing the passage of a supplemental budget for 2014, so that the implementation of our programs and projects need not be compromised," Aquino, 54, said in his fifth address to Congress. The president also asked lawmakers to extend agricultural reform benefits and approve a peace deal with Muslim rebels once a better legislative proposal was crafted.
There was no mention of the Freedom of Information bill or a law that will trim tax incentives, which he had pledged to endorse. The Philippines can boost rice imports, Aquino said today, departing from a theme of self-sufficiency for the grain a year ago. He touted the benefits of stimulus spending without saying he will fight a Supreme Court decision that annulled parts of a 144.4 billion-peso ($3.33 billion) stimulus plan.
The spending program helped arrest five quarters of slowing growth in 2011 and transformed the Philippines into the fastest-growing Southeast Asian nation in 2012 and 2013. Aquino said he was grateful for the opportunity to lead the revival of the country, once known as the sick man of Asia, as he paid tribute to his parents who are regarded as Philippine heroes.
"He was significantly less vindictive as he refused to criticize the judiciary," said Richard Javad Heydarian, a political science professor at the Ateneo de Manila University. "The highly emotional note at the end of his speech was an intelligent political move."
Spending Boost
The high court ruled July 1 that the stimulus program known as the Disbursement Acceleration Program, or DAP, encroached on congress's exclusive power to appropriate funds. A separate court decision in November stripped lawmakers of their discretionary power to allocate development funds or pork barrel, which amounted to 24.8 billion pesos in 2013.
The government used 1.2 billion pesos in savings to buy firearms, allowing the state to provide one pistol for every police officer, he said. The DAP also expanded livelihood programs and social services. Infrastructure spending had doubled to 404.3 billion pesos this year from 200.3 billion pesos in 2012, Aquino said.
Robust economic growth boosted jobs and lifted 2.5 million people out of poverty in 2013, he said. Investment grade credit ratings last year and a further upgrade this year have reduced government borrowing costs, according to the president.
Earlier today, the Department of Finance reported that government expenditure rose 44 percent in June, the fastest pace since February 2002, helping to offset spending declines in April and in May.
The government and the Moro Islamic Liberation Front signed a peace deal in March to end four decades of insurgency and create a new autonomous region in mineral-rich Mindanao.
Walk Out
As many as 7,500 people gathered near the Batasan Complex in Quezon City where Aquino delivered his speech, according to the police. A group called Bagong Alyansang Makabayan burned an effigy of Aquino, portraying him as the "mastermind" of the pork-barrel system, while a handful of lawmakers wearing peach-colored clothes seeking the president's impeachment walked out before his speech.
Three congressmen have endorsed a complaint filed by civic groups seeking Aquino's impeachment, arguing that he violated the constitution and betrayed public trust when he approved the DAP, Congressman Neri Colmenares said.
Popularity Slips
Aquino's approval rating slipped to a low of 55 percent in the second quarter, from 66 percent in the previous period and a high of 67 percent in August 2012, according to Social Weather Stations, a research institute based in Quezon City.
The number of people who disapprove of the president has also risen, causing his net satisfaction rating to slump by almost half to 25 from 45 in a March poll. The survey, conducted from June 27 to June 30, sampled 1,200 people nationwide and has a margin of error of plus or minus 3 percentage points, the institute said on its website.
Aquino won power in 2010 with a pledge to rid the country of its image as one of the most corrupt in Asia. Ranked 134th out of 178 nations and territories in Transparency International's 2010 corruption perceptions index, the Philippines improved to 94 last year from 105 in 2012.
His father, Benigno Aquino Jr., was an opposition leader and senator jailed for eight years by the late dictator Ferdinand Marcos before he was allowed to travel to the U.S. for heart surgery in 1980. On his return to Manila in 1983, the elder Aquino was shot dead on the tarmac of the airport that now bears his name. His mother, Corazon Aquino, died in August 2009, sparking a wave of nostalgia that preceded her son's candidacy.
Aquino's Legacy
The court rulings on DAP and pork barrel spending might complicate Aquino's efforts before his term ends in two years to cement his legacy as a president who tackled corruption and re-engineered the economy.
The DAP, approved in 2011, fast-tracked spending in 2012 and 2013 and gave perks to some lawmakers. Economic growth accelerated in 2012 and 2013, with last year's 7.2 percent expansion the fastest in Asia after China.
The peso has risen 2.8 percent in the past three months, the best performance in the region after the ringgit, according to data compiled by Bloomberg. Financial markets are shut tomorrow for the Eid'l Fitr holiday.
Even after the recent slide in approval ratings, Aquino is still the most popular president in the past three decades at this stage of his administration, according to Social Weather Stations data.
"His legacy is a much better functioning government and one that the Filipino people have significantly greater trust in, certainly than when he entered, if not for a long time," said Philip McNicholas, a senior economist at BNP Paribas SA in Hong Kong before the speech.
Aquino today urged the Filipino people, whom he call his bosses, to vote for the leader who will continue reforms once his single six-year term ends in 2016.
To contact the reporters on this story: Clarissa Batino in Manila at cbatino@bloomberg.net; Joel Guinto in Manila at jguinto1@bloomberg.net
To contact the editors responsible for this story: Linus Chua at lchua@bloomberg.net; Andrew Davis at abdavis@bloomberg.net Tony Jordan