Russia Unexpectedly Raises Key Rate Third Time on Ukraine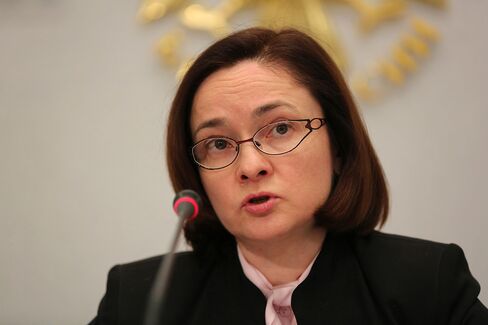 Russia's central bank unexpectedly increased borrowing costs for a third time this year as the intensifying conflict over Ukraine and the threat of wider sanctions squeeze the economy and undercut the ruble.
The central bank in Moscow increased its one-week auction rate to 8 percent from 7.5 percent, according to a statement on its website today. None of the economists surveyed by Bloomberg predicted an increase, with 22 of 23 seeing no change and one forecasting a quarter-point cut.
Russia is locked in its worst political crisis with the U.S. and its allies since the end of the Cold War. By raising rates, the Russian central bank is trying to tamp down inflation expectations and stop capital leaving the country as some investors balk at President Vladimir Putin's stance on Ukraine. Policy makers led by Chairman Elvira Nabiullina today cited "geopolitical factors" for tighter monetary conditions since March.
"Inflation risks have increased due to a combination of factors, which, among others, include the aggravation of geopolitical tension and its potential impact on the ruble exchange-rate dynamics," the central bank said in the statement. The benchmark will continue to increase "if high inflation risks persist."
Capital Flight
The standoff over Ukraine is keeping Russia's central bank out of step with a round of monetary easing in the region as its counterparts from Poland to Hungary bring rates to record lows. Net capital outflows from Russian assets jumped to $74.6 billion in the first half, compared with $61 billion in the whole of last year, central bank data show. Outflows may be near $100 billion in 2014, according to the Economy Ministry in Moscow.
The benchmark increase is "a pre-emptive move to limit capital outflows ahead of possible new sanctions by the U.S. and Europe," Neil Shearing, chief emerging-markets economist at Capital Economics Ltd. in London, said by e-mail.
The ruble reversed gains after the announcement and traded 0.2 percent weaker against the dollar at 35.0985 as of 5:48 p.m. in Moscow. It's been the worst performer among 24 emerging-market currencies tracked by Bloomberg since the U.S. expanded sanctions July 16. Russian government bonds due February 2027 fell, sending the yield up 15 basis points to 9.29 percent, the highest since May on a closing basis.
Insulating Ruble
"Raising interest rates and maintaining a tightening bias should offer" the Russian currency "a layer of insulation if geopolitical tensions escalate, with the focus now on potential measures the EU may impose if Russia fails to take concrete steps to solve the crisis in Ukraine," Piotr Matys, an emerging-market economist at 4Cast Ltd. in London, said by e-mail.
The government predicts the $2 trillion economy will expand 0.5 percent this year after 1.3 percent growth in 2013, the slowest since 2009. Even before the U.S. broadened penalties last week, the sanctions already imposed were having a "serious indirect influence" on the economy, Deputy Finance Minister Sergey Storchak said July 8.
A week after the U.S. imposed penalties, preventing some Russian companies from long-term financing, the European Union is preparing to sanction Russia's most senior spies and security officials, including Alexander Bortnikov, director of the Federal Security Service which replaced the Soviet-era KGB, and Mikhail Fradkov, the head of the Foreign Intelligence Service, according to a draft document obtained by Bloomberg News.
Economic Toll
The International Monetary Fund yesterday said Russia's economic growth will slow to 0.2 percent this year from 1.3 percent last year. Sanctions may weaken growth even further, IMF chief economist Olivier Blanchard told reporters in Mexico City.
Gross domestic product grew 0.6 percent from a year earlier in June, slowing from 1.3 percent in May, Russia's Economy Ministry said in a report published today.
Price stability is the main goal for the central bank as it works to bring inflation to 4 percent in three years, Nabiullina said July 1. Policy makers target price growth at 5 percent this year after missing their goal of 5 percent to 6 percent in 2013.
'Positive Step'
"We take the central bank action as a positive step in terms of curbing inflationary expectations as well as budget risks," Natalia Orlova, chief economist at Alfa Bank in Moscow, said by e-mail.
Consumer prices grew 7.8 percent from a year earlier in June, the most since August 2011. Inflation slowed on an annual basis to 7.5 percent as of July 21, the central bank said today, adding that it will probably decelerate to a range of 6 percent to 6.5 percent by year-end.
Potential changes in tax and tariff policy are also among factors behind increased inflation risks, it said.
The central bank unexpectedly raised its key rate by 50 basis points to 7.5 percent in April after an emergency increase to 7 percent from 5.5 percent in March, which it called temporary at the time.
Inflation expectations have been increasing. Eighty-five percent of Russians see prices rising faster, according to a poll published July 20 by the Public Opinion Foundation.
The rate increase will "likely have negative impact on the economy," Vladimir Osakovskiy, an economist in Moscow at Bank of America Corp., said by e-mail. "We continue to think that if inflation will indeed slow" to about 6 percent to 6.5 percent "the risk of more hikes should be limited."