Paul Seeks Reach Beyond Base in Urban League Speech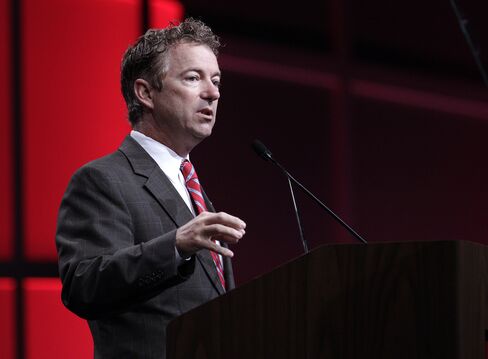 U.S. Senator Rand Paul sought to broaden his reach beyond core Republican voters with a speech to the National Urban League vowing to fight inequalities in the criminal justice system, education and the economy.
Paul, a Kentucky Republican and potential 2016 presidential candidate, said today at the civil rights group's annual conference in Cincinnati that he will seek to eliminate disparities in criminal sentencing between crack and powdered cocaine. He's also pushing for school choice and restoring a section of the 1965 Voting Rights Act, he said.
The speech is part of attempts by Paul and Republicans including Marco Rubio and Paul Ryan, other U.S. lawmakers eyeing 2016 presidential bids, to reset the Republican message and appeal to more voters. Paul's outreach to blacks who have overwhelmingly backed Democrats in recent elections is an attempt to help distinguish Paul from other Republicans who appear too much like Mitt Romney, the party's 2012 nominee, said Dan Pfeiffer, a senior adviser for President Obama.
"One of the most intriguing candidates is Senator Paul," Pfeiffer said at a breakfast today in Washington hosted by the Christian Science Monitor. "He's the only Republican I think who has articulated a message that is potentially appealing" to younger voters.
Republican Brand
Paul has been focusing for more than a year on improving the Republican brand among minority voters, including speeches last year in Detroit, at historically black Howard University in Washington and to the U.S. Hispanic Chamber of Commerce.
In Cincinnati, Paul reiterated his support for measures such as eliminating mandatory-minimum sentences for low-level drug offenders and restoring voting rights for certain felons. He said he will introduce a bill today addressing sentencing disparities between crack and powdered cocaine.
"Our prisons are bursting with young men of color, and our communities are full of broken families," Paul said. "I say we take a stand and fight for justice now."
Paul pushed for vouchers and charter schools, saying "Washington has no clue" about how to fix education. He highlighted his "economic freedom zones" with targeted tax cuts and said he would push for restoring a provision of the 1965 Voting Rights Act that the U.S. Supreme Court struck down last year.
"I'm a Republican who wants to restore a federal role for the government in the Voting Rights Act," Paul said.
Democrats' Statement
The Democratic National Committee issued a statement emphasizing previous comments Paul made about race not being a factor in voting. Speaking at the Urban League conference yesterday, Vice President Joe Biden, a Democrat, also criticized Republicans for passing laws in states including Ohio to limit voting hours and other steps that he said are meant to suppress minority voting.
While Paul's approach may help distinguish him from other Republicans and allow him to test material before campaigning begins in earnest, there are political risks, said John Green, a political science professor at the University of Akron.
Paul's views can turn off Republicans who want to limit the size of government and liberal-leaning voters who don't want to see current programs changed, Green said.
"It does put someone such as himself in a kind of awkward position of being assailed by both the left and the right," Green said.
Former Ohio Governor Ted Strickland, a Democrat who is president of the Center for American Progress Action Fund and was a prison psychologist, praised Paul's focus on criminal justice -- as long as the motivation isn't just to save money.
Nixon China
"It's sort of a 'Nixon goes to China' kind of thing we're seeing in terms of some of these conservative Republicans taking these positions," Strickland said, referring to the former president's trip to China despite his anti-communism.
While some attending the Cincinnati event may be surprised by Paul's appearance and disagree with some points, they'll welcome the dialogue, said Marc Morial, president and chief executive of the National Urban League.
There has been "tremendous disengagement" by Republicans until recently in outreach to the black community, and the success of the approach by Paul or any other candidate will depend on how consistent they are, he said.
"It's going to be judged by whether it's election-season fever or an all-season commitment," Morial said in an interview. "It has to go beyond photo-ops and speaking opportunities to a consistent, long-term relationship."
Before it's here, it's on the Bloomberg Terminal.
LEARN MORE