How Dag Mejdell Saved Norway's Postal Service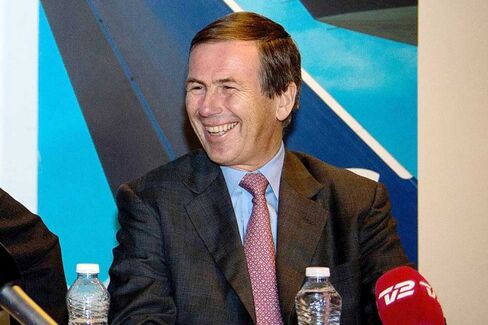 A few months ago, I wrote about the head of a national postal service who is grappling with the same issues afflicting the U.S. Postal Service—declining first-class mail volume and the need to make dramatic service cuts because of it. But unlike U.S. Postmaster General Patrick Donahoe, who has been largely thwarted by special interests and timid political leaders, Norway Post Chief Executive Officer Dag Mejdell is transforming his country's mail system into one with a digital future. He once worked for a company that made explosives. That might help him in his present position. I recently talked to Mejdell about his strategy and why he believes postal employees, and all Norwegians, will support the changes. (This interview has been edited and condensed.)
You started in 2006 just when physical mail went into a tailspin. What was that like for you?
Actually, mail volume in Norway peaked in 1999. But it really started to drop in 2008. I had to take some pretty tough measures. At the end of this year, we will only have 30 post offices left in Norway. The rest are 1,400 postal shops, which are basically retailers that run small postal operations, where you can buy your stamps and pick up your parcels. That has helped. We used to have 35 mail [processing plants] in Norway. Now we have nine.
You have a revenue-growing plan too, though, right?
Yeah, we are into cargo, freight, and of course parcels, which is a growing business because of Internet shopping.
I've noticed a couple of months ago you introduced a digital mail program. How's that going to change your business?
We launched a digital mailbox three years ago with a high degree of security to prevent break-ins from outsiders. Norway is a front-runner in digitizing the whole economy. We thought: "Well, this is the way the society is going." Now about 10 percent of the population has signed up.
Aren't you destroying your highest-margin business—your letter business—by going this route?
Yes, we are. But if we didn't do it, somebody else would. At least now we have a stake in the future.
When the U.S. Postal Service has tried to move in these directions, there has been employee resistance. How were you able to get yours to go along with these changes?
In Norway, we have to have employees on the board. They elect a third of the directors. The workers have taken the view that we can't fight digitization. They understand we have to take the steps that are necessary to downsize the business. What's important is that we have helped postal workers find new jobs when their positions were eliminated.
What do you think the mail volume's going to be in the future?
There will always be some of what we call the traditional letter mail, but it will get down to a fairly small level. We will see the package and parcels grow and partly compensate for that decline, but not fully.
Why not?
The volumes are too small. In Norway, we have about a billion letters a year and we have maybe 15 million parcels. So we expect to get rid of Saturday deliveries next year. In a few years' time, we'll probably take away two more days. So you will have a three-day-a-week service.
How are all these changes impacting stamp collecting?
Unfortunately, stamp collectors are getting older. I'm still actually a collector myself. But I don't have much time to do it. We are quite proud of our stamps in Norway. But it's going down for sure.
Before it's here, it's on the Bloomberg Terminal.
LEARN MORE