Florida Gay-Marriage Ban Ruled Unconstitutional in Miami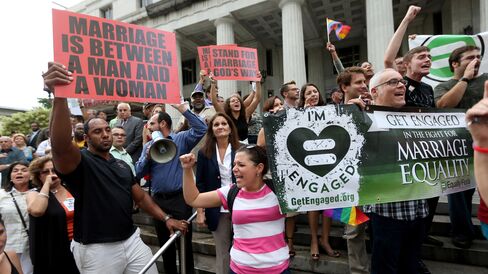 Florida's ban on same-sex marriage was thrown out by a state court judge, adding to the list of 13 states where such laws have been invalidated in the past year.
Yesterday's victory for gay couples in Miami-Dade County follows a narrower ruling by another Florida judge who this month ruled in favor of gay marriage in Monroe County, which includes Key West. Colorado's ban was also voided this month, first by a state judge and then by a federal judge.
The battle lines for same-sex marriage, now deemed legal in 30 states by court ruling, legislation or popular vote, are shifting from trial courts to state and federal appellate courts.
A U.S. Court of Appeals panel in Denver issued back-to-back rulings last month and this month declining to revive bans that were struck down in Utah and Oklahoma. Appeals are also before courts in Chicago, Cincinnati, San Francisco and Richmond, Virginia. One or more of those cases could be accepted for review by the U.S. Supreme Court.
Sarah Zabel yesterday ruled that Florida's ban is discriminatory under the U.S. Constitution. While she wrote that no one should be denied the fundamental right to marry whoever they want "for even one day," she stopped short of allowing same-sex weddings to proceed immediately to guard against "uncertainty" while appeals are pursued.
If yesterday's ruling is upheld, Florida is "required to issue marriage licenses to the plaintiffs and to all otherwise qualified same-sex couples who apply for marriage licenses, subject to the same restrictions and limitations applicable to opposite-sex couples," Zabel said.
State's Constitution
Florida voters added the ban to the state's constitution in 2008. The Monroe County Circuit Court judge who declared the ban unconstitutional on July 17 said marriage is a fundamental right and that the state's prohibition can't be justified by tradition or the argument that it encourages procreation by opposite-sex couples.
Zabel sided with six Miami-area gay couples who challenged the state's ban. Florida's prohibition is codified in two statutes and the state's constitution, which defines marriage as "the legal union of only one man and one woman as husband and wife" and says "no other legal union that is treated as marriage or the substantial equivalent thereof shall be valid or recognized," according to the complaint.
Mike Henderson, an aide to Miami-Dade County clerk Harvey Ruvin, who was named as a defendant in the case, didn't immediately respond after regular business hours to a phone call seeking comment on the ruling.
The Miami-Dade case is Pareto v. Ruvin, 14-1661 CA 24, 11th Judicial Circuit, Miami-Dade County, Florida (Miami).
Before it's here, it's on the Bloomberg Terminal.
LEARN MORE