Blue Moon's Seasonal Brews Are Crowded Out by Rival Craft Beers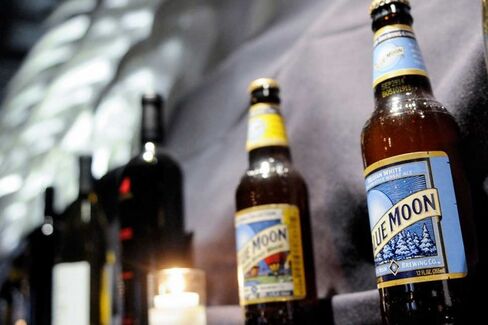 Spring is never the best season for seasonal beers—sales of such products spike during the warmer summer and fall months—but the past spring was particularly tough for Blue Moon, whose sales of seasonal varieties dropped by a percentage in the low single digits during the second quarter, according to SABMiller, a co-owner, with Molson Coors, of MillerCoors, which owns Blue Moon.
Spring releases such as Valencia Grove and Summer Honey Wheat failed to share the good fortune of regular Blue Moon, which continued to grow for the 74th consecutive quarter. (That's about 18 and a half years.) SABMiller spokeswoman Cat Corrigan says the company is putting more marketing dollars behind the seasonals to reverse their decline.
Once-a-year beers are important to the brand: The seasonals represent about 10 percent of Blue Moon sales by volume; the proportion rises to 20 percent if you count variety packs, which include a mix of seasonals, plus Blue Moon's flagship Belgian white brew. That's below the roughly 16 percent share that seasonals hold in the overall craft beer market, according to the Brewers Association. (You can debate whether Blue Moon products constitute beer on your own time). And overall seasonal craft beer sales are still growing.
Part of the problem, says Euromonitor analyst Spiros Malandrakis, is the beer industry has become so fragmented by craft breweries that seasonal beers—which once could reliably entice consumers eager to try something different—draw less attention.
Seasonal extensions are still important in promoting the overall Blue Moon brand, but some analysts say that drinkers' cooling interest in the quaffs could indicate that a slowdown looms in the craft beer market. "We're not at saturation yet, but there's a big craft problem in the horizon," Malandrakis says. "I see the normalization of skyrocketing sales."
Before it's here, it's on the Bloomberg Terminal.
LEARN MORE