Tesco's New CEO Needs to Restore Shopper Love for Grocery Leader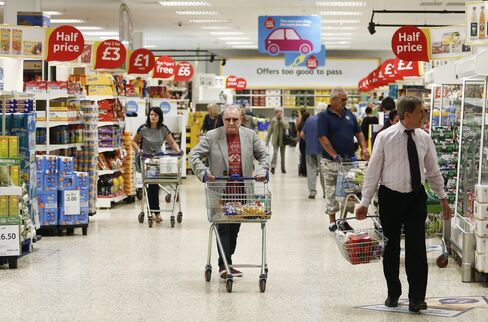 July 25 (Bloomberg) -- Unilever's Dave Lewis comes to Tesco Plc as a brand manager, rather than shopkeeper. That may be an advantage as he seeks to restore shopper love for Britain's grocery leader, whose halo has been slipping for almost three years amid a price-led assault by budget stores Aldi and Lidl.
"Lewis is very experienced in building well-loved brands," said Bryan Roberts, an analyst at researcher Kantar Retail in London. "The expectation is that he will sprinkle some of that fairy dust on Tesco."
Rather than taking on the new breed of discount competitors with lower prices, the man who brought Dove soap to the U.K. needs to win back the affection of consumers for a grocer that held no equal in Britain for more than a decade. That may involve redefining a brand whose popularity has faltered as more shoppers turn toward convenience and online, and shun the out-of-town supermarkets on which Tesco's past growth was founded.
"A lot of Tesco's past success is based on being the biggest and being seen as the default option if you need something," said Neil Saunders, managing director at retail consultancy Conlumino in London. "Now the market has moved on and it's no good just being the default option, there are many players now who have a much stronger differentiation point."
The new CEO will need to decide either to get out "of the murky middle ground," or to try to become a clearly defined "many-things-to-many-people" retailer, Saunders said.
Sharper Focus
From a marketing perspective, Lewis ticks the right boxes. In the mid-1990s, the Unilever executive's tongue-in-cheek campaign poking fun at new entrant Procter & Gamble Co.'s Ariel brand helped the company not only defend its dominant share of the laundry detergent market in a region of South America that includes Argentina, but increase it.
More recently, in three years as head of Unilever's personal-care unit, Lewis developed more-expensive products with wider profit margins, such as personalized skincare regimens and toothpaste that helps repair damaged tooth enamel. That helped boost the company's share of the 240 billion-euro ($323 billion) premium personal-care market to 30 percent from 26 percent.
The need for Cheshunt, England-based Tesco to boost its standing as a desirable shopping destination was illustrated in last year's Brand Finance Global 500 study. Tesco dropped 17 spots to the world's 59th most valuable brand.
"While there's no shortage of people professing their love for Aldi or Waitrose or Marks & Spencer, you never hear that about Tesco," said Kantar's Roberts.
Cooking Oil
Unlike his predecessor, Philip Clarke, who inherited a business that was out of touch with changing shopper habits, Lewis has some foundations to build on. More than 80 stores in the London area were updated last year to give them a sharper focus on the demands of the local population.
The Tesco store in East London's Upton Park started selling 20-kilo bags of rice and 20-liter drums of cooking oil to reflect the neighborhood's shopping habits. Sales at the outlet increased 10 percent in the first three months after changes were introduced, the grocer said.
"What Tesco has done in London is one of Clarke's success stories, they just did not roll it out fast enough across the country," Kantar's Roberts said.
Lewis's task will also be made easier by spending of more than 1 billion pounds ($1.7 billion) that has been made over the last two years to revamp supermarkets, improve staff training and put upscale Harris & Hoole coffee stores and the Giraffe chain of family restaurants into its larger hypermarkets.
Price Cuts
The CEO's task is "to make Tesco stand out again," said Bruno Monteyne, a former Tesco executive now working as an analyst for Sanford C. Bernstein. He must be "radical enough to make it relevant to the Russian bankers' wife in Chelsea as well as the Manchester housewife who has defected to Aldi."
Tesco's stores should be distinct enough that any price cuts can be limited to specific regions and neighborhoods where the retailer competes directly with the German discounters or its biggest domestic competitor Asda, Monteyne said.
"Lewis was not hired to run a price war," he said.
That sentiment echoed comments this week by Tesco Chairman Richard Broadbent, who said the Unilever executive was chosen because of his leadership in brand management and communication skills, rather than any detailed knowledge of retailing.
Whatever course the new CEO pursues, it's unlikely to be without short-term cost. Further investment in price and store refurbishment would continue to weigh on results, according to James Collins, an analyst at Deutsche Bank AG.
Meanwhile, fixing the steepest drop in domestic revenue in four decades could take five to 10 years, estimates Dave McCarthy, an analyst at HSBC Securities in London.
"The scale of the challenge is much greater than many realize," McCarthy wrote in a note. "There will be a lot of pain along the way without any guarantee of success."
To contact the reporter on this story: Gabi Thesing in London at gthesing@bloomberg.net
To contact the editors responsible for this story: Celeste Perri at cperri@bloomberg.net Paul Jarvis