Newcrest Flags $2.4 Billion Writedown in Gold Spree Legacy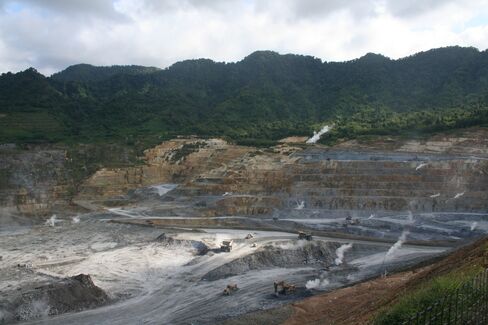 Newcrest Mining Ltd., Australia's largest gold producer, flagged another writedown for its Lihir mine in Papua New Guinea, a legacy of a $9 billion takeover labeled one of the industry's worst.
A charge of as much as A$2.5 billion ($2.4 billion), mainly for Lihir, which is contained within an extinct volcano crater, would follow the $5.7 billion writedown in 2013 that triggered a record loss, a regulatory inquiry and a boardroom clean out.
Barrick Gold Corp., the world's biggest gold miner, Newcrest and rivals racked up at least $26 billion in writedowns last year, the aftermath of a mergers and acquisitions spree and the metal's steepest annual slump in a quarter of a century. Newcrest has lost almost three-quarters of its market value since in 2010 buying the Lihir gold mine, which chalked up a $3.2 billion charge last fiscal year.
"Pretty much everyone in the senior space has made one that was bad, this was very bad," Brenton Saunders, a Sydney-based investment analyst with BT Investment Management Ltd., which manages about A$64 billion and holds Newcrest shares. "As an investment it's been a disaster."
Newcrest fell the most in four months in Sydney trading today, dropping 6.2 percent to A$10.78.
Since Newcrest's acquisition of Lihir Gold Ltd. was completed on Oct. 5, 2010, the company has lost 73 percent of its market value. That compares to a 54 percent decline over the same period in a Bloomberg index of 14 large gold producers.
Future Returns
Lihir, on Niolam Island, 900 kilometers (560 miles) north-east of Port Moresby, needs at least A$1.2 billion more capital expenditure to allow it to generate meaningful cash flow, UBS AG analyst Jo Battershill said by phone from Sydney. "It's been a terrible deal for Newcrest shareholders," he said. "The current mine plan would imply that future returns are going to be very, very low as well."
The mine accounted for about 55 percent of the company's book value, though contributes little to cashflow or profitability, Battershill said in a report this month.
"Lihir was the wrong acquisition decision," said Peter Esho, managing partner at Sydney-based investment advisory service 100 Doors Pty. "The best thing they can hope for is a pop in the gold price and then they would be able to put it on the market."
Gold, which has rebounded after last year tumbling the most since 1981, may rise to $1,320 an ounce in 2015 and to $1,440 in 2016, according to Australia & New Zealand Banking Group Ltd. It traded at $1,295.86 at 4:20 p.m. Sydney time.
Newcrest doesn't have to sell assets, new Chief Executive Officer Sandeep Biswas told reporters on a conference call.
African Assets
"Lihir is a fabulous ore body and it's recently been invested in, we've spent over $1 billion over the last few years," Biswas said, referring to a plant expansion. The company must demonstrate it can extract the best out of the ore body and "have Lihir as a significant contributor to our profits and cash flow," he said.
The expected writedowns of between A$1.5 billion and A$2.5 billion are after tax and will be booked in full-year financial results to be announced next month, the Melbourne-based producer said in a statement. The charge is in addition to a A$47 million writedown already announced against its West African exploration assets, it said.
Newcrest is seeking to raise free cash flow by trimming production and cutting costs as gold advanced 10 percent in the six months to June 30 on tensions in Ukraine and signs of improvement in the U.S. economy.
Every Dollar
Efforts to lower costs at Lihir haven't kept pace with programs to reduce spending at the producer's other assets, Biswas said on a call with analysts. The Papua New Guinea mine's all-in costs were A$1,313 an ounce in the three months to June 30 and were the highest among the company's six operating assets. This compares with an average realized gold price of $1,382 an ounce.
"This review is going through every dollar we spend at Lihir," Biswas said on the analyst call. "We are looking at absolutely everything."
Production at Lihir this fiscal year is expected to be between 700,000 ounces to 740,000 ounces compared to 721,264 ounces in the 12 months to June 30, Newcrest said. Lihir, which is inside the Luise Caldera volcanic crater and among the largest gold deposits in the world, may contain reserves of 28 million ounces of gold, according to filings.
"Lihir is a problem asset, it's difficult to be confident that it can be turned around," Ric Spooner, chief market analyst in Sydney at CMC Markets, said today by phone. "Its cost base is high compared to other parts of the group."
Before it's here, it's on the Bloomberg Terminal.
LEARN MORE