Danske Raises Profit Outlook on Best Result Since Crisis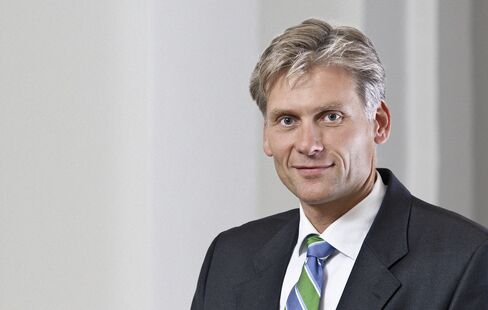 Danske Bank A/S raised its profit outlook for this year as Scandinavia's second-largest lender by assets delivered its best quarterly result since Denmark's property bubble burst in 2008.
Net income will rise to as much as 13 billion kroner ($2.3 billion) in 2014, the Copenhagen-based bank said in a statement to the stock exchange today. That compares with a May 1 forecast for as much as 12 billion kroner. The bank's shares soared as much as 5.6 percent to their highest since April 2008.
"They keep on delivering," Christian Hede, a senior analyst with Nordea Bank AB, said by phone. He recommends buying Danske shares.
Thomas Borgen, who was named chief executive officer in September, has worked to improve profitability as Danske lags behind its Nordic competitors in delivering returns on equity. Profit last quarter rose 85 percent to 4.05 billion kroner, beating the 3.71 billion-krone average analyst forecast in a Bloomberg survey.
"Borgen, being a fairly new CEO, keeps bringing results that are better than expected, and I am sure that he is going to do that again next quarter and the quarter after," Hede said.
Danske traded 5.3 percent higher at 164 kroner as of 10:37 a.m. in Copenhagen, with volume at 143 percent of the three-month daily average, according to data compiled by Bloomberg.
Delivering Returns
"We saw good progress in the first half of 2014," Borgen said in the statement. "We are moving steadily in the right direction. Expenses are declining as expected, the positive trend in impairments is continuing, and we saw growing customer activity in the second quarter of 2014."
Aside from cutting expenses through branch closures, Danske has focused on debt reduction in an effort to raise its credit ratings and reduce funding costs. In April, the effort paid off when Standard & Poor's raised Danske one step to A.
Before today, the bank's shares soared 25 percent this year, compared with a 30 percent increase for all of 2013. The 43-member Bloomberg index of European financial companies had lost 1.2 percent this year.
Net income for the three months through June increased in part after Danske booked a 1 billion-krone profit from the sale of its stake in Nets Holding A/S. Net interest income climbed 8 percent to 5.9 billion kroner, helped by lower funding costs after Danske repaid a government loan with a 9.765 percent coupon.
"Net interest income and net commissions are higher than expected," Hede said. "Because these are two of the most important items, that's very good."
Before it's here, it's on the Bloomberg Terminal.
LEARN MORE