Adesto Wants to Make It Big With Small Chips
A memory-chip maker eyes smart gadgets as an untapped market
Adesto Technologies is trying to break into one of the toughest businesses in the technology industry: memory chips. Chief Executive Officer Narbeh Derhacobian is betting that the big names—Samsung Electronics, Micron Technology, SK Hynix, and Toshiba—are so focused on making large chips used in memory-hungry laptops and smartphones that they've forgotten to think small. He wants to control the growing market in chips for smart gadgets, such as fitness-tracking wristbands and other Web-connected devices, which can't hold enough battery power for the bigger, faster chips. "We have a huge opportunity over the big memory players," he says. "It's going to be interesting how these companies react, even if they react."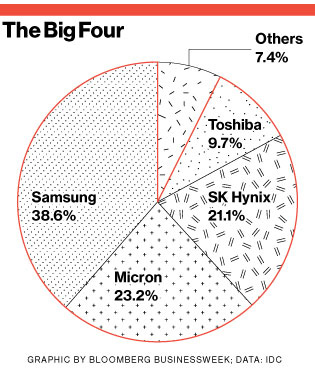 The big four companies control 92.6 percent of the $67 billion global memory-chip business, according to market researcher IDC. "It's always been a war of attrition" among the major rivals, says Derhacobian, a former executive at Advanced Micro Devices. The industry is finally emerging from a years-long period of supply gluts that drove down memory prices, culminating in a round of failures and acquisitions. Micron is on course to make its first annual profit since 2011.
Part of Adesto's gamble is that the big names will continue to war over their established turf by building more powerful chips that also suck more energy. That, Derhacobian says, will provide an opening for Adesto's conductive-bridging random access memory (CBRAM), which can get by for years on the juice of a watch battery.
Adesto makes chips that store between 32 kilobits and a megabit of data. The largest is one-quarter the size of the smallest part listed on Micron's website. The chips, which Derhacobian says use as little as one-hundredth the energy needed to power a conventional flash-memory device, make possible a future of gadgets like blood transfusion bags that track their own location and the age and viability of their contents. Low-power memory can also be used for devices such as Apple's iBeacons, the tiny location-tracking transmitters that allow stores to pitch ads to passing iPhone users.
Such gadgets will be part of a $7.1 trillion market by 2020, according to estimates by IDC. Sunnyvale (Calif.)-based Adesto is selling chips to medical and aerospace companies and is "for real," says Jim McGregor, an analyst at Tirias Research. "However, they are just filling a very small niche at this time." As Adesto tries to grow and get its technology used more broadly, the company will face resistance from device makers that are reluctant to depend on a single source for low-cost, low-power chips, he says. Samsung, Micron, and Toshiba declined to comment for this story.
Derhacobian co-founded Adesto in 2007, and during the global financial meltdown managed to secure funding from investors, including the venture arm of Applied Materials. Apart from CBRAM, Adesto has sold more conventional memory chips and developed self-charging sensors for soldiers' clothing for the Pentagon.
Derhacobian says Adesto's gross margin (a measure of profit calculated by subtracting production expenses from sales revenue) is more than 45 percent, though he wouldn't share revenue figures. Gross margins for Micron and SK Hynix—which unlike Samsung and Toshiba get all their revenue from memory chips—are at about 35 percent. "We have profit margins that would have others throwing their hats in the air," Derhacobian says.
He says Adesto doesn't need more investors. If it can get its own chips into as many smart devices as possible and establish a low-power standard for such equipment, the 100-employee company will be able to maintain a strong enough position to force a memory giant like Samsung, with 1,000 times the personnel, to license the technology from its smaller rival.
Before it's here, it's on the Bloomberg Terminal.
LEARN MORE