Rupiah Rises to Two-Month High After Widodo Victory Confirmed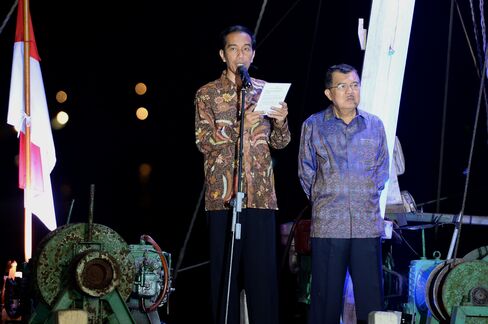 Indonesia's rupiah jumped to a two-month high and and stocks advanced after Joko Widodo was named the nation's next president.
Widodo, known as Jokowi, garnered 53.15 percent of support at the July 9 vote, while Prabowo Subianto won 46.85 percent, the election commission said late yesterday. Prabowo called the voting undemocratic and pulled his witnesses from the counting process just hours before the final result was announced. He has not withdrawn as a presidential candidate, his brother Hashim Djojohadikusumo said in a mobile-phone message yesterday.
"This will hopefully be a storm in a teacup," said Michael Every, head of financial markets research for Asia Pacific at Rabobank International in Hong Kong. "Regardless of the huffing and puffing, once the market understands whether Subianto's going to go all in or whether he's just saving face and gradually backing out, then the rupiah will rally."
The currency rose 0.9 percent in the biggest advance since July 7 to close at 11,505 per dollar, prices from local banks show. It reached 11,483 earlier, the highest level since May 20.
The rupiah fell as much as 0.6 percent yesterday after Prabowo made his remarks in a televised speech in Jakarta, before closing 0.3 percent lower. He will contest the result in the Constitutional Court and propose a parliamentary special commission to investigate the election process, spokesman Tantowi Yahya said in Jakarta today.
'Only the Best'
Jokowi aims to boost economic growth to above 7 percent to strengthen the nation's role in international forums, he said in a July 21 interview at his house in Jakarta. He will appoint "the professional, the technocrat and only the best" for his cabinet line up, he said.
In the offshore market, one-month non-deliverable forwards on the rupiah climbed 0.7 percent to 11,540, 0.3 percent weaker than the onshore spot rate, data compiled by Bloomberg show.
The Jakarta Composite Index of shares gained 0.2 percent to close at 5,093.23. Cement producer PT Semen Indonesia gained 1.5 percent, while retailer PT Hero Supermarket jumped 12.3 percent and PT Tower Bersama rose 2.2 percent.
"With the huge margin between Jokowi and Prabowo of around 6 percentage points, I think it will be difficult for the Constitutional Court to decide otherwise," said Alvin Pattisahusiwa, chief investment officer at PT Manulife Aset Manajemen Indonesia. "Infrastructure, energy, banks, information technology and telecommunications stocks are expected to benefit."
Volatility Drops
One-month implied volatility in the rupiah, a measure of expected swings used to price options, dropped 36 basis points, or 0.36 percentage point, to 9.57 percent, data compiled by Bloomberg show. Bank Indonesia set a fixing used to settle the forwards at 11,498 per dollar today, compared with 11,531 yesterday.
"If we get a bit of momentum behind the Jokowi presidency, if he appoints the right people in the right positions and we start seeing a clear plan for reforms, we can definitely see the rupiah start to push toward the 11,000 barrier again," Rabobank's Every said.
The yield on the 8.375 percent government bonds due March 2024 was little changed at 8.05 percent, according to the Inter Dealer Market Association.
Before it's here, it's on the Bloomberg Terminal.
LEARN MORE