Draghi Faces German Hard Line on Avoiding Deflation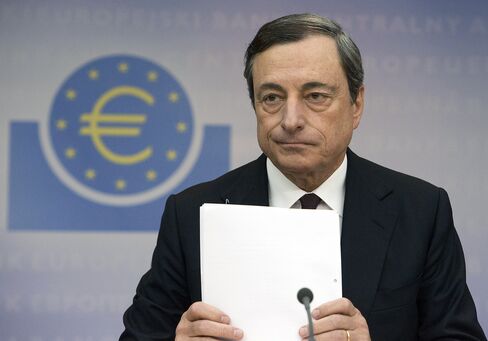 The deutsche mark is dead. Long live the deutsche mark.
That's the view from Germany's central bank, which is resisting a weaker euro, introduced in 1999, and opposing the most aggressive strategies Mario Draghi could deploy to ignite growth in Europe, says Simon Derrick, chief market strategist at Bank of New York Mellon Corp.
Derrick sees parallels with the early 1990s when Germany refused to surrender its hard money dogma even as it transmitted pain elsewhere. The 18-member euro area's emergence from a two-year recession is proving sluggish, with inflation about a quarter of the ECB target and unemployment above 20 percent in Spain and Greece.
Back in 1992, the U.K. was under German pressure to live with the high interest rates demanded by the Exchange Rate Mechanism, a slipway to the single currency, even if it punished the British economy. In the end -- and under fire from billionaire investor George Soros -- the U.K. buckled. It allowed sterling to slump and interest rates to decline, paving the way for a 15-year expansion.
In 1993, with France in recession, the Bundesbank was unwilling to accelerate rate cuts for fear that would harm the deutsche mark. By July, the need for a weaker franc persuaded Europe's leaders to allow their currencies to trade more flexibly as they sought to keep the euro project alive.
Draghi's Options
Fast forward to today: Germany's intransigence is again in play as Draghi, the Italian president of the European Central Bank, mulls whether to enact quantitative easing to prevent deflation. He has cut interest rates to record lows and pledged fresh loans for banks last month to little effect so far.
The euro has barely budged against the dollar and the Euro Stoxx 50 Index is up just 2.6 percent for the year compared to the Standard & Poor's 500 Index's 7.3 percent gain.
Why the lack of response? To London-based Derrick, the answer lies in the ECB's failure to press the bond-buying button and the reason for that lies at the feet of Bundesbank President Jens Weidmann, who recently spoke in favor of a strong currency and against the ECB purchasing assets.
"Now more than ever there are economic reasons not to buy government bonds," Weidmann told Sueddeutsche Zeitung newspaper in May. "Why should the ECB now intervene in these markets and try to drive the interest rates down further?"
If Draghi can't or won't take on the German intransigence, he faces "the potential for a continued weakening of regional equity markets and even the possibility of a resurgence of the euro zone crisis," according to Derrick.
Weidmann has been overcome in the past, both when Draghi introduced a bond-purchase plan in 2012 and cut interest rates last November to thwart the euro crisis.
"The forces that have built up over the past four months in the euro zone are not dissimilar to those" of the early 1990s, Derrick said. "It is the euro that must take the strain if local equity markets are to regain their poise."