Bank Indonesia Chief Seeks Economic Reform for Deficit Risks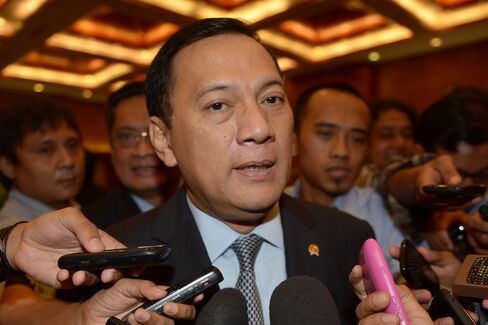 July 23 (Bloomberg) -- Indonesia's current-account deficit poses the biggest risk to an economy that needs structural reforms by its newly elected president, Bank Indonesia's Governor Agus Martowardojo said.
Increased oil imports and a ban on mineral ore exports have hampered the central bank's efforts to narrow the trade balance, Martowardojo, 58, said today in a written response to Bloomberg questions. Policy makers, who raised interest rates last year to tackle the current-account gap and a weakening rupiah, now don't want to hurt future growth momentum, he said.
"The main risk for Indonesia's economy is widening current-account deficits," Martowardojo said, forecasting a gap of about 3 percent of gross domestic product this year. "Positive sentiment would be stronger should the new elected administration perform a comprehensive structural reform to create a stronger and sustainable growth."
Martowardojo's comments lay out the challenges for Asia's fifth-biggest economy a day after Joko Widodo was confirmed as Indonesia's next president. Widodo, known as Jokowi, plans to boost infrastructure and cut red tape to deliver a growth pace Indonesia hasn't seen since before the Asian financial crisis of the late 1990s, a shift that he says would bolster the clout of the world's fourth most-populous nation.
Indonesia may have a current-account deficit for a couple of years, with the central bank seeking to reduce it to a sustainable level, he said. Martowardojo reiterated the central bank is expecting economic growth to moderate to a range of 5.1 percent to 5.5 percent this year, and for inflation to meet its 2014 target of 3.5 percent to 5.5 percent.
The current-account deficit was 3.4 percent of GDP in 2013.
Rupiah Pressure
"Monetary policy will be data-dependent at this point," he said. "For the time being, we want to make sure that the stabilization policy we are currently implementing works properly without sacrificing growth momentum in the future." Martowardojo embarked on the country's most aggressive policy tightening in more than eight years after taking the helm of the central bank in May last year.
The rupiah is the second-best performer this year in 24 emerging-market currencies tracked by Bloomberg, after falling the most in Asia in 2013 on concern about the current account. It rose to a two-month high today after Jokowi won the closest presidential election in a decade.
"We are convinced that the rupiah pressure will diminish," Martowardojo said, adding investors had been adopting a "wait and see" attitude ahead of the election result.
'Fragile' Economy
The next government will inherit a "fragile" economy, and needs to focus on raising subsidized fuel prices and luring foreign investment to address the current-account and budget deficits, outgoing Finance Minister Chatib Basri said on June 18. Dealing with the burden of fuel subsidies will be a challenge, Jokowi said on July 21, adding that one of his first priorities was to check the state of the economy and budget.
Rising oil prices have created fiscal pressures and have added to the current-account gap because of the subsidy, Martowardojo said. Indonesia needs to turn to cheaper overseas financing to fund its growth, with external debt at $276.6 billion by the end of April, he said.
Bank Indonesia will continue to try to mitigate the risk of external debt to maintain stability, he said. Potential capital outflows from Indonesia because of the U.S. Federal Reserve reducing stimulus are expected to be moderate, he said.
Cash Supply
"Indonesia's reserve will be sufficient to anticipate the moderate flows," he said. "We must push on with structural reform including advancing financial deepening" for a cushion in the event of external pressure, he said.
Asked about a lack of funds in the domestic banking industry and the possibility of reviewing minimum reserve requirements, Martowardojo said this is not yet being done.
PT Bank Central Asia, Indonesia's second-biggest lender by market value, expects the country's loan growth to slow more sharply than policy makers expect as cash supply and economic growth decline.
"We see that liquidity is improving and that liquidity ratios are sound," Martowardojo said.
To contact the reporter on this story: Novrida Manurung in Jakarta at nmanurung@bloomberg.net
To contact the editors responsible for this story: Stephanie Phang at sphang@bloomberg.net Neil Chatterjee, Dick Schumacher