American Apparel Said to Be Adding First Woman to Board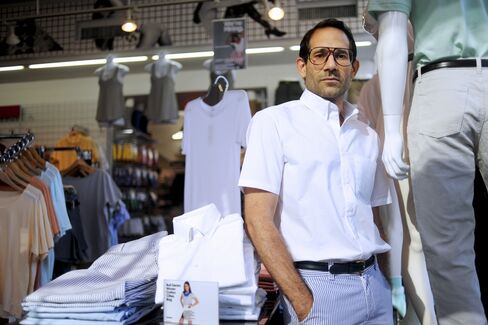 American Apparel Inc., the controversial clothing chain that has battled sexual-harassment lawsuits, is adding at least one woman to its board for the first time, according to two people familiar with the matter.
The Los Angeles-based company expects to disclose the names of five new directors in a public filing as early as today, said the people, who asked not to be identified because the information isn't yet public. There may be as many as two women named, one of the people said.
The move would add a female perspective to a company known for its racy advertising and sexually charged culture. American Apparel founder Dov Charney, who was replaced as chief executive officer last month, has been sued for harassment and once engaged in sex acts while being interviewed by a magazine reporter.
American Apparel, already struggling to revive a business that lost $270 million since 2010, has been in turmoil since the board replaced Charney, setting off a battle for control of the company. The current board shake-up was part of an agreement with Standard General LP, a New York-based hedge fund that put together a rescue financing deal for the retailer. The two co-chairmen from the existing seven-member board are staying, while the remaining five directors are replaced.
New Directors
Under the agreement, Standard General got to name three of the new board members. Two others were chosen jointly by American Apparel and the hedge fund. Mike Sitrick, a spokesman for American Apparel, declined to comment, as did Liz Cohen, a spokeswoman for Standard General.
Charney, meanwhile, has been fighting to get his job back, saying his termination was illegal and violated his contract. Though he forged an alliance with Standard General, the investment firm isn't pushing for his return. His fate will be decided by a panel of three directors, who will make their decision about whether to reinstate him based on an investigation by FTI Consulting Inc., which the board enlisted last month.
Charney, who also had served as the chain's chairman, was suspended for misconduct on June 18. His alleged infractions included misusing company funds and assets and retaliating against a former employee who sued him for harassment, a person familiar with the situation has said. Charney's lawyer has called the board's reasons for his ouster baseless.
Fresh Financing
As part of the Standard General accord, the hedge fund committed as much as $25 million in capital, helping American Apparel pay off debt and improve its finances. Standard General already used $10 million of the money buy a high-interest loan that was deemed in default by the lender.
Under Charney, the chain drew flak for ads showing half-dressed young women in alluring positions. One of the company's New York stores recently featured mannequins with pubic hair.
The sexual imagery -- coupled with the company's commitment to domestic manufacturing -- has set the chain apart from other brands, American Apparel Co-Chairman Allan Mayer said in a Bloomberg Businessweek interview.
"If you took out the sex, it would be kind of boring. And if you took out the idealistic component -- our commitment to the sweatshop-free, made-in-USA philosophy -- it would just be sleazy," he said. "But you put them together, and you have something that's interesting. It's edgy, but it's also strangely wholesome at the same time."