Wisconsin Senator's Obamacare Subsidy Suit Thrown Out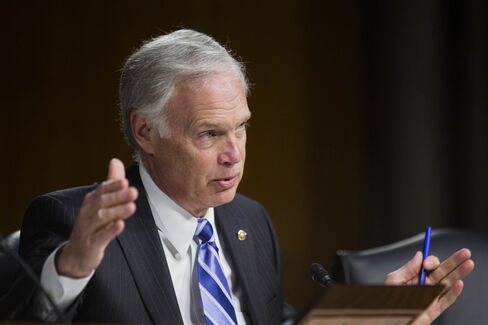 U.S. Senator Ron Johnson's lawsuit challenging an Obamacare provision subsidizing health insurance for members of Congress and their aides was dismissed by a judge who found the lawmaker failed to show he'd been harmed.
U.S. District Judge William Griesbach in Green Bay, Wisconsin, threw out the senator's case, ruling yesterday that without a "concrete injury" that can be remedied by the court, the dispute ought to be resolved politically.
Johnson, a first-term Republican from Wisconsin, sued President Barack Obama's administration this year. He argued the subsidy treats legislators and their employees better than most Americans working for private employers, violating the U.S. Constitution's guarantee of equal protection.
"There is nothing in the Constitution stipulating that all wrongs must have remedies, much less that the remedy must lie in federal court," said Griesbach, who was appointed by former President George W. Bush, a Republican.
The challenged provision was created by the Obama administration after passage of the 2010 Patient Protection and Affordable Care Act, popularly known as Obamacare. The core of the legislation was upheld by a U.S. Supreme Court ruling in 2012.
"The Obama administration violated its own signature health law by giving special treatment to members of Congress and their staffs," Johnson said yesterday in a statement.
"My legal team and I will carefully review the decision before determining our next step in this important constitutional dispute."
James Luh, an attorney for the Obama administration, argued the senator hadn't been hurt by the provision at a July 7 hearing before Griesbach.
The case is Johnson v. U.S. Office of Personnel Management, 14-cv-00009, U.S. District Court, Eastern District of Wisconsin (Green Bay).
Before it's here, it's on the Bloomberg Terminal.
LEARN MORE