Record India Bank Issues Seen as RBI Allows Longer Debt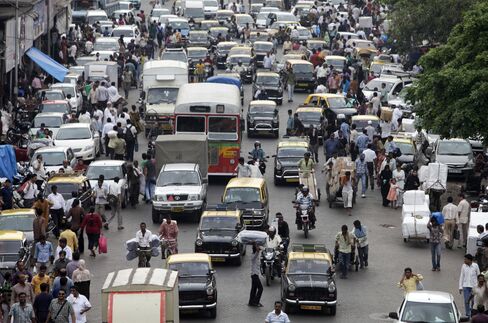 Incentives for Indian lenders to issue longer-dated debt to fund infrastructure and affordable housing will trigger record sales of rupee-denominated bank bonds this year, according to the nation's biggest underwriter.
Axis Bank Ltd., the top bond arranger since 2007, forecasts bank issuance to jump to as much as 500 billion rupees ($8.3 billion) in the fiscal year ending March 31, from 129 billion rupees in the previous twelve months, according to Bloomberg-compiled data. CLSA Asia-Pacific Markets predicts as much as 400 billion rupees. By comparison, lenders in China issued the equivalent of $342 billion in the year through March.
The Reserve Bank of India last week exempted bank bonds maturing in seven or more years from reserve requirements, as Prime Minister Narendra Modi pledged $25 billion to boost spending on developing the nation's highways, power plants, ports and housing. The government is encouraging private-sector funding for such projects as it seeks to boost economic growth that has fallen near a 10-year low.
"There definitely will be interest from banks to sell long-term bonds as a lot of them are willing to lend to infrastructure and affordable housing," Shashi Kant Rathi, Mumbai-based head of debt capital markets at Axis Bank, said in a telephone interview on July 18. "The rules help banks lower funding cost and also enable them to better manage asset-liability mismatches."
Reserve Exemption
None of the funds raised through sales of the bonds need to be retained under capital adequacy rules that require 4 percent of net deposits to be kept as cash with the RBI and 22.5 percent of net liabilities to be invested in government securities.
The exemptions will cut banks' fundraising costs by 80 to 100 basis points, said Ajay Manglunia, the Mumbai-based head for fixed-income markets at Edelweiss Financial Services Ltd. in a phone interview on July 21. "Cost of funding will no longer be a hindrance for financing long-term infrastructure projects, and banks can now also pass the cost benefit to the borrowers."
The steps are part of efforts to further bolster economic growth that was 4.7 percent in the twelve months through March, near the slowest in a decade. The Asian Development Bank last week raised its forecast for expansion in the current fiscal year to 6.3 percent on expectation the new government will overhaul policy and spur investments.
Fundraising Costs
Mounting economic optimism has helped cut corporate fundraising costs, with the average yield on top-rated 10-year notes falling 37 basis points this year to 9.25 percent. That still surpasses the 5.73 percent on similar Chinese securities.
State-owned Indian Overseas Bank plans to sell some of the new bonds to finance existing infrastructure loans, Chairman and Managing Director M. Narendra said last week.
"One or two banks need to test the waters before we see pickup of such bond issuance," said Arvind Konar, head of fixed income at Almondz Global Securities Ltd. "The new regulations help banks to achieve a better asset mix and also position them better to lend at competitive rates as these bonds are free from reserve requirements."
The need for infrastructure development is urgent as congestion and pollution hinder Modi's efforts to boost growth in Asia's No. 3 economy. The combined length of all India's metro-rail track is less than New York City alone. The Asian Development Bank estimates that overloaded roads shave at least 2 percent off the economic output of India and every other Asian nation.
Tata Housing
Housing is also a focus, with the number of residents in the country's biggest cities set to surge to 277 million by 2031, according to Barclays Plc. That's almost triple the 2001 figure of 108 million, Barclays said, and is more than the population of Indonesia, the world's fourth-most populous nation.
Availability of cheaper bank credit will help developers like Tata Housing Development Co., a unit of India's biggest business group, offer low-cost finance for development of affordable housing projects. The RBI defines affordable housing as homes costing no more than 6.5 million rupees in the country's six biggest cities and 5 million rupees elsewhere.
"The criteria defining affordable housing aptly covers a cross-section of low-income and middle-income households, and reflects the intent of the government to deliver upon its commitment of 'housing for all by 2022'," Brotin Banerjee, managing director at Tata Housing Development wrote in a note. The company looks forward to passing on the benefits of the program to end users, Banerjee said.
"These bonds are positive for the asset-liability profile of banks and lower cost of funds," analysts led by Vibha Batra at ICRA Ltd., the local unit of Moody's Investors Service, said July 17 in a note about securities under the program. "We expect banks to raise sizable funds in the form of bonds in the current financial year."