Post-World Cup Rousseff in Welfare Drive to Stem Polls Slide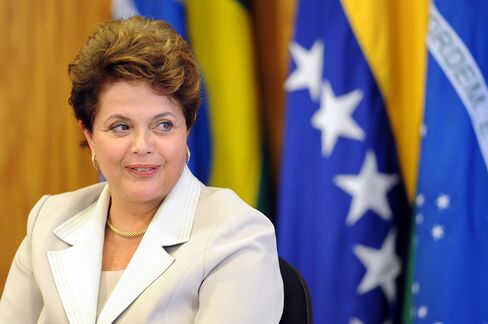 The World Cup euphoria is over and Brazil's economic slowdown is back in the limelight, renewing doubts about President Dilma Rousseff's ability to clinch a second term in October elections.
Two polls published since July 17 show her advantage over challenger Aecio Neves of the Brazilian Social Democracy Party narrowing after Brazil's hosting of the June 12 to July 13 soccer tournament boosted her support. Her lead over Neves in a possible run-off vote fell within the margin of error in both polls for the first time, meaning the race is too close to call.
While surveys show voters want a change in government policy as growth slows and inflation quickens, Rousseff can boast reduced poverty and count on more television advertisement time as well as support from her mentor and predecessor, Luiz Inacio Lula da Silva, to stem the decline in her support, Mauro Paulino, executive director at polling company Datafolha, said.
"She still has several trumps up her sleeve," Paulino, whose company showed Rousseff's lead narrowing in a poll conducted July 15-16, said in a phone interview. "This election remains totally open."
The Datafolha poll found that Rousseff would win 44 percent of the vote in a second round against Neves, who would garner 40 percent. The gap of four percentage points compares with a seven percentage point difference in a Datafolha poll conducted July 1-2 and falls within the margin of error of plus or minus two percentage points.
Combined Support
The incumbent would win 36 percent of votes in the first round on Oct. 5, matching the combined support for her 10 competitors including Neves, who has 20 percent backing, according to Datafolha. Brazil holds a runoff Oct. 26 if the leading candidate fails to garner more votes than all other candidates combined.
A separate poll conducted by public opinion research company Sensus on July 12-15 gave Rousseff 36.3 percent against 36.2 percent for Neves in a second round. The survey has a margin of error of plus or minus 2.2 percentage points. Rousseff held a 5.1 percentage point lead over Neves, the former governor of Brazil's second-most populous state, in a June Sensus poll.
Rousseff's campaign press office didn't respond to e-mails requesting comment on the drop in support.
With the economy deteriorating faster than it had expected, Eurasia Group is considering whether to reduce the odds of Rousseff beating Neves to 60 percent from its current 70 percent, Joao Augusto de Castro Neves, the consulting firm's Latin America analyst, said by phone. He will await the results of a poll conducted by Ibope, which according to the Supreme Electoral Tribunal may be published as early as tonight.
Slowing Economy
For much of Rousseff's term, a slowing economy has been cushioned by growing job creation and consumer demand. Data published in the last month show that is changing.
The government last week said the economy would create about 1 million jobs this year, down from its previous forecast of as many as 1.5 million. Consumer confidence as measured by the Getulio Vargas Foundation, an education and research institution based in Rio de Janeiro, is near a five-year low. Car sales in June fell 17 percent from a year earlier.
Annual inflation, which hasn't hit the 4.5 percent center of the target range since Rousseff entered office, in mid-July rose to 6.51 percent. Economists surveyed on July 18 cut their 2014 gross domestic product growth forecast for the eighth straight time to 0.97 percent. GDP expanded 2.5 percent last year.
Brazilian Debt
Since Rousseff took office Jan. 1, 2011, the Ibovespa Index has fallen 17 percent, while the cost to protect Brazilian debt against non-payment for five years has increased by 29 basis points to 140 basis points. The real has depreciated 25 percent over that period.
With more than a third of voters in the Datafolha survey saying they would never vote for Rousseff, the 66-year-old trained economist has less room to rise in the polls than Neves, whose rejection rate is less than half of hers. Neves, 54, also has a larger potential for gains as he is still unknown by 19 percent of voters compared with 1 percent for Rousseff, according to the survey.
Based on her coalition's representation in the lower house, Rousseff has more than double Neves's legally allotted TV and radio ads that start airing Aug. 19. That gives her more time to attack opponents and convince voters of achievements such as pulling more than 22 million people out of extreme poverty, which is defined as earning less than 77 reais ($35) a month.
'Better Future'
With Datafolha showing nearly three in four Brazilians want the next government to adopt different policies, Rousseff's party has run campaign ads pledging change with no risk if she were re-elected. Her campaign slogan is "Mais Mudanzas, Mais Futuro," or "More Changes, Better Future."
She pledges to expand a subsidized housing program without cutting welfare programs and to more than double the number of students receiving professional training.
"If they can convince the population that, despite a deteriorating economy, Dilma is best equipped to safeguard the social progress that has been made, she can be re-elected," said Carlos Manhanelli, a Sao Paulo-based electoral marketing consultant.
Neves pledges to expand and improve the efficiency of welfare programs such as the cash transfer initiative Bolsa Familia, while ensuring that Brazil would beat the slow growth and above-target inflation that are eroding the income of workers and families.
Public Attention
His campaign press office didn't respond to requests for comment on Rousseff's ability to bounce back in polls.
Unlike the U.S., where campaigning gets under way nearly a year in advance, the election race in Brazil does not start in earnest and capture public attention until two months before the Oct. 5 vote, said Manhanelli. That heightens the potential influence of advertisement, he said.
Even with the growing importance of social media, television is the preferred source of information for 76 percent of the population, compared with 1.5 percent who favor newspapers, according to a government study published in March.
Former President Lula, who left office as the most popular leader since Brazil's return to democracy in 1985, pledges to campaign for Rousseff. While he has repeatedly denied he would take her place as the candidate if she did poorly in polls, Datafolha's Paulino says he would be able to rally many voters on her behalf.
"Lula is still the country's biggest electoral whip," Paulino said.
Before it's here, it's on the Bloomberg Terminal.
LEARN MORE