OPEC's Two-Decade Ride on Global Growth Stalls: Chart of the Day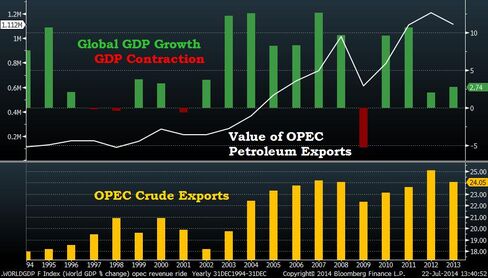 For the past two decades, growth in the global economy spelled higher revenues for the Organization of Petroleum Exporting Countries. Not any more.
The CHART OF THE DAY shows how last year was the first since 1993 that the value of OPEC's total crude exports didn't track the direction of global gross domestic product. The bottom panel shows how the group supplying about 40 percent of the world's oil fetched lower average prices and also shipped fewer barrels year on year.
Production among OPEC's 12 members fell 2.5 percent to average 31.6 million barrels a day last year, data from OPEC's Annual Statistic Bulletin showed on July 18. Libya's output slumped 31 percent amid political protests at oilfields and export terminals. Output from Iran, whose exports are subject to international sanctions, fell by 4.4 percent. The group's members also consumed about 1 percent a day more domestically.
"It's three factors that have combined to give them, as they say, $100 billion less," said Leo Drollas, an independent oil consultant in Athens and former chief economist at the Centre for Global Energy Studies. "The increase in the internal consumption, the slight fall in the price, and the fall in production in some members."
The average price of Brent futures fell 2.7 percent to $108.70 a barrel in 2013, according to data on the ICE Futures Europe exchange. It was the first annual decline since the second year of of the financial crisis in 2009. The price of OPEC crude averaged 3.3 percent lower, the group's data show.
Before it's here, it's on the Bloomberg Terminal.
LEARN MORE