China's Next Great Water Project Uproots More Than 330,000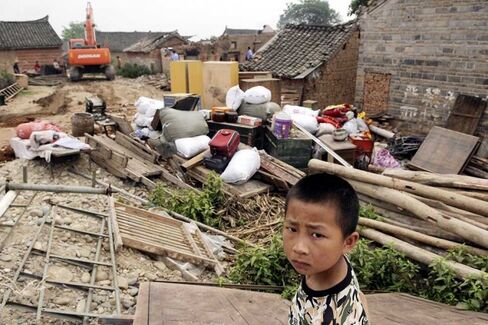 China's track record for forced relocations that accompany large infrastructure projects is dismal. Many of the 1.3 million people relocated during the construction of Three Gorges Dam in the 1990s and early 2000s were moved from ancestral villages and farmland, where they could profitably grow crops, to newly (often shoddily) built apartments, with no job training or employment help. The result: vanished earnings and increased social dislocation.
So far, it appears that the relocation of more than 330,000 people during the ongoing construction of the South-to-North Water Transfer Project is somewhat better planned, although still deeply flawed. Beijing News looked at the fate of approximately 70,000 people relocated from homes in Hubei Province for the construction of the middle leg of the project, which aims to redirect water from China's lush south to its arid north. The local government seems to be more aware of the importance of protecting migrants' livelihoods, but that awareness hasn't yielded simple solutions.
"It isn't easy to tell people they must leave their homes," Gufang Yan, a staffer at the Nanzhang Bureau of Immigration, told the newspaper. "Nobody gave us information about how to find a job; we did not know anything about recruitment," said a man named Chen Yan, who was relocated for the project four years ago. He eventually managed to find work near his new home repairing cars, and he learned on the job.
To manage the massive relocations, the province has established a special branch, Hubei Provincial Bureau of Immigration. A bulletin summarized its daunting challenge: "Helping internal migrants become prosperous, the task is more difficult today." In 2011, the province inaugurated a policy of paying for vocational training for all people aged 15 to 60 displaced by the water-transfer project, but implementation has been inconsistent.
Before it's here, it's on the Bloomberg Terminal.
LEARN MORE