Sterling May Need to Sell $500 Million in Property: CFO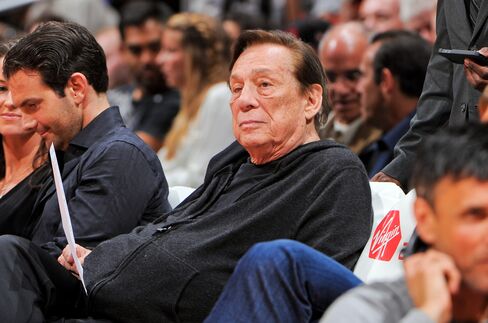 Donald Sterling may have to sell $500 million in real-estate holdings after he revoked a family trust to try to prevent his wife from selling the Los Angeles Clippers without his consent, an executive for Sterling said.
Darren Schield, the chief financial officer of Beverly Hills Properties, testified today that he told one of Sterling's lawyers that revoking the family trust "would open up a Pandora's box" because it would violate the terms of the loans with Bank of America Corp. and two other banks.
Sterling, 80, revoked the trust after his wife had him declared mentally incapacitated and removed him as a co-trustee so she could proceed with the $2 billion sale of the National Basketball Association franchise to former Microsoft Corp. Chief Executive Officer Steve Ballmer. Shelly Sterling needs a ruling that she has sole authority to sell the team.
"When we have to unload $500 million of apartment buildings, it will have an impact on the the Los Angeles real-estate market," Schield said today when Shelly Sterling's lawyer, Pierce O'Donnell, asked whether the buildings could be sold at fair market value.
Sterling's Beverly Hills Properties has about $2.5 billion worth of holdings, Schield said. If the lenders, which also include Union Bank and City National Bank, call in their loans, Sterling may end up having to pay 1.5 percentage points more than he does now to refinance the loans because of the recent negative publicity, he said.
'Reputational Issue'
"There's a huge reputational issue," Schield said.
Gary Ruttenberg, one of Sterling's lawyers, said none of the banks has called in the loans.
Shelly Sterling testified earlier in the trial she would use the proceeds of the Clippers sale to Ballmer to pay the bank loans because the trust doesn't have the cash to do so.
The trial before California Superior Court Judge Michael Levanas in Los Angeles resumed today after a week's hiatus. Levanas last week ruled that Sterling's lawyers couldn't call his wife's attorneys to testify about their contacts with the doctors who in May examined Sterling and found he suffered from Alzheimer's disease.
Sterling's lawyers have argued that he was duped by his wife to participate in the examinations. They want Levanas to rule that Shelly Sterling can't be allowed to conclude the sale. The deadline for the sale to close is Aug. 15 and the NBA has said that, if the deal is still not completed by Sept. 15, it may seize the team.
Forced Sale
Sterling testified earlier in the trial that he will never approve of the sale of the team he has owned since 1981. The NBA in June dropped plans of a forced sale when his wife agreed to sell the team to Ballmer.
The NBA fined Sterling $2.5 million and banned him for life after after TMZ.com reported that he told a girlfriend in a secretly recorded conversation that he didn't want her to bring black people to Clippers games or post photos online of herself with former NBA All-Star Earvin "Magic" Johnson.
The case is In the Matter of the Sterling Family Trust, BP152858, California Superior Court, Los Angeles County (Los Angeles).
Before it's here, it's on the Bloomberg Terminal.
LEARN MORE